Bachelor Party Shirt Guide (2021)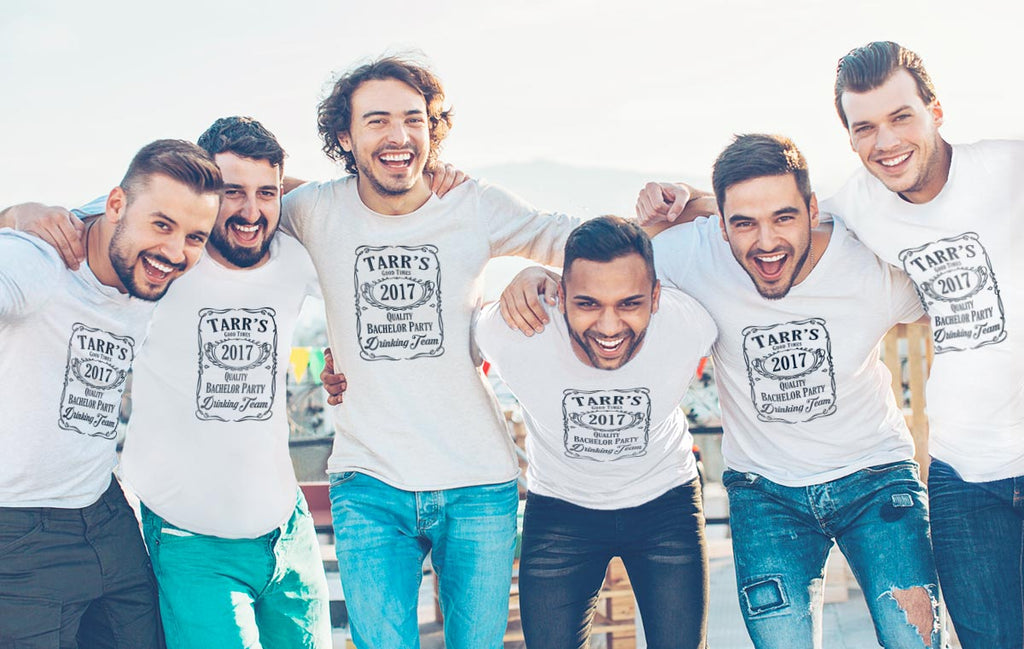 Trying to come up with some fun ideas for your friend's bachelor party and make the whole group stand out in the crowed as a united force of debauchery? Or maybe you are the groom suspecting that your friends are going to make you wear stupid stuff at your own party….well, take them down with you. T-shirts are comfortable to wear, cheap and available in all kinds of different sizes. They will also add to the occasion and are a great memory for everyone to keep after the hangover is long gone. We are listing some great ideas for your personalized bachelor uniforms and clarifying some things to consider!
Bachelor Party Shirt Inspiration
When it comes to the design of the shirt you can select a pre-designed bachelor party design, or you can let your creativity go loose! When designing it on your own, you have the opportunity to personalize the shirts and make them unique. You can include the names or even childhood nicknames, the date, and if it's a destination bachelor party you can include the city or country you're going to. Did the groom have an embarrassing haircut growing up that he still whines about? Why not put his childhood face on there as well and show the world the masterpiece.
If you're somewhere in the middle and not feeling up for the task to create your own clothing collection, you have solutions to it. There are for example t-shirts with different pre-designs that needs a small contribution so you can include your names and date. Easier than finding old photos and still a personal touch for everyone involved!
Here is a ton of different designs that are both pre-designed and where you have some designer input.
Custom Bachelor Party Shirts
If you want to do it yourself and have customized bachelor party t-shirts you can find different alternatives everywhere and they are super easy to make. To find a wide selection of different brands, quality and price you can for example find it on Amazon, eBay, Etsy and Zazzel.
Sleeve alternative
The bachelor shirt doesn't necessarily need to be a t-shirt, there can be different reasons wanting to wear a tank top. That little extra sleeve can make a big difference in warm or maybe tropical weather. Maybe you have been working hard on those biceps and want to show them off or maybe you haven't. Tank tops are for everyone with a great selection of designs that are available everywhere!
Keep in mind
There are a few things to keep in mind when you order bachelor party shirts, even if they are pre- designed or not. It needs a little bit of planning. You don't want to be last minute if one of the shirts are missing, if the order is delayed, wrong sizing or something spelled wrong. Therefore, order it in time if something unsuspected happens. 
Before ordering the shirts, it can be a great idea to brainstorm and collect information from the rest of the groom party. Maybe the rest of the party has some great design ideas or input regarding colors, t-shirt or tank tops. You also need to get information about sizes and double-check spelling to avoid awkward situations. You can use this size chart to send to the guys to get information about their sizes. If you are ordering from an internationally based company the sizes can differ and can need a double-check with their customer service.
Don't forget to check so everything is correct when you get the order delivered, incase there is anything that needs to be corrected. If it's possible, it can be a good idea to let everyone try the shirts and make sure everything fits and that everyone is comfortable in their bach-uniform.
Bachelor Party Shirt Designs
If you have browsed through the shirts that are pre-designed or designed in need for some contribution, you know there is a ton of alternatives. Bachelor parties is not a place to be shy but remember, if you want to design your own shirt - you are going to shown in public. Maybe not let your creativity take you away a little too far, but don't be shamefaced either. Here is a list to give you some inspiration:

Same Vagina Forever
One Clit That's It
*Grooms name* Found His Forever Hole … whatever your vision may be!

Completion
Bachelor party shirts are inexpensive, even the shirts with a higher quality or brand. It is a great touch, will make everyone laugh and an awesome memory for everyone to keep. It is also very easy to design your own and you don't need to be a graphic designer to get a great result. Just don't forget to double-check the shirts in time incase something needs any corrections. Check out the pre-designed shirts and let your creativity fly!
David Chew