Plan an Epic Amsterdam Bachelor Party (2021 Guide)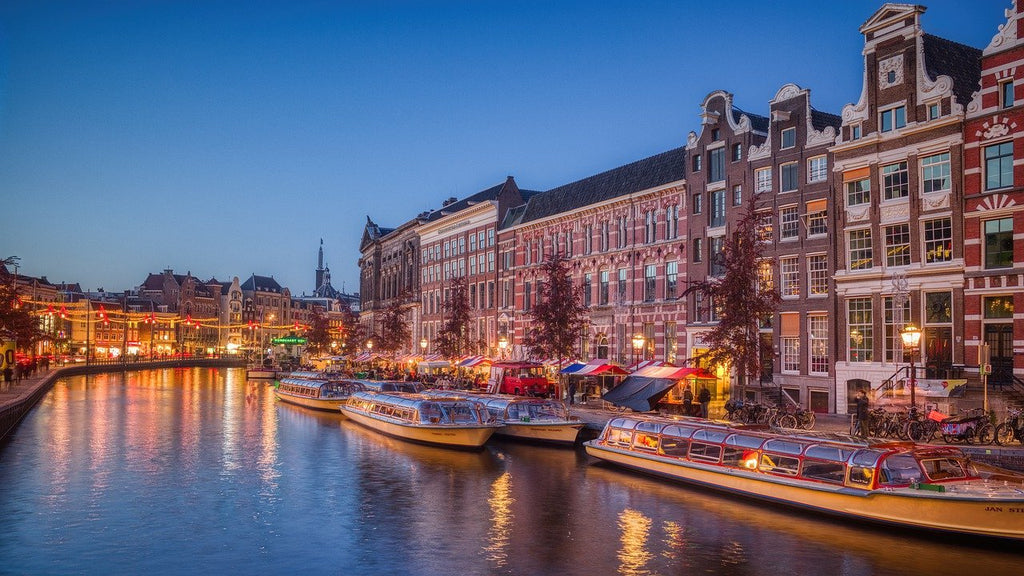 Guaranteed, you've never been to a place like Amsterdam, so why not select it as the destination for your bachelor party! We've all heard the stories about the legendary Red Light District and famous coffee shops – it's a place where you can satisfy all of your vices.
You won't have to do much sneaking around in Amsterdam to look for bachelor party supplies because a lot of what you're looking for is legalized and welcome. It's an international city that attracts lots of foreign visitors that are ready to party.
We're about to explore some of the best bachelor party ideas for Amsterdam that will give you an insane party with your group of guys. Grab your groom hat and groom sash, and get ready for a party experience you hope will never end. 
Things to do During the Day
Whether you're planning a day trip to Amsterdam or a few days, you'll have lots of things to see and do. Amsterdam is a popular travel destination, so there are always things happening around town and exciting venues to check out. From historical sights to cultural venues to some quirky activities, Amsterdam is an enjoyable place to hang out for your bachelor party.
Add a few of these daytime bachelor party ideas to your schedule to get to know what makes the city so famous:
Take a canal cruise
Visit the coffee shops
Tour the Heineken Experience
Views from the A'DAM Lookout
Take a Canal Cruise
The city layout prominently features canals that are now designated as UNESCO World Heritage Sites. In the past, it was one of the main methods of navigating the city. Today, the canals are popular for taking cruises.
There are a variety of canal cruises you can enjoy. If you're into sightseeing, you'll find hop-on, hop-off tours. Some of the more unique tours are beer cruises where you'll have plenty of Heinekens for the entire journey. And you can also get high on one of the bud cruises. You can truly find the canal cruise experience you're looking for with all the different options.
Visit the coffee shops
If you're in Amsterdam, not every coffee shop is what you're used to. Amsterdam is famous for its coffee shops that legally sell marijuana and other related products. Keep an eye out for the green and white "coffee shop" sign, and you know you're in the right place.
Smoking marijuana is legal in Amsterdam, and the coffee shops offer a relaxing atmosphere to enjoy a smoke. You can find premium bud in the shops that will get you higher than you've ever been with just a few puffs.
Even if you're not a smoker, it's still a fun environment to hang out in with the guys to grab a drink and chill. You can grab a few bachelor party supplies to save for later.
Tour the Heineken Experience
Heineken is a world-famous beer brand that was founded right in the Netherlands. Amsterdam is home to the Heineken Experience that gives you an immersive look behind-the-scenes of the brand. 
The Heineken Experience is a tour through the brand's first brewery. There are a lot of interactive features, such as walking through the virtual bottling line. And the best part is at the end of the tour, where you'll arrive at the tasting room to sample different flavors of the beer.
Views from the A'DAM Lookout
Amsterdam is a very scenic city from the ground level and from up above. Visit the A'DAM Lookout for the best viewpoint in town. You'll ascend to the top of one of the tallest buildings for views from the 20th floor. The lookout provides a panoramic view of the city.
The lookout offers several attractions. The experience starts with a glass elevator ride to the top. After snapping some photos of the view, hop of the swing where you'll dangle 100-meters above the ground.
Best Nightlife in Amsterdam
Amsterdam is a place where you'll have lots of fun during the day, but still, nothing tops the nightlife. And if you've followed our recommendations for daytime activities, you'll surely already be ahead of the game when it comes to drinking (and other vices) for the night. Amsterdam's nightlife is vibrant with lots of pubs and clubs. And don't forget about the famous Red Light District.
We'll explore some of the best nightlife bachelor party ideas to make your Amsterdam trip one you hope to remember the next morning.
Best Pubs in Amsterdam
Pubs are the go-to places to drink in Amsterdam. You'll always find a nice mix of locals and visitors filling up the pubs. And the best part is that they're open late at night, so you can drink until 2-3 AM. There are lots of pubs in the city center. You'll never be short on options.
Check out these top-rated pubs to start your bachelor party night:
Proeflokaal Arendsnest gives you an authentic taste of Holland. Each of its 100 different beers is sourced locally – it's the perfect chance to try out something new and discover your new favorite. It has a cozy atmosphere to relax and enjoy a drink with your groomsmen.
Beer Temple is the opposite of Proeflokeel Arendsnest. It also has over 100 beers to choose from, except many of them are imported from America. Enjoy a drink in the outdoor seating with views of the canal.
Excalibur Café is a unique biker-themed restaurant. As soon as you walk in, you'll see the walls lined with vintage bikes on display and polished suits of armor. It's a grungier atmosphere where you'll have strong beer and heavy rock music.
Best Nightclubs in Amsterdam
One thing about Amsterdam is that the people there know how to party! It's an international city with people coming from all over the world. You'll experience a diverse mix of crowds, music, venues, and atmospheres. 
Amsterdam has lots of modern nightclubs where you can party until 4 AM or later. Check out one of these top nightclubs to celebrate your bachelor party properly:
Escape is a massive nightclub that has one of the best light and sound systems in the city. Grab a VIP table overlooking the dance floor and get bottle service for your group. When you're ready, head down and hit the dance floor.
AIR Amsterdam is one of the world-famous nightclubs. It's a multi-level club with a bar on each. Each floor features different music – there's something for everyone. It caters to international party-goers.
The A'DAM Tower isn't just a place to go for the observation deck. At night, head down to the basement to enter the Shelter Nightclub. It's an underground disco setting that features live DJs.
The Amsterdam Red Light District
It might be best not to tell the bride-to-be that you're planning to spend your bachelor party in Amsterdam because it's pretty obvious that you'll end up at the famous Red Light District at some point during your night.
The Red Light District is an avenue lined with prostitutes showcased in windows. You can walk the street and see beautiful girls beckoning you to spend some time with them. The district gets its name from the alluring red lights from the windows.
Whether you're looking to partake in the activities or just check it out, it's one of the must-visit areas in Amsterdam. It's perfect for after-hours since the girls work until 6 AM. And don't forget your groom hat and groom sash for some special attention.
Best Restaurants in Amsterdam
You'll need plenty of food to balance out all of the drinking you'll be doing during your bachelor party. Amsterdam has lots of different options for restaurants for any meal. There are several international options where you'll find delicious local treats and a suitable venue for sharing bachelor party gifts and making a bachelor party speech.
Let's take a look at some of Amsterdam's best restaurants for great food when you're dining out.
Best Breakfast/Brunch
Breakfast is the most important meal of the day, but feel free to push it back until brunch time if you're still recovering from the night before. The good news is that Amsterdam knows how to do brunch the right way with these excellent restaurant options:
Omelegg serves the best omelets in town. It specializes in egg dishes that you can pair with croissants, fresh coffee, and more. You'll always be seated quickly, and every meal you order is a big plate that's more than filling.
Bakers & Roasters is a New Zealand-style café known for its brunch specials. You'll have everything from tasty baked goods to freshly roasted coffee. The restaurant has options for indoor and outdoor seating.
Unique Dinner in Amsterdam
As you make your way around Amsterdam, you'll find many restaurants that you can grab dinner. But Amsterdam isn't a place like everywhere else, so you might want to opt-in for one of these unique restaurants to eat at for a one-of-a-kind experience:
Dinner cruises are a popular way to enjoy dinner during your bachelor party. You get to combine the experience of cruising the canals with fine dining. Climb aboard the boat with your group and enjoy a private dinner while navigating the canals. You'll be served a multi-course meal with international food options with accommodating hospitality from the boat captain.
Restaurant Moon is a famous restaurant in Amsterdam located in the A'DAM Tower. It's located one floor below the A'DAM Lookout experience, so you'll have the same great view. The restaurant rotates 360-degrees to give you a panoramic view while you enjoy a full course meal.
Where to Stay in Amsterdam
Amsterdam is a major city, but it's surprisingly easy to get around. It's a very walkable city, and you can get to some of the other nearby neighborhoods in no time via different methods. You have a few options where to stay for your bachelor party. Whether you're looking for a nice hotel or a private house to celebrate, you'll have it all available to you.
The best areas to stay in Amsterdam are: 
City Center (Binnenstad)
De Pijp
Canal Ring
The city center, or Binnenstad, is the hub of everything in Amsterdam – especially for first-time visitors. It's the best place to stay if you want to be in the main tourist area near Dam Square and the Amsterdam Centraal Station. It has an entire range of hotels, from budget options to more luxury stays. You'll be able to walk everywhere.
De Pijp and Canal Ring are trendy areas where you'll get a more local experience. De Pijp is the city's cultural hub that's filled with shops and restaurants. And Canal Ring puts you right in the mix for exciting local nightlife.
You can also find excellent vacation rentals in Amsterdam. Check out Airbnb for options like this or this that can accommodate your entire group. You'll be able to put up all your bachelor party decorations to bring your favorite theme to life.
Best Time to Visit Amsterdam
Amsterdam has a moderate climate year-round. The summers can get hot and the winters cold, but never too extreme. Also, keep in mind the rainy season from September to November.
If you're planning a trip to Amsterdam for your bachelor party, the best time to visit is during the summer. It's the peak travel season where you'll find many international visitors coming to party with you. The weather is nice for daytime sightseeing, and the nightlife is the most vibrant this time of the year.
As an alternative, plan your visit during the spring. The weather is still nice, but there are fewer tourist crowds. You'll get to feel a more local atmosphere in the city and benefit from lower prices in hotels and attractions.
Amsterdam Bachelor Party Rating – 5 out of 5
Amsterdam deserves to be at the top of everyone's bachelor party destination bucket lists. It's one of the most open-minded cities you'll ever visit. It's a place where they love to party!
There are plenty of bachelor party ideas to make it the best experience in Amsterdam. From exploring the unique attractions during the day, partying in the modern nightclubs, to venturing into the Red Light District, there's more than enough to see and do during your trip.