Plan a Badass Asheville NC Bachelor Party (2021 Guide)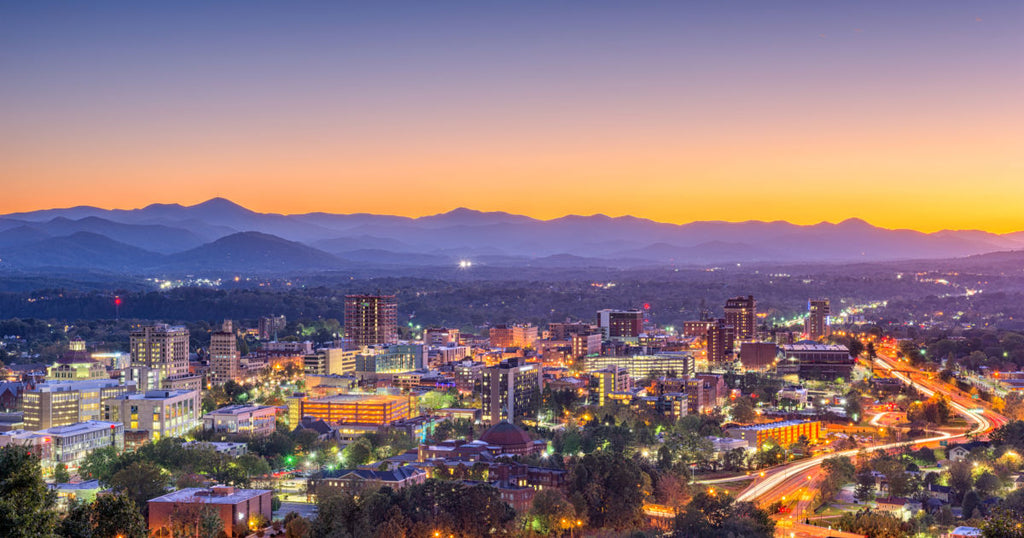 You won't want to miss out on a chance to throw an epic bachelor party in Asheville. Asheville is the perfect place to get shitfaced on a night out on the town or hanging out at the countless local breweries.
We've got the perfect bachelor party ideas for day or night. Asheville is near the Blue Ridge Mountain range surrounded by the great outdoors, so you'll have plenty of things to explore during the day. And by night, see why Downtown Asheville is the place to go for drinks, music, and, of course, girls.
Celebrate the bachelor's last night as a single man in a town that has it all. We'll show you exactly how to plan out the best Asheville bachelor party, including where to party, what to do in the day, where to eat, and where you'll probably wake up hungover.
Things to do in Asheville during the day
Asheville is a unique town surrounded by mountains and other natural landscapes. When the weather is nice, exploring the outdoors in one of the favorite things to do. There are also several historical places to check out while hanging around town.
You won't have any problem finding things to do for your bachelor party. Asheville has tons of outdoor and fun activities to keep all the guys entertained and adrenaline pumping. Check out some of these fun bachelor party ideas for spending a day in Asheville:
Brewery Tour
If there's one thing Asheville is famous for, it's breweries. Asheville has 26 craft breweries, so you'll have several places to check out. Go on a tour around the different breweries to taste the unique craft beers made locally. There are various tour options, like a bike tour or mobile bar, to take you around to the best breweries in town.
Some of the favorite Asheville breweries include Asheville Brewing Company, Green Man Brewing, and Wicked Weed Brewing Pub. There are plenty of craft beers on tap, and you'll be able to see the brewing processes.
Make it a festive time with a groom hat and groom sash as you explore the best breweries in town. Order a flight of beers to get a wide range of the available flavors!
White Water Rafting
White water rafting is one of the adventure sports awaiting your bachelor group. Pack up your bachelor party supplies for the day and head over to the French Broad River running near the city for one of the most exciting rafting experiences you've ever been on. The river has plenty of turns and small drops to keep you active the entire length.
Reserve a white water rafting experience for your group – depending on the size of your bachelor party, you all may be able to fit inside the raft boats or split into separate groups. A guide will assist in navigating the river while you splash around the choppy currents.
Paintball
Everyone loves a good competition, so paintball is a great way to see which group of guys is superior. You'll find a few places for the activity just outside of Asheville, including Splat Forest Paintball or Wolverine Paintball.
Splat Forest Paintball takes you out into the forest, where you'll use the trees as barriers and protection. Wolverine Paintball is a paintball center with a specially designed course in an open field full of obstacles to navigate and hide behind.
Chug a few beers before entering the parks, and you're guaranteed to have an incredible time. Losers buy the first round of drinks when you go out.
Asheville Pinball Museum
Asheville has the unique ability to bring out the child in everyone. The Asheville Pinball Museum adds a bit of nostalgia to every bachelor party while providing you hours of gaming fun.
The Asheville Pinball Museum provides over 75 pinball machines with different themes. There are also other arcade-style games. You'll get lost in all of the lights and sounds of the venue. And the best part is that it's all-you-can-play. Once you've paid admission, you can play a round at each machine if you want or stick to your favorite.
The museum is a playground for adults where you can also purchase beer while you game.
Best Nightlife in Asheville
Downtown is the best nightlife area in Asheville. You'll have lots of venues to hop around to find the perfect setting for your bachelor party – or explore them all. It's the perfect time for your groom hat and groom sash for free shots.
Downtown Asheville transforms into a vibrant hangout for locals and visitors. With great music and strong drinks, here are just a few bachelor party ideas to make your Asheville bachelor party worth it.
Best bars in Asheville
You've already gotten a taste of the craft beer during your brewery tours, but now it's time to see how well your liver can hold up. Asheville has lots of bars to check out downtown with extensive taps so you can pick a different drink in every venue.
You'll come across unique bar settings for partying in Asheville. Some of the best bars to visit for your bachelor party are:
Asheville is far from being an island, but you might forget where you are when you enter the Asheville Yacht Club. The island-themes bar features tiki statues around the entire venue and serves up delicious tropical drinks. It's a local favorite and also plays live music.
Stop by the Foggy Mountain Brew Pub for a more rustic bar experience. You'll enjoy drinks in a taproom setting with live music creating the perfect party atmosphere. It's even open late night on the weekends.
The Montford Rooftop Bar is on top of the Hyatt Place hotel, where you'll have incredible mountain views while enjoying your drinks. It's a modern venue with indoor or outdoor seating.
Best Nightclubs in Asheville
You can't have an epic bachelor party without a bit of dancing. Asheville has the perfect nightclub venues for you to get out on the dance floor once you're drunk enough. You won't have to stray too far as they're also located downtown.
Whether you're a local or out-of-towner, the nightclubs to add to the itinerary are:
It's not hard to guess what happens in Room Nine. It has the perfect name, thanks to the large dance floor. You'll get to enjoy music from the live DJ and plenty of flashing lights to create an entertaining club atmosphere. 
Alley Cat Social Club is an intimate nightclub that packs everybody in who's down for a good time. It's hosts some of the city's most popular dance parties on the weekends with a live DJ playing your favorite hits. If you need a place to cool off from the hot dance floor, head out onto the patio to catch your breath.
Strip Club in Asheville
What's a bachelor party without a trip to the strip club? Well, you're in luck because Asheville has the perfect venue for it. Ask around town where you should go to find the most beautiful strippers, and everyone will point to one place: Treasure Club.
Treasure Club Asheville is the premier strip club in Asheville, where over 40 hot women will fulfill your stripper fantasy for the night. Unlike other clubs, the women and service are down-to-earth that treats everyone like regulars. From ordering drinks to getting a lap dance, the ladies will make sure to show you a great time.
Best Restaurants in Asheville
One thing for sure during your Asheville party is that you'll have some of the most delicious meals you could imagine. The small-town atmosphere of Asheville means that each meal is well prepared with familiar homestyle taste.
There are many restaurants to choose from, so you can mix it up to see what all the city has to offer. You'll surely find an excellent venue to make a bachelor party toast and give out bachelor party gifts.
Breakfast in Asheville
Wake up and make your way to breakfast (or get it delivered) to start the day right. A delicious breakfast complements a long night of drinks with the fellas, and you won't be disappointed in Asheville.
You'll notice that cafes are a popular trend – each café is unique, but you'll always find great food in them. Locals frequent the cafes for a quick bite to eat or to dine in. Some of the local favorite dining spots you should check out include:
Sunny Point Café serves up all your American favorites. It's a family-owned spot that treats everyone like a regular, so you'll be in good company. You might need a bit of patience to get in because it can get packed due to its popularity. Everyone loves their breakfast menu, including pancakes, French toast, omelets, grits, and more.
Moose Café gives a farm-to-table experience – food comes directly from the nearby farmer's market and prepared in Southern-style cooking. It opens early at 7 am to grab one of the fluffy homemade breakfast biscuits.
For a healthier food option, Green Sage Café is the ideal restaurant for breakfast. It specializes in vegan and vegetarian meals prepared with all organic food. You'll find all of the classic breakfast favorites like breakfast sandwiches, pastries, smoothies, and eggs cooked the way you like them.
Dinner in Asheville
Before heading out for the night to celebrate your bachelor party, you'll want to fill up on a good meal so that you can survive the nightlife. Dinner is also the perfect time to make some commemorative toasts for the bachelor. 
Taverns are popular venues in Asheville to grab a delicious bite to eat and wash it down with a cold brew. You should check out these top-rated taverns in Asheville:
The Biltmore Estate is one of Asheville's top tourist attractions – a historic house and museum with the award-winning Cedric's Tavern onsite. You'll get to taste craft beers and wine while enjoying a variety of sandwiches, burgers, and more.
Pack's Tavern immerses you in a vintage atmosphere to enjoy more than 35 beers on tap with live music to create a fun ambiance. The restaurant specializes in pizza, burgers, fish, and subs.
Stone Ridge Tavern creates a traditional American lodge setting filled with wood and stone details. If you're looking for a juicy steak, thick burgers, and fresh seafood, it's the place to go!
Where to Stay in Asheville
Asheville is very easy to get around, no matter where you stay. You'll be able to reach destinations in just a short drive, so be sure to bring (or rent) a car to make the bachelor party trip more convenient.
Downtown Asheville is one of the best places to stay. You'll be nearby several restaurants, bars, local attractions, and nightlife. It's the most popular visitor area, so you'll find lots of hotels downtown. There are many big-name hotel brands like Marriott and Holiday Inn, or you can go for one of the boutique hotels, such as Kimpton Hotel Arras or Hotel Indigo, for a more local experience.
Keep in mind the size of your bachelor party. Staying at a hotel may be convenient but imagine your own space to party and put up all the bachelor party decorations that you want! Check out Airbnb for some great accommodation options. You can reserve an apartment like this close to downtown, or even choose to stay outside the city at a loft like this.
Best Time to Visit Asheville
Asheville is a popular travel destination thanks to the year-round moderate weather. It experiences each of the four seasons, but the winters are mild enough to enjoy the city still. You can plan your Asheville bachelor party all year, but you'll have more options for things to do during the warmer months.
Spring to Fall is the favorite time in Asheville, with the summer being the peak travel season. It's best to stick to these months so that all outdoor attractions will be open and the bars more packed with locals and visitors.
Asheville Bachelor Party Rating – 4 out of 5
Asheville is an enjoyable place to host your bachelor party so bring along all of your favorite bachelor party supplies from the groom hat and groom sash to tons of alcohol. It's also a city designed for certain types of guys. If you enjoy drinking and the outdoors, you'll have an excellent time!
There are plenty of bachelor party ideas for throwing a bachelor party in Asheville. Asheville is a historical city with a rustic setting, so you'll find a more localized atmosphere in all the clubs and bars. Regardless, you'll surely find your place after a few drinks and feel at home with the locals anywhere you walk in.
If you're located nearby, it's worth the drive into town to check out the local party scene. Sure, it might not be Vegas-crazy, but you'll still end the night with your fair share of bachelor party stories.