Plan an Epic Cabo San Lucas Bachelor Party (2021 Guide)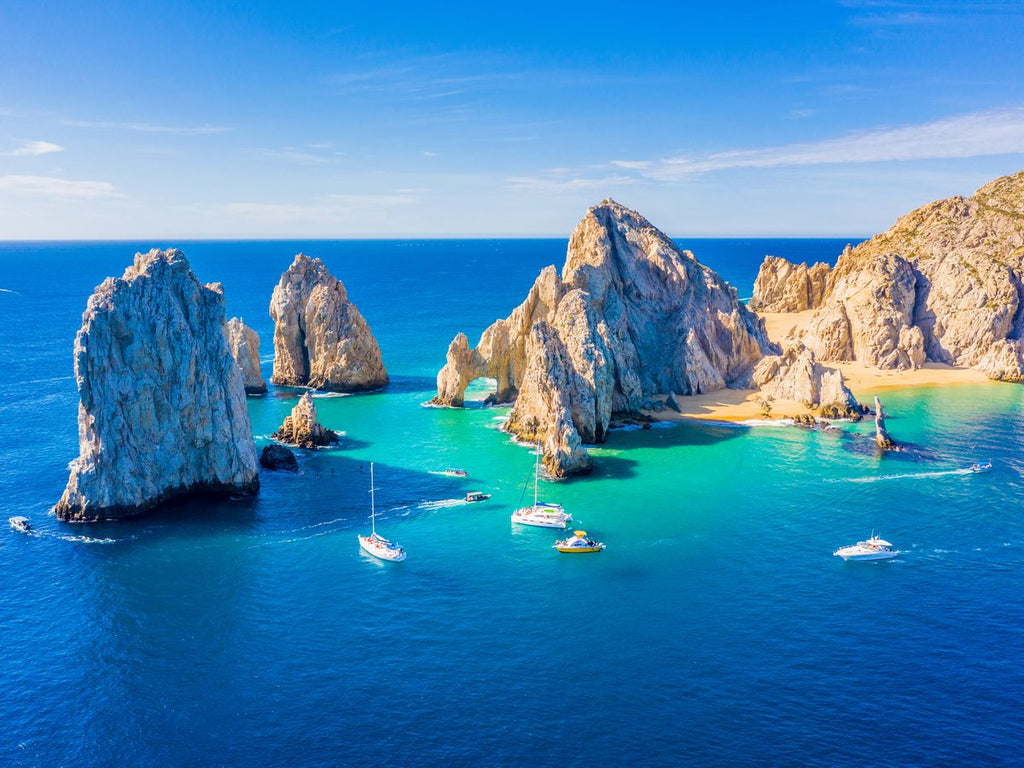 If you're looking for an international destination to host your bachelor party, you've undoubtedly already seen Cabo San Lucas appear on everyone's list. That's because it's one of the top party destinations in Mexico.

Cabo is more than just a spring break destination as it brings out partygoers from around the world at any time of year. It always has great weather for you to enjoy daytime fun and unbelievable nightlife.

We've got tons of bachelor party ideas that will make your trip unforgettable. From modern nightlife venues with live DJs to swimming with sharks to beautiful Mexican girls, Cabo will feel like a bachelor's paradise.

Too bad you'll only get to experience it for a couple of days, so use these recommendations to make the most of it!


Things to do during the Day
The sunny days of Cabo are perfect for spending time outdoors. It's a popular tourist destination – including for bachelor parties – so there are plenty of activities to keep you and the guys occupied until the nightlife parties.
Whether you're planning to do someday drinking or looking for some wild, adrenaline-filled adventures, here are a few daytime bachelor party ideas for Cabo:
Hang out at the beach
Go on a Booze Cruise
Swim with sharks
Ride ATVs and other adventures
Hang out at the Beach
Cabo is located along the coast, so you'll never be short on beach options. Cabo has lots of popular beaches to check out – many other them public, but some resorts also offer private beaches.

Come fully prepared for the beach with drinks, games, and other fun bachelor party supplies for a good time. A few of the best beaches to visit in Cabo are:
Playa Publica
Pedregal Playa
El Medano Beach
You can enjoy lots of beach activities like swimming, snorkeling, or getting a massage. The beaches are always busy, but there are some more exclusive beaches if you want a private party vibe.

Booze Cruise

You should definitely book a booze cruise for one of the days while you're in Cabo. It's one of the most popular things to do, especially for a bachelor party. You'll get to have a wild daytime party out on the water, and what could be better than that?

Several companies offer booze cruises in Cabo. Climb aboard a private boat with your own navigator so that you can focus on having a good time.

The cruises all the drinking you'd like and music to create a party atmosphere. You'll get to cruise through the marina, out to the Pacific Ocean, and past famous rock formations like El Arco.

Swim with sharks

When's the last time you swam with sharks? Or better yet, when is the last time you had the opportunity to swim with sharks? If the bachelor is brave enough to get married, he's surely brave enough to swim with sharks – it might be less frightening.

Cabo lets visitors swim with sharks found right off the coast. The good news is that the sharks aren't aggressive, so it's perfectly safe. You'll dive right alongside hammerhead sharks, silky sharks, and makos while swimming in the open water.

You can even get some great underwater photos to prove that you did it!

Ride ATVs and Other Adventures

Just outside of Cabo is a vast natural landscape that you can explore via ATVs. ATV tours are top-rated and easy to find while you're in Cabo. You'll get to go on a wild ride with your groomsmen through the Mexican desert.

Book an ATV tour and get picked up from your accommodation to reach the grounds. After a brief rundown of operating the vehicles, hop on your four-wheeler and get ready for some high-speed action. Kick up dust clouds as you speed through the desert.

Some tour companies offer packages that include ziplining and other activities to do on the same grounds.

Best Nightlife in Cabo

Cabo is a top party destination in Mexico – there's a reason why so many tourists come to visit. That means that it's the perfect place to host a bachelor party. You'll have lots of options of where to party, from wild bars, energetic nightclubs, and sensual strip clubs.

Check out these nightlife bachelor party ideas if you're looking to have a crazy night.

Best Bars in Cabo

It's hard to narrow down the best bars in Cabo because there are just so many to choose from. Cabo is a party central, and you can find alcohol everywhere you look. Most of the best bars are near the marina, the main tourist area. You'll have an entire street lined with bars to hop between until you find the best atmosphere.

The best bars for a drink in Cabo are:
Cabo Wabo is the most famous bar in Cabo. You can't visit Cabo without stopping by the venue. It's a favorite for foreigners and attracts lots of local Mexican women looking to mingle. It has a tiki-style bar, live music, and a large dance floor.

El Squid Roe is one of the biggest bars. It starts to get busy at 9 pm until it closes at midnight. It has three floors with a bar on each. The live DJ always knows how to get the party started, and you'll see people literally dancing on tables by the end of the night.

Best Nightclubs in Cabo

As exciting as the bar scene can be in Cabo, just remember that it's only the pre-game. The real party starts once you head to the local nightclubs. By now, you'll already be buzzed and looking to keep the party going. Well, get ready for lots of dancing and drinking until five in the morning!

The best nightclubs to visit in Cabo are:
Mandala Los Cabos
La Vaquita
You can find many nightclubs on the strip, so you can head directly there after the bar. Mandala Los Cabos is a high-energy dance club that's always packed with partygoers. Bring your groom hat and groom sash to stand out from the crowd. You can grab a VIP table with bottle service and enjoy the sights of women dancing in boxes.

La Vaquita is another favorite that you have to check out. It has two floors and is known as being one of the best destinations for dancing. After a few drinks, you'll get to dance the night away to popular American and Latin hits.

Best Strip Clubs in Cabo

If there's one thing you'll enjoy about a bachelor party in Cabo is the beautiful Mexican women. From the beaches to the clubs, you'll see some of the most beautiful women you've ever seen. So, as you're planning to make your way to the local strip clubs, be ready to be blown away by the girls.

You'll have to check out these venues during your night out:
3 Potrillos Gentlemans Club
Splash Cabaret
Unlike many international destinations, the strip clubs in Cabo are upscale and tailored to foreigners. You'll feel very comfortable enjoying the talent at 3 Potrillos. From sensual pole dance shows to private dances, you'll be treated like a VIP by stunning women.
Splash Cabaret
features dozens of girls that know how to make you feel welcome. Grab bottle service for the group and enjoy plenty of eye candy inside the club. It's also a fully nude club, so you'll see everything you're looking for.
Where to eat in Cabo?
Many of the bars you'll visit to party at night are actually restaurants that also serve tasty food. You probably didn't notice with all the party atmosphere and drinks, but you'll be pleasantly surprised when you finally get a moment to relax and enjoy a meal.
Thanks to all the tourist traffic, you'll find restaurants of all sorts in Cabo. Whether you're looking for authentic Mexican food or want to stick with the familiar American classics, you'll have options for everyone to enjoy.
Best breakfast spots in Cabo
Wake up bright and early (if you can) to enjoy some of the tasty breakfast options in Cabo. The good news is that many restaurants serve breakfast late, so there's never any rush. You can find many great options along the strip where many of the tourists hang out, even during the morning.
Grab breakfast at one of these spots to bring you back to life after a night of partying:
El Burro Loco
Los Barriles
El Burro Loco serves up an authentic Mexican breakfast with traditional foods. The menu has everything from scrambled eggs and chorizo to chilaquiles. With excellent prices and large portions, it's hard to find a better breakfast spot in Cabo.

Los Barriles opens up at 8 am and serves breakfast anytime you walk through the door. It's a favorite for visitors with its traditional American favorites like pancakes and bacon. Make it a boozy brunch with delicious cocktails to accompany your meal.

Best dinner spots in Cabo

A Cabo bachelor party means you need to fill up your itinerary with unique experiences. Since you're in a popular beach destination, consider having dinner on the beach. Medano Beach is lined with incredible restaurants that are more than welcoming for large bachelor party groups.

You'll have incredible beach views, delicious food, and a festive atmosphere to enjoy your party. It's the perfect time for sharing bachelor party gifts and a toast to a good night ahead.

Make reservations at these restaurants to guarantee a spot for dinner:
Mango Deck
Office on the Beach
Ask anybody about the best place to eat and drink, and they will point you right to Mango Deck. You'll dine right on the beach with perfect views of Land's Ending and Lovers Beach. It has a great happy hour and some of the best food you'll find in Cabo. Enjoy Baja Mexico favorites to Asian fusion meals.

Office on the Beach lets you eat a quality meal with your feet right in the sand. Grab some ceviche, seafood tacos, and margaritas, and enjoy the beach sights.

Where to Stay in Cabo San Lucas?

The good thing about visiting Cabo for your bachelor party is that it's a very walkable city. You can reach many places by foot within minutes, including going from the main strip to the beach. It makes having a good time a breeze since you'll never be too far from the next party.

With that said, you have two best options for where to stay for your bachelor party:
Your decision is highly based on your budget and the setting you want to wake up to.

Medano Beach is the most popular area to stay. It's where you'll find many of the resorts and villas. It's more upscale since you'll be steps away from the beach and can get rooms with incredible beach views.

Accommodations like Cabo Villas Beach Resort and Casa Dorada are great options.

Downtown puts you right in the center of the party district - it's known as the nightlife hub. There are a lot of places to eat, drink, and have fun along the Blvd. Paseo de la Marina and Lázaro Cárdenas.

Downtown is also more budget-friendly with great options like Hotel Mar de Cortez and Los Milagros.
You can also find accommodations on Airbnb to rent your own space for your entire group. It's a good option if you'll have a lot of people. Places like
this
and
this
are great deals and perfect for putting up themed bachelor party decorations during your stay.
Cabo San Lucas Bachelor Party Rating – 5 out of 5


There's a reason why Cabo is a party hotspot. It attracts even the biggest celebrities to enjoy wild nights in the clubs. Your bachelor party is the perfect chance to experience one of the party capitals of the world!

It doesn't take much to have a good time in Cabo. During the day, you'll have the scenic beaches, and at night, a strip full of bars and clubs to get shitfaced. Trust us, just walking around with your groom hat and groom sash, and you'll probably land free shots everywhere you go.

Cabo is a place where everyone is looking to have a good time, and these bachelor party ideas make sure you achieve it!