Plan an Epic Cancun Bachelor Party (2021 Guide)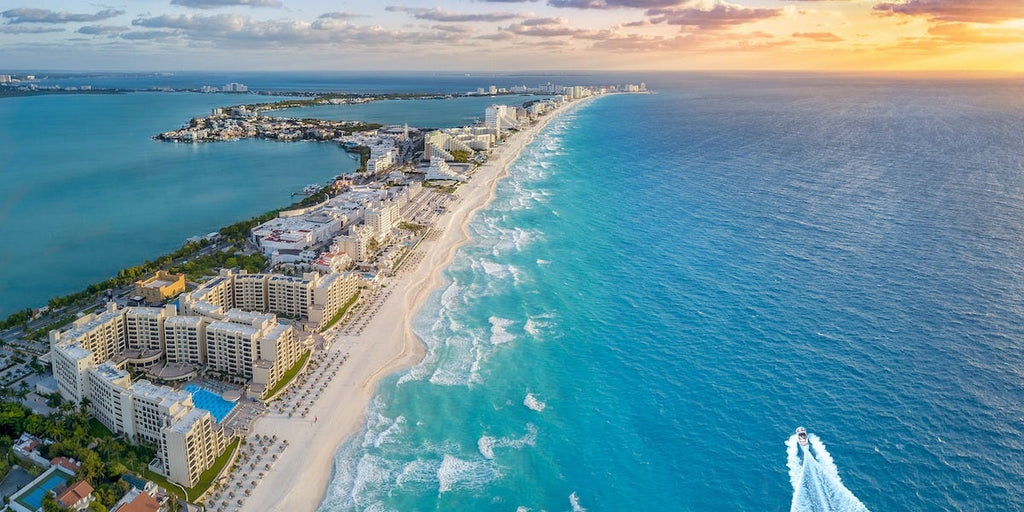 It's time to take your bachelor party international by hosting it in Cancun, Mexico's top party destination. We've all heard the stories about the party scene in Cancun, and it's the perfect place for an epic bachelor party!
Day parties, scenic beaches, beautiful women, delicious food, and massive night clubs are just a few of the bachelor party ideas awaiting you in Cancun. The entire resort town is filled with party energy that you'll feel the moment you land.
Everybody is ready to party in Cancun, and you'll have lots of choices on how you spend your bachelor's trip. Select your wildest guy friends and get ready to party in one of the party capitals of the world!
Things to do in Cancun during the day
Prepare yourself for some outdoor fun, adventure, and plenty of drinking in between activities. Anything goes when you're visiting Cancun for your bachelor party, and there are plenty of things to do to keep you entertained.
Whether you're sobering up from the night before or mentally preparing yourself for what's to come in the nightlife, you can enjoy these daytime bachelor party ideas in Cancun.
Visit the beach
Explore an adventure park
Snorkeling and diving at MUSA
Take a dip in the cenotes
Day trip to Chichen Itza
Visit the beach
The beach is unavoidable when you're visiting Cancun – and if you're staying in Zona Hotelera, you're surrounded by beautiful beaches. Cancun is among the top beach destinations in Mexico, so you'll see picturesque views while soaking up the sun.
Cancun is lined with white sand beach and turquoise waters to make the perfect backdrops for selfies to make the people at home jealous they missed out on your bachelor party.
Playa Delfines and Playa Forum are just a couple of the many beaches you'll find. Whether you're looking for busy beaches with hot girls walking around, or more secluded areas to relax, Cancun has a beach for everyone. And don't forget your bachelor party supplies.
Explore an adventure park
The water is just one way to have some outdoor fun in Cancun; another way is by immersing yourself into a jungle experience at one of the popular adventure parks. The local adventure parks are like a theme park for adults where you're free to let your inner child come out.
Xplor Park is the best park to find a variety of outdoor adventures. You can do everything from zip-lining above the jungle canopy, ATV riding, cave exploration, and more. Adventure parks are a fun activity to do with your group to get your adrenaline pumping.
Snorkeling and diving at MUSA
Snorkeling is a favorite local activity to explore the depths of the ocean surrounding Cancun. You can find boat tours to take you to some of the popular diving spots, but you'll want to visit MUSA for the best underwater experience.
MUSA, or the Cancun Underwater Museum, showcases art underwater. The unique museum was established to highlight the coral life and preserve other surrounding reefs. You'll see hundreds of underwater statues arranged in creative exhibits. And since you're underwater, you'll be swimming alongside the abundant marine life.
Take a dip in the cenotes
It might be hard to pull away from the scenic beaches, but there are many other places to go for a swim. Skip the hotel pool and opt to go for a dip in one of the nearby cenotes, or natural pools.
Cenotes are a unique swimming experience, many tucked within the jungles or hidden in caves. The scenic pools are perfect for a quick swim to cool off from the heat. Ride along the Ruta de Cenotes for many options – some cenotes are more developed because of their popularity or discover a hidden gem.
Day trip to Chichen Itza
Cancun is a major tourist destination that often blurs the lines between Mexican culture and international appeal. If you're visiting for a couple of days, we recommend taking a day trip to Chichen Itza to explore some local heritage.
Chichen Itza is a Maya Ruin where you'll see the impressive 100-ft tall pyramid called El Castillo. Drive a couple of hours outside of Cancun to reach the archeological site, which also features temples, an observatory, and even an ancient ball court.
In case you can't make it to the ruins, you can visit the local Museo Maya Cancun to see artifacts and learn more about the Mayan culture.
Best nightlife spots in Cancun
Many people refer to Cancun as the Las Vegas of Mexico. By night, the sunny beach town transforms into a bustling nightlife haven illuminated by neon venue signs. Most tourists hang around Zona Hotelera, or the Hotel Zone, a strip lined with hotels, restaurants, bars, and clubs.
If you're looking for some fun places to party in Cancun, check out some of these bachelor party ideas along Zona Hotelera.
Best Bars in Cancun
Head along Kulkukan Boulevard, the main street extending to either end of Zona Hotelera, to find the best bars. The local bars are unlike any place you've ever been to before. The bars are a great place to start (or continue) drinking to begin the night, but once you're there, it might be hard to leave.
Be sure to visit these bars during your Cancun bachelor party:
Both of these bars are located along the strip, so it's easy to reach them from your hotel. If you can't get enough of the beach, The Surfin' Burrito is precisely where you'll want to grab a few drinks. The bar is right on the beach so you can enjoy cheap drinks with a priceless view. And the best part is that it's always open.
Suppose you want to get the party started early, head to Congo Bar Cancun. The multi-level venue is a destination for dancing. You'll have plenty of room to try out your drunken dance moves while jamming to live DJ sets all night. Get the open bar option for your bachelor party and see how long you can survive before blacking out.
Most of the resorts in Zona Hotelera also have inclusive bars for their guests – some bars give great beach views while others let you swim right up from the pool.
Best nightclubs in Cancun
There's a reason why Cancun is Mexico's favorite party destination. You won't believe the scale of the nightclubs here, comparable to some of the top nightclubs around the world. If you're looking for a great party to celebrate your last days as a bachelor, check out these spots:
The City Nightclub is the largest in Cancun. The dance floor is always packed with locals and tourists vibing out to fantastic music. Get bottle service for your group, and you can party all night to pulsating beats.
Dady' O is another major nightclub to dance away the night. The people who come here are ready to party, so feel free to show off your bachelor party celebrations. You'll immediately feel the energy as soon as you enter the venue. There will be endless glow-in-the-dark cups going around and sexy bartenders letting you take shots from their cleavage.
Best Casinos in Cancun
The cost of partying in Mexico is significantly cheaper than most other places. You might be pleasantly surprised at your final tab after leaving the club or bar. And with the Dollar to Peso exchange rate, the prices even for bottle service seem unreal.
If you find yourself with a bit of extra cash by the end of the night, you should check out one of the local casinos to see if you can hit it big. There are many casinos in Cancun open all night to drop by after leaving the club.
Check out these casinos for some leisure gambling in Cancun:
Whether you're a high roller or looking for low minimum bets to drop your last few pesos, you can find a wide range of games at these establishments. They offer your favorite table games, slots, and have all of the familiar casino sights and sounds to get you hype if you're winning.
What to eat in Cancun?
Your Cancun bachelor party will surely have more drinking then you're probably planning for. The best way to make sure you survive the trip is to eat well, and you'll have lots of options!
Whether you're looking for a quick snack or looking for a delicious Mexican dinner, it won't be hard to find a restaurant or food cart to grab a bite.
Cancun is a resort town, so if you're staying at one of the resorts in Zona Hotelera, you'll have food options onsite. How convenient to wake up and stumble down to the lobby to order breakfast. The staff is well prepared for hungover guests, especially if you tell them that you're celebrating a bachelor party.
As you're hanging around town for the day, stop by one of the street food vendors to try out some classic Mexican food favorites:
Tacos
Churros
Elotes
Botanas
Dinner in Cancun
After a long day of outdoor adventures and preparation for the nightlife, you'll also have some great restaurant choices to fill you up before switching to strictly alcohol for the evening. There are a lot of restaurants to choose from along the main Kulkukan Boulevard – some of the favorite places to keep an eye out for are:
Ask the hotel staff for restaurant recommendations, and you'll hear Mextreme as one of the best choices. The restaurant serves Mexican food as well as international favorites in a fun atmosphere. Porfirio's Cancun also serves up a great plate of Mexican food that you can enjoy accompanied by live music every night.
Since you're right on the coast, don't forget to try some seafood – Captain's Cove always has fresh seafood options with incredible views of the ocean while you eat. It's an excellent setting for bachelor party gifts and a special toast.
Where to stay in Cancun?
Most tourists visiting Cancun stay in Zona Hotelera, or the Hotel Zone. The zone is a narrow strip extending from the mainland into the Gulf of Mexico, developed mainly for tourism.
Many top resorts like the Dreams Sands, Royal Sands, and Panama Jack Resorts offer beachfront properties and all-inclusive amenities for guests. The resorts have prime locations along the main boulevard and provide shuttle service between destinations.
An all-inclusive resort is the most popular option for Cancun accommodations, but you can also find private villas and houses to rent on Airbnb to host your bachelor party. Check out places like this or this to stay near all the action of Zona Hotelera, but with the privacy of your own space. It's a lot of fun to put up bachelor party decorations during your stay.
Tips before visiting Cancun
Cancun is Mexico's party destination but may also be considered a tourist trap due to the number of people visiting every year. Where there are lots of drinking and partying, there's sure to be some scams to look out for.
For the safest time in Cancun, stay near Zona Hotelera or only visit places advised by the hotel staff. Travel outside of the main tourist area, and you may quickly come across some shady areas.
Also, be mindful while partying. Sure, you'll want to have a wild night, but you also want to make it back home in one piece. Don't walk around with lots of money and try to use cash (pesos) whenever you can.
We typically like to recommend strip clubs to check out for your bachelor party but use extreme caution if you're planning to head out late night to any local venues. Tourists are always an easy target.
Cancun Bachelor Party Rating – 5 out of 5
Cancun deserves five stars all across the board when you host your bachelor party here. Nothing compares to the energy you'll experience for the few days you're visiting Cancun. You'll surely come back with more secrets than stories you'll tell anyone outside of your trusted group of guys.
Mexico is a place like you've never seen before so come prepared with plenty of bachelor party supplies. Cancun is a destination built for partygoers and these bachelor party ideas help make it the perfect place to host such an epic event.
As long as you're mindful of where you're at during your time in Cancun, there's no reason why you won't have an incredible bachelor party.