Plan an Incredible Chicago Bachelor Party (2021 Guide)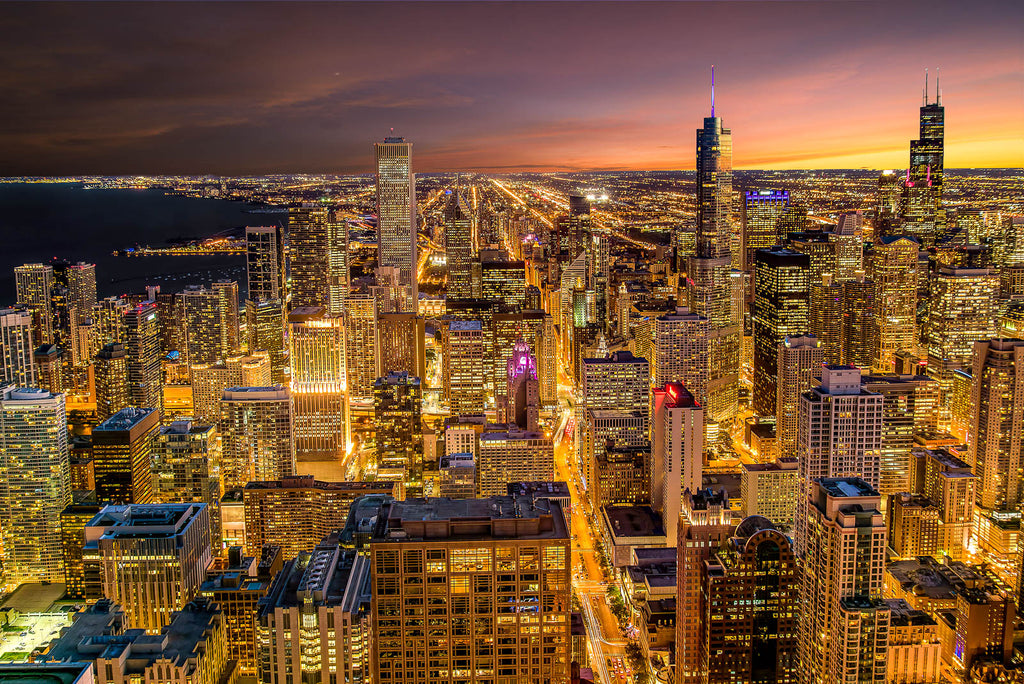 Most people refer to Chicago as the 'Windy City,' but for some, it's recognized as one of the best places to throw a bachelor party. Chicago is a major city where you can find crazy parties, great dining, and entertaining things to do during the day.
We've explored Chicago to bring you some of the top bachelor party ideas in Chicago.
Whether you're looking for the best nightclubs in town, where to stay and eat, or even which of the local strip clubs will give you the best experience, keep reading to find the best way to throw a Chicago bachelor party.
Things to do During the Day
Chicago is one of the biggest cities in the US, with so many things to do to keep locals and visitors entertained. You'll never run out of bachelor party ideas in Chicago for your bachelor party. To keep the party rolling well into the daytime, some of the things you should explore are:
Navy Pier
Chicago Loop
Go Sightseeing
Day Cruise in Lake Michigan
Navy Pier 
One of the top places to hang out in Chicago is the Navy Pier. The Navy Pier is a hub for culture and entertainment, providing the perfect area to hang with the boys. The pier includes ride attractions, places to eat, shopping, and cultural venues.
Navy Pier is like an outdoor theme park with fun games that you can enjoy. There are carnival-style attractions or check out some of the tech upgrades like virtual reality. You can't visit the Navy Pier without a ride on the Centennial Wheel, which has fantastic views of the Chicago skyline.
You can also find lots of local events happening throughout the year at Navy Pier, so check the calendar before you visit and be sure to take advantage of it.
Day Cruise in Lake Michigan
While visiting Navy Pier, you can't miss out on taking a day cruise in Lake Michigan. Several companies offer day cruise experiences for seeing the incredible skyline, having lunch on the lake, or even an adrenaline-filled speed boat ride. You can even bring along a few bachelor party supplies.
Chicago Loop 
The Chicago Loop is serviced by the city's L-train, riding in a loop around Downtown Chicago. If you want to get to know Chicago, take a ride on the train - hop off at some of the points of interest along the way. You'll see some of the impressive architectural structures during the loop, so keep your eyes open for some interesting sights.
Some of the best sights along the loop include the Willis Tower, the Art Institute of Chicago, the Chicago Riverwalk, and Grant Park.
The Loop is a popular place to spend some time during the day to experience the Chicago city life. Drop by a local bar and grab a few drinks then stroll the streets filled with activity. It's not hard to find something to do in the district, and the L-train makes it easy to get around.
Go sightseeing
Discover the iconic city of Chicago with a sightseeing tour to some of the unique destinations. Whether you're taking memorable photos or vlogging about the bachelor party, a sightseeing tour will be a great way to find those perfect photo ops.
The Big Bus Tour Company operates tours in Chicago, or you can take a self-guided tour to explore at your own pace.
One of the must-visit destinations in Chicago is the Willis Tower, the tallest building. The Willis Tower has an observation deck at the top to give you a sweeping view of the city. There is also a glass box attraction with a glass floor looking directly to the Chicago Streets from 110-stories high.
Millennium Park is another place you should visit along your city tour. The park is an excellent place to relax and get prepared for the day. You'll find the famous Cloud Gate monument in the park, giving you one of the most iconic photos taken in Chicago.
Walking around with your groom hat and groom sash will let everyone know why you're in town.
Best Nightlife in Chicago
Chicago is one of the best cities in the US for nightlife – it is a popular destination for partygoers, making it the perfect place to have your bachelor party.
There are countless places to party in Chicago, so we'll explore some of the best bachelor party ideas to get you started. And knowing Chicago, you might start your night at one of these venues and take a complete detour to have one of the wildest nights you could imagine.
Best Bars in Chicago
What better way to experience a scenic city like Chicago than at one of the numerous rooftop bars? Chicago has tons of skyscrapers and hotels that feature some incredible rooftop bar experiences with great drinks overlooking the cityscape.
Be sure to check out:
You'll find delicious handcraft drinks and bar favorites at each of these venues. And the view is one of the best parts. You're in for a surprise when you ascend to these venues because you'll also find a rooftop pool.
You can only imagine when you combine a pool, bar, and rooftop in one experience…
Best Nightclubs in Chicago 
Hope you're ready to party all night long because the nightlife in Chicago is top rated. You'll make the right choice for having your bachelor party in Chicago because you'll easily find the best nightclub with beautiful women, great drinks, amazing music, and overall stylish ambiance.
Some of the nightclubs to check out when you party in Chicago are:
Whether you plan your night to go to one club or club hop throughout the night, you won't regret adding either of these clubs to your itinerary.
Stereo Nightclub has a high-end atmosphere with live DJ sets to keep the dance floor packed every night. You'll also find some great drink options.
If you really like to party, we recommend going to PRYSM Nightclub or Underground – you can party until 4 am or 5 am on Saturdays. Make reservations for bottle service at PRYSM and drink the night away to z mesmerizing sound and light system. The Underground is the place to go is you want to hit the dance floor. It has a fun and energetic crowd accompanied by great music all night long.
Best Strip clubs in Chicago
You can't have a bachelor party without stopping by the strip club after a long night of partying. Explore some of the local favorite strip clubs to find seductive women that might make the groom reconsider getting married.
Some of the best strip clubs in Chicago are:
Rick's Cabaret Chicago is one of the best strip clubs in the city. You'll find more than 100 girls ready to make sure you have a night to remember. It's also next to the PRYSM Nightclub so you can easily go to both on the same night.
The Gold Room is an upscale venue where beautiful topless girls provide you with friendly service all night. Your groom hat and groom sash might earn you extra special attention.
Call ahead to make reservations at the Polekatz Chicago Gentlemen's Club – tell them you're coming for a bachelor party, and you'll receive an extra special experience. There are multiple stages where dancers give tip-worth pole performances. Make sure to check out the Champagne Room. 
Best Restaurants in Chicago
Chicago is a top foodie destination in the US. Whether you're looking for a place to dine for brunch or dinner, you'll find some of the best restaurants you could imagine. Chicago has the entire range of restaurants, from upscale dining to neighborhood hot spots.
You're sure to eat like a king during your bachelor party in Chicago.
Brunch in Chicago
As wild as the nightlife can get in Chicago, we skipped right to brunch – you'll probably be partying throughout the breakfast hours anyway. Chicago is a unique city for brunch because of the number of choices you have – if there's one city to find the best brunch, Chicago is a top contender.
Some of the best brunch spots to check out in Chicago include:
If you get the chance, opt to dine in at The Smith. The sleek wooden décor makes it one of the coolest places to eat in River North. The dining room full of hungry brunch-goers chow down on a mix of brunch favorites – you'll find something for everyone, from omelets to churro waffles.
Paradise Park is one of the trendiest brunch spots in Chicago. The fun atmosphere is perfect for continuing the party during your bachelor party with unique features like lights and a disco ball. Head over to the restaurant in Wicker Park to sober up on their special breakfast pizzas or classic chicken and waffles combo.
Dinner in Chicago
If brunch sounds tasty, just wait until it's time to taste dinner in Chicago. If you're looking for an excellent location with lots of restaurant options, check out the Navy Pier. Navy Pier has a wide range of dining venues where you can even find some authentic Chicago eats.
Two of the favorite restaurants at the Navy Pier are:
Giordano's is famous for its authentic Chicago-style stuffed deep-dish pizza. Grab a few pizzas for your party, and you'll be more than satisfied with a city classic.
Offshore Rooftop and Bar is the largest rooftop venue in the US – you'll have amazing views of the Navy Pier, Chicago Skyline, and Lake Michigan while enjoying a meal prepared by an expert chef. The venue also has a full-service bar to get you started on drinks early for the night. Take a moment to make a bachelor party toast and surprise the groom with bachelor party gifts.
Where to Stay in Chicago
Chicago is a major metropolis, so a general search of "where to stay in Chicago" can place you anywhere in the greater city area. For your bachelor party, you want to make sure that you're in the center of everything to make it easy to get from your accommodation to the party.
Some of the best areas to stay in Chicago to narrow your search include:
Downtown is the business center where you'll find a lot of the high-rise buildings. Many of these are office spaces, but there's a fair share of name-brand hotels. It's a popular place to stay for visitors, so you'll find many high-end hotel accommodations like the Hyatt Place Chicago or The Godfrey Hotel Chicago.
Although you might spend a bit extra staying in the downtown district, you'll save on transportation because everything is accessible via the Chicago Loop L-train.
There's also plenty of daytime fun and nightlife near Navy Pier, so it's an excellent option for finding a hotel. Be sure to get one of the rooms with a view when booking a stay at the W Chicago – Lakeshore or other nearby options.
If fancy hotels aren't the vibe you're going for during your bachelor party, check out some of the apartment and house rentals via Airbnb. Places like this, and this will give you plenty of space for starting (or ending) the party at home with enough space for everyone to sleep comfortably. It's always fun to put up bachelor party decorations of your favorite theme.
Best time to visit Chicago
The best time to visit Chicago for your bachelor party is in the Summer. You'll have the most fun in the city with perfect weather, and most things are open for the season.
The summer is the busiest season in the city when a lot of people come to visit. Most of the best outdoor events happen during these months, so you're always sure to run into something exciting.
If you can, try to avoid having your bachelor party during the winter. Chicago gets extremely cold winters, and a lot of the seasonal activities and attractions are closed. You'll miss out on your chance to take advantage of the Navy Pier and the rooftop venues.
Chicago Bachelor Party Rating – 5 Stars
It's hard to top a bachelor party hosted in Chicago – the 'Windy City' is one of the most fun cities in the country for any occasion, especially a bachelor party.
We give Chicago five stars because of everything that the city has to offer, from the nightlife to the things to fill up your day. The right bachelor party supplies will make it even better. Chicago is also a very scenic destination with beautiful women and views to compliment your party experience.
You won't regret having your bachelor party in Chicago, and we're glad to provide you with a few bachelor party ideas to make the most of it.