Plan an Epic Key West Bachelor Party (2021 Guide)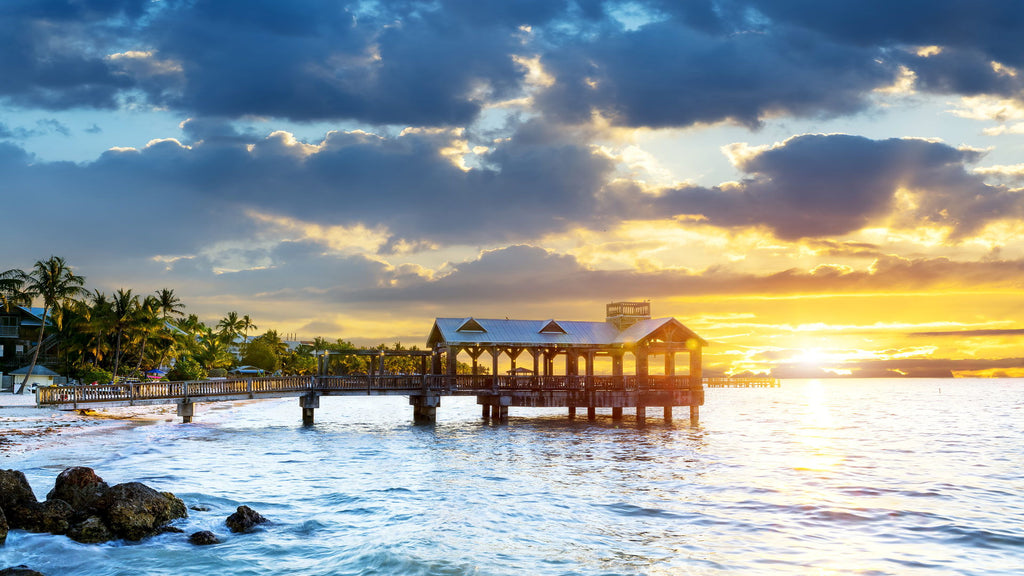 Head down to the southernmost point in the continental United States to find the fantastic bachelor party destination of Key West. It's one of Florida's party hubs that attracts partygoers for a wild time in town. There are endless ways to spend a bachelor party in Key West, from the beaches to the exciting nightclubs to the party boats.
Want to make it an unforgettable bachelor party trip with the guys? Well, gather up all your bachelor party supplies and make your way to Key West for a wild time getting shitfaced and nonstop partying.
We've got the best bachelor party ideas for Key West.
Things to Do During the Day
Key West always has a lively atmosphere, even during the day. There's a handful of popular areas to hang out that is always full of people ready to have a great time. You'll have plenty of Florida sunshine to take advantage of, so add a few of these daytime bachelor party ideas to your list of things to do:
Hang out on Duval Street
Water fun at the beach
Go on a fishing excursion
Take a booze cruise
Hang out on Duval Street
Duval Street is the main strip in Key West – it's where you'll find the best restaurants, shops, bars, and more. It's a hub for tourists and locals to come together for lots of fun. Make a mental list of bars you want to check out because you'll definitely be back here for the nightlife.
Put on your groom hat and groom sash and walk the one-mile street. It has attractions like Mallory Square, Maritime Heritage Museum, and an aquarium. You can take a walking tour or Trolley Tour to learn about the historical homes lining the street. You might even catch a local festival happening like the annual Food and Wine Festival. 
Water fun at the beach
Key West ranks as one of the top beach destinations in Florida. It's the southernmost point in Florida, with picturesque beaches everywhere you look. It's famous for the white sand beaches and turquoise water. Spend some time lounging on the beach or cool off from the heat in the water.
The best beaches to visit in Key West are Smathers Beach and Fort Zachary Taylor Beach. You can enjoy activities like swimming, snorkeling, diving, jet-skiing, and more – not to mention beautiful women in bathing suits sunbathing on the beach.
There are lots of rental places for equipment and diving tours nearby.
Go on a fishing excursion
Book a private fishing charter for the guys to go on an exciting fishing trip during your bachelor party. Key West is a popular fishing destination where you'll be amazed at what you'll catch out at sea.
You'll have a private boat navigated by an expert captain who takes you to the best spots for fishing. The tours provide all of the necessary equipment. Whether it's your first time fishing or you're a seasoned expert, it's a fun activity to share laughs and even catch dinner for the evening.
You can catch enormous fish like Mackerel and Barracudas. Don't forget to BYOB.
Booze Cruise
Fishing isn't the only time you'll find yourself on a boat in Key West. Booze cruises are a rite of passage when spending your bachelor party in Key West. You'll have a private boat for the experience where you can enjoy a range of recreational water activities and lots of drinking.
The private charters take your group out for a few hours into the sea, where you can swim, jump off the boat, and snorkel. You'll have a designated captain, so you can focus on getting shitfaced. You can find cruises that also provide food and live entertainment during the trip.
Key West Night Life
The nightlife is when the party really begins during your Key West bachelor party. Get ready for a night full of drinking and party-hopping because there are lots of places you should check out. If you have one night in town or a few nights to enjoy, make the most of it with these nightlife bachelor party ideas.
Best bars in Key West
There's only one area to focus your attention on for bars in Key West – Duval Street. Duval Street is lined with exciting bars that are always packed with partygoers. It's the perfect place to go barhopping, and even walking down the street will be entertaining. You never know what you'll see.
The best bars to check out are:
Sloppy Joe's
Fat Tuesday
The Rum Bar
Sloppy Joe's is a famous historical bar that's been a longstanding venue in Key West nightlife. The illuminating lights beckon you into Joe's Tap Room. It features cold beer on tap to enjoy with live music playing in the background.
Fat Tuesday is a must-visit bar! It's known for the frozen cocktails – it has a wall of different flavors, and don't be shy about adding an extra shot in the drink. Stick around for a bit for a few rounds of pool, and try not to forget to take your souvenir cup with you.
If you want a more laidback setting, The Rum Bar is a place for true rum connoisseurs. It has the best rum selection in Key West, with drinks from around the world. Chat with the staff to learn about the different drinks and take your taste buds on a global alcohol journey.
Nightclubs in Key West
Hopefully, you've pre-gamed appropriately because your night will always elevate as soon as you enter the nightclubs. It seems like the party never stops in Key West, with most of the clubs closing at 2 am. Get ready to dance the night away at these popular nightclubs on Duval Street:
Green Parrot
Aqua Bar and Nightclub
Green Parrot has one of the best lights and sound systems in Key West. You'll get to enjoy the fun atmosphere in a modern setting. Check the calendar because you might get to catch a live show happening.
Sidebar also features a modern nightclub setting. Order a bottle for the table and vibe out to the fantastic music choices. It always hosts live DJs spinning the hottest records that keep people out on the dance floor all night.
Strip clubs in Key West
What's a bachelor party without visiting the strip club? Same some energy for the real after-party at one of the local strip clubs. Call ahead to make reservations for your bachelor party group, and the venues will be very accommodating when you arrive.
Check out these strip clubs for the best adult entertainment in town:
VIP Gentlemen's Club
Bare Assets
VIP Gentlemen's Club isn't your typical strip club. It's an upscale venue for a comfortable setting enjoying a lap dance. It has the most beautiful women of different nationalities, so there's a girl for everyone. And the best part – it's fully nude.
Bare Assets also brings fully nude entertainment to your bachelor party night. Grab a VIP table, and you'll be surrounded by gorgeous girls. It's open until 4 am, so you'll have plenty of time to stop in for a lap dance for the bachelor.
Where to Eat in Key West?
A few days full of drinking is a given at any bachelor party, but it's a real treat when you get to enjoy a good meal in between drinks. The good news is that Key West has tons of restaurants that you'll want to try.
Duval Street is a central hub with tons of restaurants, and many of the local hotels have restaurants inside of them. There are plenty of options so that you'll never go hungry. And besides, you'll need lots of food to balance all the alcohol you'll consume during the festivities.
We've got the best places in town to check out for a delicious meal.
Best brunch in Key West
The parties last until early in the morning. The best-case scenario is that you'll walk into one of these breakfast spots still shitfaced before heading home to recover. In other scenario's you might wake up just in time for brunch. You'll need breakfast for champions to kickstart your day to get ready for round two.
You can't go wrong with one of these brunch spots in Key West:
Bagatelle
La Crêperie
La Grignote
Key West has a lot of French influence. Many of the venues are French-inspired, where you can find French favorites or an American-style breakfast. Head to Mallory Square to find Bagatelle, a 19th-century home-turned-restaurant. You can find a mix of seafood brunch specials like salmon and a bagel, a lobster omelet, and tasty mimosas.
La Crêperie arguably has the best crepes outside of France. It has lots of outdoor dining on the patio to enjoy specialty crepes, croissants, and omelets.
La Grignote is a French-style café famous for its fresh baked goods every morning. It serves artisan pastries made from scratch daily. Drop by and see what's cooking for the day.
Best dinner in Key West
Dinner is always a special time during a bachelor party. You'll typically share a toast with the bachelor or give out bachelor party gifts for the weekend ahead. Whether it's your first night on the town or getting ready for the last hurrah with the guys, here are some dinner spots to check out:
El Siboney Restaurant
Santiago's Bodega
El Siboney is one of the top-rated restaurants for dinner in Downtown Key West. It's a Cuban restaurant that serves homemade dishes for an authentic taste of the island. The casual dining setting makes it excellent for a bachelor party.
Santiago's Bodega is a Spanish-style restaurant specializing in tapas. Order various plates for the table, and don't forget drinks from the extensive drink menu. You'll undoubtedly be stuffed and ready to dance the food off.
Where to Stay in Key West?
Key West is an excellent place to host a bachelor party because it's easy to get around. You'll never have a problem reaching the party spots or the beach from your accommodation. Many of the best neighborhoods are walkable, or you can use the local trolley.
With all the tourist traffic, you'll find plenty of hotels to choose from in Key West. The bigger dilemma is deciding where you want to stay.
We recommend checking in the following areas for accommodations:
Historic District
Casa Marina
The Historic District is also called the Old Town. It's characterized by historic buildings well preserved from when they were built. Many traditional-style hotels give you a boutique experience or choose one of the major hotel brands. Old Town is best for enjoying the nightlife, shopping, and dining on Duval Street.
Casa Marina isn't too far from the action, but its advantage is being on the beach. The area features several beachfront resorts that offer incredible views and steps away from the beach.
Can't find an ideal hotel or resort? Consider an Airbnb rental for your own place during your stay. There are many options with plenty of room to accommodate your entire bachelor group. It's also fun to put up bachelor party decorations with fun themes. Check out a place like this or this to see the fantastic options that Key West offers.
Best Time to Visit Key West
Are you deciding when to throw a bachelor party in Key West? Anytime! It's the southernmost point in the continental US, so you'll have warm weather all year. There are two things to keep in mind when determining the best party dates: rain and tourist.
Key West has a rainy season between May and October. You can typically expect a daily rain shower every morning, but it will be all cleared up and sunny by midday. The Dry season is December to April, full of sunshine and hot weather. Perfect for outdoor activities and bar hopping.
The peak travel time is during the summer. It gets very crowded at all the party venues and restaurants, so prepare in advance by making reservations for places you want to go.
Key West Bachelor Party Rating – 4 out of 5


It's easy to have a great time in Key West. With most of the fun (day and night) centered on one street, there's never a question of what to do during the trip. It's the perfect place to spend a couple of nights getting shitfaced with locals and tourists. Dance the night away in the fun nightclubs or go on a fishing trip to catch a trophy fish.
Key West is a fun place to spend a bachelor party. With the right bachelor party supplies, you can turn it into an experience you'll never forget!