Plan a Badass Lake Tahoe Bachelor Party (2021 Guide)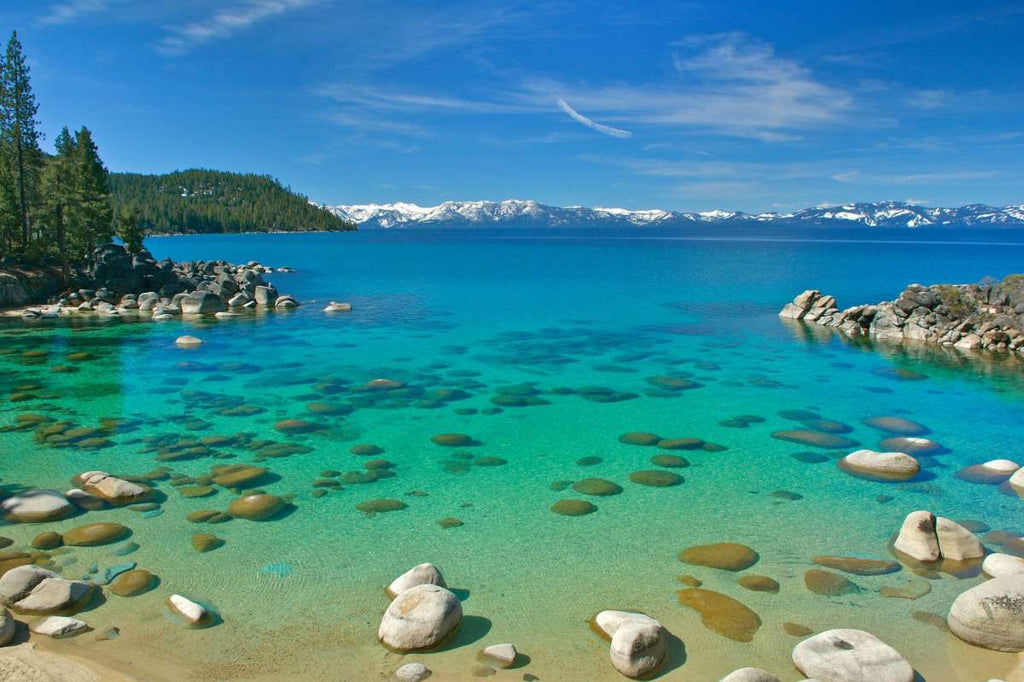 Visit Lake Tahoe for the ultimate outdoor bachelor party experience. Lake Tahoe is among the largest lakes in the US, stretched over the border of California and Nevada – prepare for state-hopping during your party.
Lake Tahoe is a hub for outdoor recreation in every season, from hiking and camping in the summer to skiing in the winter. With the popularity of Lake Tahoe, you'll find lots of nightlife for wild parties and even casinos.
There's nothing quite like having a bachelor party at Lake Tahoe, so keep reading to learn about the best bachelor party ideas!
Things to do at Lake Tahoe During the Day
Lake Tahoe is much more than just a lake experience – it's a popular destination for enjoying everything about the outdoors. There's a lot of things to do at Lake Tahoe to keep you entertained during your bachelor party.
Some of the top bachelor party ideas to add to the party itinerary include:
Visiting the Beach
Explore the State Parks
Winter Recreation
Lake Cruise
Visiting the Beach
The cool thing about visiting Lake Tahoe for your bachelor party is that you'll never run out of options for beaches to hang out at. Beaches surround the entire coast of the lake, giving you lots of places to find a suitable beach for the day.
Some of the top beaches at Lake Tahoe include Lakeview Commons, Kings Beach, and Sand Harbor. You'll have a new perspective of the lake at every beach, with unique views of the mountain backdrops.
You can spend an entire day at the beach so come prepared with all the bachelor party supplies that you'll need. You'll have fun the whole time – the beaches are the perfect place for swimming, lounging, beach sports, kayaking, or having a picnic.
Explore the State Parks
Lake Tahoe is an all-year-round destination, and especially popular during the summer. If you're planning your bachelor party during the summer, the lake has lots of recreational activities awaiting you.
The lake is just the centerpiece of visiting Lake Tahoe – there are many state parks and landmarks within the lake region. Some of the activities you can enjoy at Lake Tahoe include hiking, biking, climbing, and fishing.
The must-visit state parks at Lake Tahoe are D L Bliss State Park and Emerald Bay State Park. These are the perfect spots to enjoy the beautiful summer weather. You'll find many designated trails for hiking and biking, taking you through the biodiverse landscape. Grab you groom hat and explore the great outdoors.
Enjoy Winter Recreation
Believe it or not, people still flock to Lake Tahoe during the winter – you won't want to stay indoors even during the colder months. Winter recreation is one of the favorite things to do at Lake Tahoe, where skiing is among the top activities.
Lake Tahoe is home to famous ski resorts where you'll find some of the best slopes amidst the scenic mountain backdrop. Be sure to check out the Squaw Valley, Heavenly Mountain Resort, or the Homewood Mountain Resort for the ultimate skiing experience at Lake Tahoe.
You've probably heard of the legendary Squaw Valley, which hosted the Winter Olympics in 1960. It's the top skiing destination at the lake where you can spend a whole day of your bachelor party on the slopes.
Feel free to bring your equipment or find some of the onsite rentals for everything you need.
Lake Cruise
You can't visit Lake Tahoe without exploring the vast lake itself. There are lots of lake cruise companies to take you on a variety of excursions around Lake Tahoe.
Make reservations with one of the local cruise operators for everything from luxury sightseeing tours around the lake, or a booze cruise with the fellas. You can find a full day or half-day lake cruises, with some providers offering drinks or meals on board. There's never been a better time to bring out your groom hat and groom sash.
You can also charter your own boat for a more private lake cruise experience. Feel free to bring all the drinks you want on your own rental and have a fun day drinking and swimming in the middle of the lake.
Where is the Best Lake Tahoe Nightlife?
Lake Tahoe isn't like your typical lake – because of its popularity, several nightlife venues have established around the entire lake. You're in for a surprise when you experience the nightlife at Lake Tahoe as you hang out with other lake visitors.
It's not often you get to experience exciting nightlife by the lake, so check out these bachelor party ideas for some of the best bars, casinos, and club venues for wild nights during your bachelor party.
Lake Tahoe Bars
If there's one thing people like to do at Lake Tahoe, it's drinking, so what better place to spend your bachelor party. Lake Tahoe has its own bar scene worth exploring. No matter which part of the lake you're staying at, there's a cool bar to check out nearby.
Some of the top bar picks at Lake Tahoe to check out are:
Each of these bars has its own characteristics, such as most of the bars at the lake.
Visit Emerald Bay Bar or Whiskey Dicks for a great drink selection and party vibes. Or start your night at Beacon Bar for live music and incredible views of the lake.
Casinos at Lake Tahoe
Lake Tahoe isn't the most expensive place to host your bachelor party, but visiting the casino might be a good idea for the bachelor to win back some of his wedding expenditures. Lake Tahoe has several resorts that feature full casinos with a wide range of gaming fun.
Some of the top casinos at Lake Tahoe are:
Check out these casinos for a night full of fun. Grab a few drinks and hit the slots or try your hand at the table games. Whether you win or lose, you're sure to have a lot of fun with this unexpected addition for your lakeside bachelor party.
Nightclubs at Lake Tahoe
The bars and casinos are just the first stop on your night of fun during your bachelor party. Lake Tahoe features an exciting nightclub scene like none other.
Some of the people you've seen and met during the day will inevitably pop up at some point at one of the popular nightclubs.
Be sure to check out:
Opal Ultra Lunge is a resort club a go-to spot for the local partygoers – you'll find some of the best music at the lake in this nightclub.
If you're into live DJ sets, Peek Nightclub and Xhale Lounge are the places to be. Make reservations for a VIP booth at the Peek Nightclub and enjoy exceptional bottle service to toast to the groom-to-be. Or visit Xhale Lounge for a hookah and stylish atmosphere.
Dining at Lake Tahoe
You could only imagine the amount of food required to keep you active all day in a place as action-packed as Lake Tahoe. You must fuel your vehicles and yourself properly before you start the day's adventures for your bachelor party.
There are many dining options at Lake Tahoe, so you'll never run out of ideas for places to eat. And with the legacy of Lake Tahoe, there's plenty of locally themed meals to taste.
Lake Tahoe Breakfast
You'll want to wake up bright and early (if you can) when you spend your bachelor party at Lake Tahoe. There's too much to see and do, so why waste the day away in bed – a hearty meal will remedy your hangover just as well.
South Lake Tahoe is a hub for fantastic breakfast restaurants. Some of the local favorites include:
You'll find many people gathering along the southern shore, getting ready to taste some of Lake Tahoe's local flavors. Ernie's Coffee Shop serves up a traditional American-style breakfast all day, so it's no rush to get there. Try one of their Big Mountain Breakfasts, and you'll have enough food to keep you full the entire day. 
For breakfast favorites, stop by Red Hut Café or Heidi's Pancake House. These restaurants are famous for their waffles and pancakes, respectively. Red Hut Café has two locations along the south shore with lots of specialty waffle options. And you've never seen a stack of pancakes like you'll find at Heidi's Pancake House.
Dinner at Lake Tahoe
Dinner time might be your favorite time (aside from partying) at Lake Tahoe – your dining experience will be one that you can only have here, making the event even more special for your bachelor party. 
Lake Tahoe is an outdoor destination, so one of the best things to do for dinner is to cook out. Stop by the grocery store before arriving at your accommodation so you'll have plenty of food to cook and eat for everyone.
There are a lot of designated picnic sites with grills available to use. Or you can enjoy cooking in a traditional style over an open campfire. You have a lot of flexibility of what to eat and even where you set up your picnic. Camp out in the wilderness or go for a scenic view of the lake, or better yet, try out both!
If you need a break from the outdoor lifestyle and prefer a restaurant venue, check out the menus at:
The cool thing about these restaurants is the scenic view of the lake while enjoying a classic American grill menu. Request their outdoor seating and enjoy some delicious specialty drinks alongside your meal. You won't find a better backdrop to make a toast to the bachelor and share some bachelor party gifts.
Where to Stay at Lake Tahoe
Accommodations are one of the essential elements of having a successful bachelor party. You'll need to consider your budget, how many people are coming, proximity to things you plan to do, and how much partying you're planning to do at the accommodation.
Lake Tahoe has lots of options for accommodations suitable for all party types. Whether you're looking for an outdoor experience, a local inn, or a modern room, Lake Tahoe has it all. 
Camping is the best way to experience Lake Tahoe – there are lots of designated campgrounds where you can stay in cabins, or set up your tent for the night. The great thing about camping in Lake Tahoe is that you can have a different campsite every day of your party. Can you imagine crashing at your campsite after a long day of partying? 
South Lake Tahoe is a popular shore for major resorts. You'll find modern accommodations at the Hard Rock Hotel or Harrah's, offering you easy access to their lobby casinos from your room. 
For a more localized experienced, step away from the big chain hotel names and stay at an inn. You'll have great options at Rodeway Inn or 7 Seas Inn.
You always have the option of renting your own place via Airbnb. Check out some of the large accommodations you can find for housing your entire party in one place. Places like this or this give you lots of space to sleep and party at Lake Tahoe. They are the perfect setting for your themed bachelor party decorations.
Best Time to Visit Lake Tahoe
Lake Tahoe is an excellent destination for your bachelor party at any time of the year. Although it's an outdoor destination, the experiences change depending on which season you're visiting.
At Lake Tahoe, summertime is the busiest season with many tourists and most of the seasonal attractions at lake open. You can visit during the summer if you're looking forward to spending time out on the lake or camping outdoors.
Lake Tahoe is also a popular wintertime destination, attracting a lot of people for skiing. You'll have a great time during your bachelor party even in the winter when you stay at one of the ski resorts.
Lake Tahoe Bachelor Party Rating – 5 out of 5
Lake Tahoe isn't just a place for spending time outdoors around the lake – it's a major travel destination where you can find a lot of party excitement. You'll have one of the most memorable bachelor party at Lake Tahoe.
Lake Tahoe deserves five stars because of the amount of fun you can expect to have at the destination. You'll never run out of bachelor party ideas – fill up your itinerary with fun outdoor activities for the day and end the night with partying at the lake's club venues.
Lake Tahoe has everything you need - all you have to do is bring the bachelor party supplies for the perfect bachelor party with the guys.