Plan a Badass Las Vegas Bachelor Party (2021 Guide)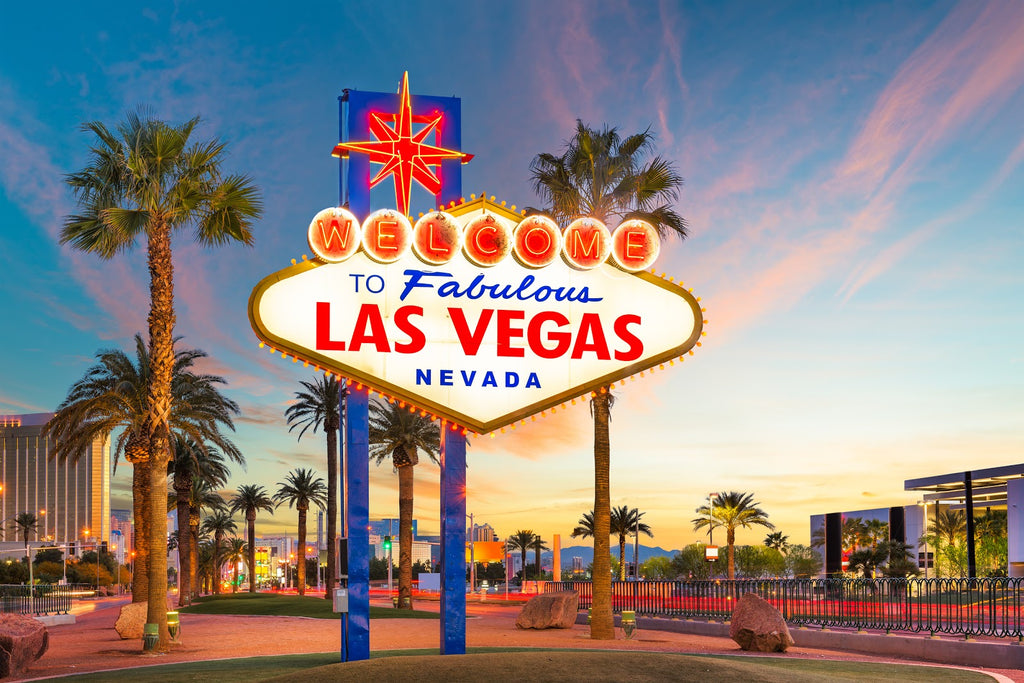 Las Vegas is the top bachelor party destination in the world. It's not often that you find a city designed for partying, but Vegas is precisely that place where all your bachelor party ideas can happen.. There's a reason why the city has the slogan "what happened in Vegas, stays in Vegas…" As soon as you land, you'll feel the high energy of the city waiting to give you an incredible bachelor party experience.
There are so many ways to have fun during your Las Vegas bachelor party. From the best nightclubs in the world to strip clubs with women as hot as the weather. Las Vegas is the best place to host a bachelor party, and we'll give you some insights on how to make the most of it.
So, pack up your bachelor party supplies and get ready for 'Sin City.'
Things to do during the day in Las Vegas
Las Vegas is a fun place to hang out at any time of the day. There's plenty to see and do on the strip that will keep your bachelor party exciting in the day or the night. Even during the day, the drinking seems to never end. Check out some of the day time bachelor party ideas in Las Vegas to hold you over until the wild Vegas nights begin.
Try your luck in the casino
Las Vegas is the gaming capital in the US. As soon as you land, you'll see rows of slot machines calling for you to try to hit the jackpot. If you're staying on the strip, all of the hotels feature world-class casinos on the ground floor, so you'll have plenty of options.
Gambling in the casinos is one of the most fun things to do in Las Vegas. If you're on a budget, you can play on the penny slots or head over to the high roller's suite. You'll have all types of gaming, including slots, card games, table games, and other specialty games.
If your luck runs out in one of the casinos, you'll only be steps away from the next to try your luck.
Hang out at the pool
Las Vegas is hot – it's located in the middle of the desert with hot, sunny days. One of the best ways to stay cool in the Vegas heat is by going to the pool. Most of the hotels have outdoor pools that make the perfect place for relaxing and drinking.
Bring along some bachelor party supplies and grab a spot in one of the pool cabanas to get poolside service. Your groom hat and groom sash will make you the life of the party. You'll have drinks and snacks delivered right to you as you lounge by the pool. And the best part is the view. The hotel pools are the perfect place to spot hot women. 
If you're visiting in the spring or summer, you'll also find some daytime pool parties which feature live DJs and performances.
Thrill rides
Did you know that there are a lot of amusement park rides scattered around town? It's one of the popular things to do during the day to add a bit of thrill and excitement to your Las Vegas bachelor party.
You can find thrill rides at the New York-New York Hotel, The STRAT, and Fremont Street. New York-New York has a high-speed roller coaster that loops around the NYC skyline. The STRAT has the tallest building in Las Vegas with a few rides at the top, including a roller coaster extending over the edge and a drop tower. Fremont Street has a cool zip-line to soar above the street.
Visit Fremont Street
Fremont Street is one of the newest attractions in Las Vegas. Downtown received a massive makeover to make it a popular destination away from the strip. Fremont Street has a large canopy extending multiple blocks that feature LED lights. Beneath it, you'll find a daytime that seems to never end.
It's a popular hangout spot where you'll have several blocks of different bars and restaurants. Each venue has outdoor seating to create a fun atmosphere to enjoy music, drinks, and street performers. It's the perfect time to bring out your matching shirts and other fun bachelor party supplies.
It will seem like one large venue that you can hang out in until the night. It also has a daily light show worth checking out.
Best Nightlife in Las Vegas
When you're visiting Las Vegas, it's never a question of "what is there to do at night," but better "what can't you do in Vegas?" Bachelor parties in Las Vegas are part of the reason for its nickname as 'Sin City.' It's known to bring out the wild side in everyone. Bachelor party ideas reach new levels, so get ready for one of the craziest Las Vegas bachelor party nights you've ever experienced.
Best Bars in Las Vegas
Your glass will always stay full during your Las Vegas bachelor party. It's a place where everyone seems to be drunk and ready to have a good time, so join in on the fun. Wear your groom sash for instant celebrations with everyone you encounter. What better way to spend your bachelor party than getting shitfaced with your closest guy friends.
You can start the night off on Fremont Street, which has many bars to choose from. Bar hop to find the best atmosphere:
Commonwealth is a favorite bar to hang out with a cool rooftop bar area. It features sophisticated décor with lots of room to dance to the sounds from the live DJ.
One of the attractions along Fremont Street is Container Park, an entertainment complex comprised of multiple venues. Oak & Ivy is one of the premier bars for the best drinks. It serves aged cocktails and whiskey.
With a name like Atomic Liquors, you won't help but to drop by and check it out. It's the oldest freestanding bar in town with the vintage atmosphere preserved after all these years. It's an excellent spot to grab a few craft beers.
Best Nightclubs in Las Vegas
The nightclub scene in Las Vegas is what makes the city famous. It's the top party destination in the US, and you'll get to experience it in full effect during your bachelor party. Leave the cameras at home because you don't want to leave a paper trail of what's about to happen at night in Vegas.
Visit the Las Vegas Strip, where you'll have tons of nightclub options. Walk between the hotels to enjoy the energetic streets before entering these top nightclubs:
Located inside the Cromwell Hotel, Drai's nightclub is one of the best in town. It's a rooftop club with a poolside patio area. It plays all the top hip hop/R&B hits, so you won't stop dancing the moment you enter the upscale venue.
OMNIA Nightclub in Caesars Palace is one of the largest nightclubs in Las Vegas, featuring three levels, each with its own dance floor. Grab a table for VIP bottle service and enjoy the packed house. It always has a famous guest DJ spinning the hottest records.
Marquee Nightclub & Lounge is located inside the Cosmopolitan Hotel as one of the trendiest Las Vegas clubs. You'll be mesmerized by the light and smoke effects. It also has multiple dance floors to get your groove on for the bachelor party.
Best Strip Clubs in Las Vegas
You'll have a lot of options for after-hours entertainment in Las Vegas. Some might argue that the real fun doesn't even start until after the clubs close. You'll have one more stop before returning to your hotel to end the night – the strip club.
Strip clubs are a rite of passage during your bachelor party, and Vegas has some of the top-rated clubs with countless hot girls. Here are a couple of strip clubs worth checking out:
Sapphire Gentlemen's Club is one of the largest strip clubs in Las Vegas that features over one hundred girls every night. You'll get to watch performances on several stages and get a lap dance in a private room.
Little Darlings is a favorite all-nude strip club with the perfect girl for each guy at your bachelor party. It specializes in hosting bachelor groups so that you can look forward to the best, most sensual experience during your visit.
If you want the hook up for the best strippers to come to the hotel, make sure to reach out to All American Centerfolds and let them know we sent you!
Best Restaurants in Las Vegas
Las Vegas isn't known for being a foodie destination, but it's quickly climbing the ranks. You'll find some quirky restaurants around the city that match the unusual atmosphere of the city. You'll have some delicious eats and some exciting dining venues that you'll only find here. It's the perfect time for giving out bachelor party gifts.
Where to eat brunch?
Las Vegas is well prepared for your morning hangover by offering some incredible options for brunch. One of the best ways to combat the throbbing headache is will a large meal. With you night ending so late, you might not make it out of your hotel until later than expected, so head out to one of these brunch spots to get your day started:
Visit downtown to try out Eat, one of the best brunch spots in town. It's a casual restaurant known for serving comfort food. You'll find everything you need on the menu, from buttermilk pancakes to biscuits and gravy.
Hash House A Go Go is a trendy brunch chain serving up American-style brunch favorites. You'll get to taste its farm-to-table fresh food that comes in huge portions to fill you up. And you'll have to try one of the Bloody Mary's if your stomach can take it.
Where to eat dinner?
In between exploring the daytime Las Vegas attractions and getting ready for the nightlife, you should visit one of the local restaurants for a hearty meal to prepare for a night of drinking. It's also when you'll be making some commemorative bachelor party speeches and toasts, so make it good.
A couple of the recommended spots for dinner in Las Vegas are:
Top of the World restaurant is an entire experience as opposed to only dinner. It's located on the 106th floor of the Strat Hotel, making it the highest restaurant in the city. The unique rotating restaurant provides 360-degree views of Las Vegas while you enjoy an upscale meal.
If you're looking for something a bit more laid-back, visit Carson Kitchen. You'll find all your favorite American classics like burgers and sandwiches. It provides a fun atmosphere with live music in the rooftop patio that also features a bar.
Where to Stay in Las Vegas?
The Las Vegas Strip is the most popular place to stay. It's a stretch of several blocks where you'll find the most famous hotels, casinos, nightclubs, and more. It's definitely the center of the action for 'Sin City,' so if you get a chance, choose to stay on the strip.
You'll have many of the best hotels, such as Caesars Palace, Bellagio, Wynn, Encore, The Mirage, and many more. You'll have access to the best casinos right in the lobby and the best outdoor pools just minutes away from your hotel room. Make it festive for the occasion with bachelor party decorations.


Staying on the strip means that you'll have everything at your disposal, and it won't be hard to make it back home safely after a long night of drinking.
Best Time to Visit Las Vegas?
The best time to visit Las Vegas is at any time! Las Vegas is the ideal year-round destination where you can have an unforgettable trip anytime you visit. It's perfect for seasonal bachelor party decorations or themed parties.
Las Vegas is located in the desert, so it's always hot. The summertime is the peak travel season, but it's also the hottest time of the year. You'll be spending a lot of time by the pool or gaming in the air-conditioned casinos.
Other seasons are just as fun for visiting the city. The weather is slightly cooler so that you can spend more time hanging out on the rooftop bars and patios.
Las Vegas Bachelor Party Rating – 5 out of 5
There's not another city in the world that compares to what you'll experience in Las Vegas. Las Vegas is the party capital and you'll never run out of bachelor party ideas. Be sure to come with plenty of bachelor party supplies and money because you'll indeed spend your share to have a good time. But don't worry, you can always win it back in the casinos.
Las Vegas has the best clubs, hottest girls, and fun atmosphere anywhere you go. A long weekend in Las Vegas is more than enough to satisfy your party cravings for a lifetime.