Plan an Epic Louisville Bachelor Party (2021 Guide)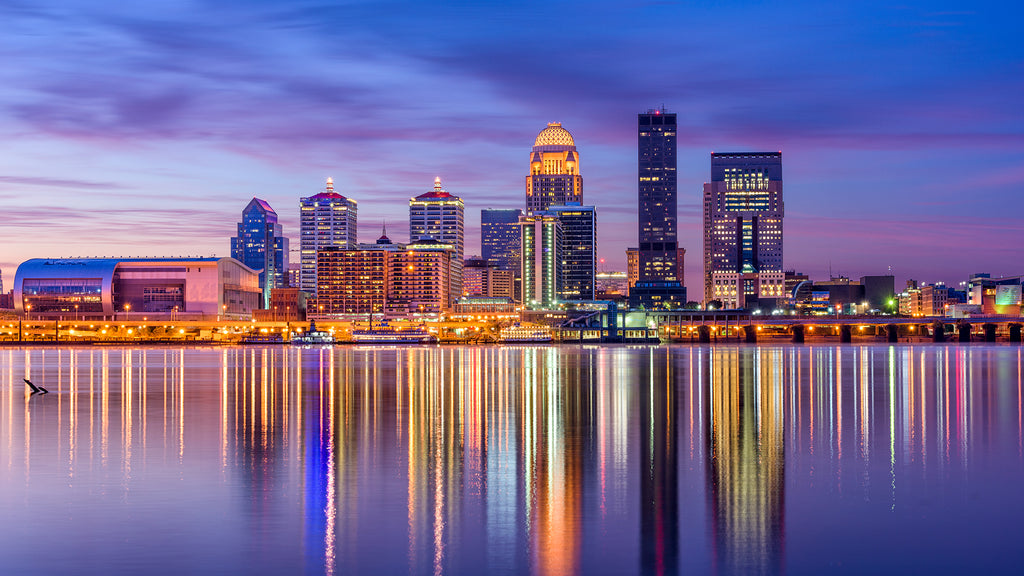 Louisville isn't the most talked-about bachelor party destination, but it's one to reconsider after discovering all the local bachelor party ideas awaiting you. Louisville is one of Kentucky's most beloved city where you'll find some of the best nightlife, dining, and entertainment in the state.
Host your bachelor party in Louisville to experience a fun time like never before. Louisville has you covered, whether you're looking for a high energy party with beautiful women, sipping bourbon while enjoying live music, or a cruise alongside the city skyline.
We've put together a guide to throwing a bachelor party in Louisville to give you an inside look at the best things to do. We'll explore the nightlife, places to eat, where to stay, and bonus tips before your party.
Get ready to have the best bachelor party ever!
Things to do in Louisville during the day
Louisville is the largest city in Kentucky, so you can bet that there's plenty of things to do to keep busy during the day. Dive into the Louisville culture by exploring the local culture through drinks, sports, and experiences. You can spend your bachelor party getting to know one of America's favorite cities.
Some of the best daytime bachelor party ideas in Louisville are:
Visit Churchill Downs
Walk the Waterfront
Take a Brew Tour
Explore NULU (New Louisville)
Go on a Day Cruise
Visit Churchill Downs
Churchill Downs is one of the most iconic landmarks in Louisville. The historical racetrack hosts the famous Kentucky Derby, along with other races and events. If you're lucky, you'll get a chance to attend one of the exciting racing events.
Churchill Downs also offers tours – visitors can walk the grounds of the track and visit the museum. The tours provide lots of historical information about the track legacy.
Horse racing is one major aspect of the local culture. The venue is a great way to experience something unique during your bachelor party.
Walk the Waterfront
If you're looking for where the locals like to hang out during the day, stop by the Louisville Waterfront. The waterfront runs along the Ohio River with lots of pedestrian walkways and leisure space.
The Louisville waterfront is perfect for people-watching, interacting with the locals, and discovering local events. It's a location perfect for bachelor party supplies like a groom hat and groom sash. The waterfront frequently hosts events such as art and music festivals. You never know what you'll run into while hanging out on the waterfront.
Either stroll the strip or relax in one of the green spaces. You can grab a few chairs and eat out on the lawn with a cool view of the Big Four Bridge in the background.
Take a Brew Tour
Did you know that Louisville is home to several major brew distilleries? You won't have to search long for a good drink while visiting Louisville because there are plenty of distilleries to check out. The distilleries are great for touring while enjoying cocktails.
Some of the top distilleries in Louisville include Jim Beam, Evan Williams, Makers Mark, and Kentucky Peerless. The distilleries are open to the public to explore the behind the scenes of their processes. You'll also get to taste plenty of fresh bourbon on each tour.
Explore NULU
New Louisville, or NULU, is the trendiest district in the city. It's a significant contrast to the historical buildings you'll typically see.
NULU is located at East Market District, where you'll find a lot of boutique shops, restaurants, and people hanging outside.
Gather your group of guys and head down to the district to visit contemporary shops and eateries. It's a popular hangout area and worthwhile to visit during your party.
Go on a day cruise 
No Louisville trip is complete without taking a day cruise. Louisville is along the Ohio River – several boat companies operate tours in the river to experience the city in a new way.
Steamboat cruises are popular for visitors. The boats are traditional American vessels with space for large groups, or you can hire a private tour. The cruise tours take you up the river for sightseeing or more specialty cruises for lunch and brunch.
Best Nightlife in Louisville
Louisville is a favorite city for locals and tourists, especially the nightlife. You deserve a fun night or two for your bachelor party, and you're sure to have lots of bachelor party ideas here. There are lots to look forward to when you venture into the Louisville nightlife scene to find the best bars, clubs, and strip clubs.
Best bars in Louisville
The good news about having your bachelor party in Louisville is being in one of the country's bourbon capitals. Bourbon is famously made in Louisville, so there are many bourbon bars to check out during your visit.
Some of the best bourbon bars in Louisville are:
Start your bachelor party night off with great drinks and ambiance when you visit either of the venues. You'll never run out of bourbon options after getting a glance at their drink menus. 
Bourbons Bistro and Haymarket Whisky Bar both feature over 100 bourbons each on their menus. Even bourbon connoisseurs will find something new. These are good options if you're looking to see the most famous spots in town. If you're lucky, your groom hat and groom sash might earn you free shots.
Down One Bourbon is a unique bar that offers bourbon from different eras. You can choose mixes from the pre-prohibition era to the modern-day.
Best night clubs in Louisville
Bars are an excellent way to start, but your night might not begin until you end up at the club. Louisville has several nightclub options for finding the best music, party, and beautiful women.
Check out one of these night clubs to add a bit of fun and excitement to your bachelor party:
Louisville is a popular city stop for touring artists and events, so you can always find something happening in town. You have a lot of options for live music clubs to enjoy.
Howl at the Moon is one of the top clubs in Louisville – it's located in the 4th St. Live entertainment district and famous for its bucket drinks. The venue hosts live music events and has a fun, party atmosphere.
Cole's Place and Club Legends also have live music performances. Check out the venues if you're looking for a place to dance all night and enjoy delicious drinks.
Best strip clubs in Louisville
Great drinks and a fun time in the club is a sign that you should continue the bachelor party activities. The strip club is mandatory for your bachelor party – Louisville has you covered on exciting strip clubs to check out.
You'll be seeing lots of beautiful women throughout the night, especially when you stop by these strip clubs:
Louisville offers two types of strip club experiences – upscale and relaxed.
If you're all dressed up for the night, you should add Blue Diamond to your party itinerary. The upscale club offers excellent bottle service and VIP. You'll see some of the hottest girls in Louisville dancing in the club.
PT's Showclub and Foxy Lady are perfect for more relaxed strip club atmospheres. You can enjoy the show until the early morning hours. The clubs offer topless shows and dances for the bachelor.
Best Places to Eat in Louisville
A bachelor party trip should always include delicious food to accompany lots of drinking. Louisville has lots of dining options for tasting the local flavors and characteristic décor. There's plenty of places where you'll find your favorite dishes.
Brunch in Louisville
One thing to look forward to during your hangover morning is going out to eat brunch with the guys. Breakfast might be too much to ask for if you're planning to have a wild night; brunch is appreciated just as much.
You'll have several brunch options in Louisville to mix a hearty meal with drinks. Check out the brunch specials at these restaurants:
North End Café is a local favorite spot for brunch. There's no need to rush into the restaurant because they serve breakfast all day. You'll have great options for American-style breakfast dishes.
Bristol Bar and Grille is a booming brunch spot that has multiple locations. Be sure to bring your appetite – the restaurant features a buffet-style brunch and unlimited bacon.
Garage Bar, on the other hand, is a trendy boutique restaurant established in a renovated garage. You'll find one of the city's best brunches while enjoying the ham and cheese bar.
Dinner in Louisville
You'll want to start the night with a full belly to handle all of the drinking during your bachelor party. Louisville offers a wide range of restaurants that showcase the city's southern flare.
Instead of browsing around for the best restaurants to eat dinner in Louisville, stop by one of these, and you're guaranteed to have a tasty meal: 
Each of these restaurants offers a unique experience compared to the others. Proof on Main celebrates its locally sourced food used in all of its products. You'll get an authentic local taste at the hotel restaurant. 
You can start a night of drinking early when you dine in at Jack Fry's or Butchertown Grocery. Jack Fry's has a fresh, vintage décor with an old charm atmosphere. The restaurant serves southern food favorites. It's a great setting for giving out bachelor party gifts and making a toast.
Where to Stay in Louisville
Reserve your bachelor party accommodations in the best part of Louisville to have easy access to everything. It's easy to navigate Louisville, but you'll find many attractions near the downtown and waterfront districts.
Downtown Louisville and the Waterfront are two of the best places to stay for your bachelor party. You'll find many hotel options, including high-end stays at the Galt House Hotel, or familiar accommodations at the Marriott or Hilton.
Hosting a bigger group for your bachelor party might deserve a bit more space than a hotel room. Consider renting an entire place to host the party.
Check out Airbnb for some excellent accommodations in Louisville. You can find updated apartments like this if you want to stay downtown or rent a house like this one located just outside the center. Make it even more festive with your own bachelor party decorations.
Best Time to Visit Louisville
The best time for your bachelor party in Louisville is during the spring or summer.
Geographically, Louisville lands approximately on the border of the north and south of the US. The local climate shares elements of both regions – something to consider when planning your party dates.
The springtime and summer have incredible weather for spending time outdoors or moving between party venues. Both months are the busiest tourism seasons for the city, so you'll get an influx of people at the hotels, bars, restaurants, etc.
Louisville hosts many of its events from around the year during the spring and summer – you can easily find things to do during the daytime or night.
Although prices are cheaper during the fall and winter seasons, Louisville gets cooler and has more precipitation. 
Tips Before Having Your Louisville Bachelor Party
Depending on the season when you're visiting, some venues might require reservations for your party. During the busy seasons, it's best to call in advance for restaurant or club services to accommodate everyone in your party.
The easiest way to get around Louisville is by car. Drive to Louisville or rent a car when you arrive. If you're staying downtown, you can walk to a lot of the best things to do, but other parts of the city require transportation.
Louisville Bachelor Party Rating – 4 out of 5
Louisville is a fun place for a bachelor party - we've provide lots of bachelor party ideas to keep your entertained. It offers a fun, yet diverse nightlife to enjoy the company of beautiful women and hand-crafted drinks.
Louisville is a seasonal city for having the best experience. Spring and summer in Louisville will have the most things to do to fill your bachelor party itinerary. You can enjoy a laidback city in the day and always find some fun parties at night.
Louisville should be at the top of your list for where to have your bachelor party. Pack up your bachelor party supplies and get ready for an exciting party.