Plan an Incredible Miami Bachelor Party (2021 Guide)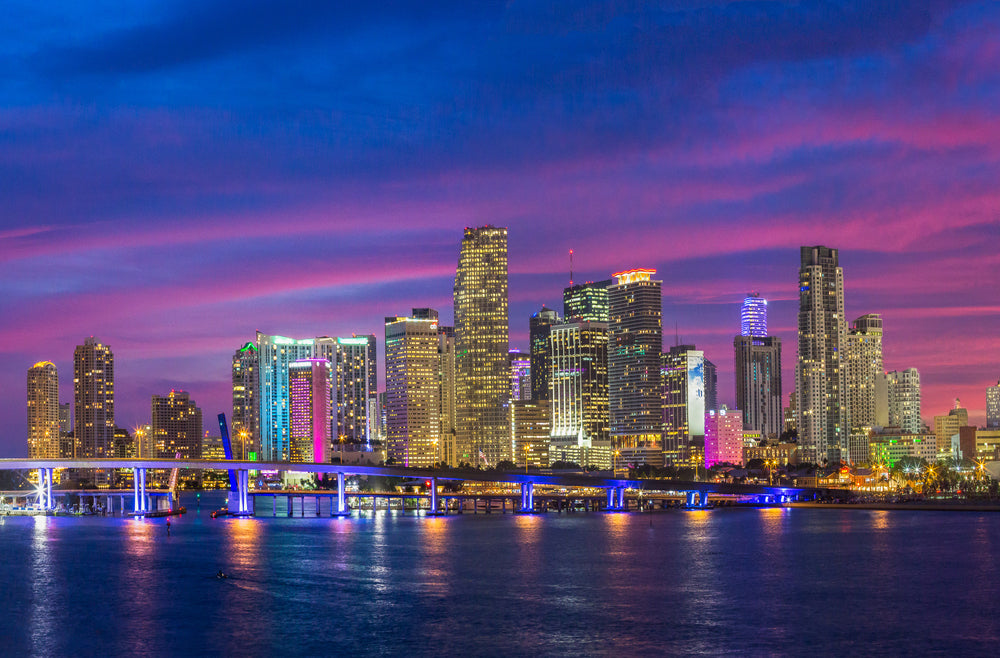 Miami should already be at the top of your bucket list, but visiting for your bachelor party might be one of the best decisions you'll make before tying the knot. Miami is a party haven in the US and a must-visit for your last bout as a bachelor.
Miami attracts the most beautiful women, VIP clientele, A-List celebrities, and you have an opportunity to party with them all. You'll have the time of your life in Miami from the pristine beaches to the top nightclubs in the country.
Our Miami bachelor party guide will give you the scoop on the best bachelor party ideas to plan the best bachelor party in Miami. We cover the best places to party, where to eat, and where you'll find some of the most beautiful women in the world.
Get your bachelor party supplies ready and prepare to have the bachelor party you've always dreamt about!
Things to do in Miami during the day
Miami is on the southern tip of the sunshine state, so you'll have the combination of incredible weather and long, sunny days to enjoy during your bachelor party.
In Miami, the party seems to never end, with just as much fun and entertainment available during the day as you'll find at night. Some of the best bachelor party ideas during the day in Miami include:
Visiting the beaches
Hang out in Little Havana
Take a Day Cruise
Go Sightseeing in Miami
Go to a Daytime Pool Party
Visiting the Beaches
Miami and beaches are synonymous whenever you talk about the destination. Visiting Miami's many beaches are one of the best places to hang out during your bachelor party – the good thing about Miami is that you'll have plenty of beach options to choose between.
The most popular beach in Miami is South Beach – the soft white sands and clear blue water attract everyone from solo beachgoers to celebrities to relax on the shores. Take a dip in the ocean to cool off or take a stroll down the South Beach Avenue with your groom hat and groom sash to find lots of bars and restaurants to grab a drink.
If you're looking for a different setting to enjoy beach activities, try out Miami Beach, North Beach, or Crandon Beach.
Hang out in Little Havana
A unique quirk about Miami is the heavy influence of Latin culture on the city. Many people from Latin America established communities here, the most prominent being Little Havana.
Little Havana is the hub of Miami's Cuban culture. The city showcases a lot of the Cuban heritage, and Little Havana is a place to see the center of it all.
You can spend an entire day hanging out in Little Havana – taste authentic Cuban cuisine or pop into a bar to enjoy some Cuban drinks and music. You'll feel like you're in Cuba while walking around the district.
Take a Day Cruise
If you think Miami is a scenic destination, just wait until you see it from the water. Taking a day cruise is one of the favorite activities to do in Miami for a bachelor party.
Charter a private yacht or make reservations for a Miami boat tour to get an oceanfront view of the metropolis. You'll have a lot of fun with your group while enjoying drinks, laughs, and memories out of the water. It's also the perfect time to take some incredible photos of your trip.
Go sightseeing in Miami
You might be thinking about partying the entire time that you're in Miami, but if you get a free day, take some time to explore the city attractions. Miami is a beautiful city with lots to offer in terms of urban life and culture. You'll quickly realize why celebrities flock to Miami.
Book a Miami sightseeing tour or take a self-guided tour of the city to create your own itinerary. Some of the must-visit destinations include Star Island, the Wynwood Art District, and the Miracle Mile.
Star Island is full of celebrity mansions, one's you wish were available for rent to throw a bachelor party. Miami also has a bustling art scene – the Wynwood Art District is essentially an outdoor exhibition with lots of graffiti work and art galleries throughout the district.
Just a heads-up: you'll have to be dressed in your best outfit before hitting the nightlife scene, so swing by the Miracle Mile, the top shopping avenue in Miami, to pick up some new threads for the nightclubs.
Go to a daytime pool party
Miami nightlife isn't the only time to party. During the summertime, you'll always find daytime pool parties happening around the city. Check out some of the parties hosted by the Shore Club South Beach, Mondrian South Beach, or The Clevelander, for a wild day time party experience.
Bring your swimming trunks, but sometimes the best place to enjoy the party is by the bar or on the pool deck.
Experience the Miami Nightlife
Miami is famous for being one of the top nightlife destinations in the world. Travelers come from all over to experience the wild nightlife excitement in one of the most scenic cities you've ever visited – which is why it's the best place to host your bachelor party.
Get ready for long nights filled with excitement you can't even imagine. Let's dive into some of the best nightlife bachelor party ideas, from bar hopping to the top night clubs in the country.
Beach Bars in Miami
Every city has bars, but Miami adds a bit of flair to the bar scene with venues established along the oceanfront to enjoy incredible views and atmosphere. Take advantage of the location and spend some time visiting some of the best beach bars in Miami:
You'll be spending a lot of time on South Beach during your Miami bachelor party, and luckily, you'll have a great selection of bars along the strip. Nikki Beach Miami is a popular bar on South Beach with a cabana bar where you might catch glimpses of celebrities. And stick around for after-hours because it turns into a nightclub. The ladies will love seeing you in a groom hat and groom sash.
River Yacht Club is for the most exclusive of guests – if you've budgeted for renting a yacht during your trip, you can cruise right up to the dock entrance of the bar and grab a few handcrafted drinks before heading continuing your nightlife adventures.
Best Nightclubs in Miami
Miami's nightclub scene is among the top in the world – you haven't partied until you've experienced the local nightlife.
Be sure to dress in your best before checking out the Miami nightlife scene because it's just as much or an event as it is a party. You're in for a night of fun memories that you'll hope to remember by the morning.
The best nightclubs in Miami for your bachelor party are:
If you want to party like a celebrity, head over to Club LIV on Miami Beach. The megaclub is famous for hosting A-list stars on any given night. Grab a VIP table for the most exclusive experience at the club.
If you're looking for a place to dance, check out Story or Club Space. Story always has a packed dance floor and the perfect atmosphere for keeping your feet moving. Flashing lights around the entire venue complement amazing music to keep you in a trance all night. Club Space ranks among the top Miami dance clubs that invites you to a space-like atmosphere. You just might walk in on a night with a 35-hour live DJ marathon.
Best Strip Clubs in Miami
We'll let you in on a (little) secret: where there are celebrities, there's always beautiful women. Miami is a hub for people looking to spend money on nightlife entertainment, including at strip clubs – where there's money, beautiful women are sure to follow.
You'll see some of the most beautiful women in the world in Miami, and you'll get to see many more of them when you visit some of the local strip clubs during your bachelor party.
Save some time in the early morning hours to stop by the top strip clubs in Miami:
BT's Gentlemen's Club has more than enough eye candy for your party. It's a fully nude strip club with over 50 dancers, so you'll have plenty to choose from for a private dance for the groom.
If you leave a nightclub late, you can spend the after hours at Club LEXX, which provides strip club entertainment until 5 AM every night.
Best Restaurants in Miami
Miami is known for its legendary nights of partying, but it's also where you'll discover some fantastic restaurants. Dining in Miami attracts a lot of foodies looking to explore a city blended from different cultures. You can find almost any type of cuisine locally. Check out some of these restaurant venues for a place to make a toast to the bachelor and give out bachelor party gifts.
Brunch in Miami
A night of partying deserves a hearty breakfast in the morning – but that's only if you wake up in time for it. You should plan for a delicious bachelor party brunch to hopefully celebrate a night full of wins.
Some of the Miami brunch hot spots to check out include:
Head to South Beach to find two of the best brunch spots in Miami. In a district that has it all, you'll find the perfect food to ease the pain of your hangover with a nice meal.
Juvia has a fantastic rooftop dining location with views over the entire South Beach. It serves up American-style brunch favorites. While 11th Street Diner also has American brunch favorites, you can enjoy it in a classic retro-American style diner. And the best part is that it serves breakfast all day.
Dinner in Miami
The restaurant selection in Miami can take you around the world without ever leaving the city. Use your bachelor party as an opportunity to discover some of the cultural delights in Miami and taste food from around the world.
Satisfy your worldly palette by having dinner at one of these restaurants:
You'll find a heavy Cuban influence in Miami, and you can get the best authentic food at Havana 1957 Cuban Cuisine Ocean Drive. The restaurant features Cuban food and drinks to enjoy in an Old Havana atmosphere with memorabilia décor.
La Ventana is a favorite Colombia restaurant where you can try one of their signature Bandeja Paisa meals or fresh seafood.
Habitat serves the best Spanish food in Miami that you can enjoy on the outdoor patio. It also has an extensive wine collection to start off before the real drinking starts for the night.
Where to Stay in Miami
The trick to having the best bachelor party experience in Miami is picking a convenient place to stay during your party. Ideally, you'll want to be in one of the busy areas with lots going on so that it's easy to get from your hotel to the party no matter how drunk you might've gotten during the pregame.
Some of the best areas to stay in Miami for your bachelor party are:
South Beach is one of the hot spots in Miami, especially for finding hotel accommodations. Ocean Drive is the iconic strip with nearby hotels such as the Delano Miami and Loews Miami Beach Hotel. It's recommended because you'll also have easy access to the beach.
Downtown is also a great place to find accommodation. You'll find many of the big-name hotel brands here, including Hilton, Marriott, and more. It's another popular district nearby a lot of nightlife entertainment. 
When you stay in a hotel, you have to be mindful of noise to avoid disturbing other guests. If you want a Miami bachelor party with no limits, check out some of the Airbnb options like this or this. You'll have the whole place and plenty of room bachelor party decorations!
Miami Bachelor Party Rating – 5 out of 5 
Bachelor parties are meant to bring out your wild side, one you've been suppressing from your wife-to-be – and hope to keep hidden after marriage. Since you have one last chance to get it all out before the big day, Miami is the perfect place to do it.
Miami is full of bachelor party ideas to experience the beautiful scenery to beautiful girls, and everyone is ready to have a great time. You'll get to party in some of the top clubs in the US and live the high life during your entire party experience. And with the right bachelor party supplies, the party will never end.
Miami is a place where cash is king, so if there's room in the budget, splurge on a trip for one of the most exclusive bachelor parties ever.