Plan a Badass Myrtle Beach Bachelor Party (2021 Guide)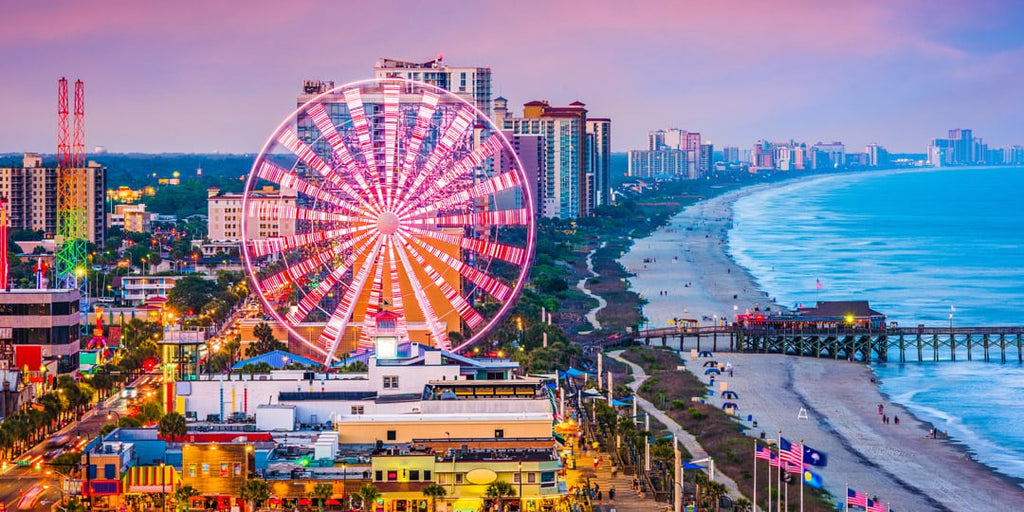 The famous Myrtle Beach is a favorite destination for people looking to party – and we've got the best bachelor party ideas for an epic weekend. Host your bachelor party in Myrtle Beach to experience an incredible beach destination that's very welcoming to visitors.
You'll find everything you need for the best bachelor party ever – great weather, lots of bars and clubs, good food, and beautiful women. You'll never get tired of seeing a parade of bikinis strolling down the boardwalk, and there are lots of outdoor venues to grab a drink and enjoy the sights…of the ocean…
If you're considering a Myrtle Beach bachelor party, dive into our guide to find out how to plan out the best party ever.
Things to do during the day in Myrtle Beach
You'll never have a dull moment during your bachelor party in Myrtle Beach. If you're spending a couple of days in town for your party, there are plenty of bachelor party ideas fill up your itinerary.
Some of the best things to do for your bachelor party are:
Hang out at the beach
Go golfing
Visit a winery
Hop on a boat ride
Hang out at the beach
As if the name doesn't give you any indication, Myrtle Beach is a popular beach destination. During the day, the beaches are filled with people soaking up the sun, going for a refreshing swim, or playing beach sports. Bring along your beach bachelor party supplies to enjoy the day.
Myrtle Beach State Park is the most popular beach – a one-mile stretch of soft sand and views looking out into the Atlantic Ocean.
You'll also have the Myrtle Beach pier and boardwalk where you can grab a few drinks or snacks before heading out into the beach. Come prepared with your groom hat and groom sash because there are lots of hot women in bikinis strolling along the boardwalk, especially during the summer travel season.
Go golfing
Myrtle Beach is a well-known golfing destination with some of the country's best golf courses. Whether you're an experienced golfer or just looking for an enjoyable place to spend a few hours with your group, golfing is highly recommended.
Visit a nearby golf course to test out your swing and, of course, have a bit of fun riding around on the golf carts. You'll have a few golf courses to choose between, including Grande Dunes Golf Club and Whispering Pines Golf Course.
Each of these courses provides groomed 18-hole golf courses with incredible views of the coast as the backdrop.
Visit a winery
It's never too early to drink, especially during your bachelor party. If you're planning the perfect trip to Myrtle Beach, you'll want to add a visit to one of the nearby wineries to your list of things to do.
Duplin Winery and La Belle Amie Vineyard are excellent choices to find some of the best wine grown locally. The vineyards provide a complete experience for guests, including tours of the grounds, seeing the behind-the-scenes of the wine production process, and wine tasting.
Sit out on the patio and enjoy delicious wine with a side of cheese and crackers for a classy drinking experience before the wild drinking begins later.
Hop on a boat ride
Spending time on the beach gives excellent views of the Atlantic Ocean, but how about heading out into the water for great views looking back at Myrtle Beach. If you're into water fun, there are plenty of boat ride experiences to get your adrenaline pumping, or something a bit more laidback to enjoy the sights.
Take a boat cruise along the shore to see some of the marine life, including dolphins and gators. You can also grab a few jet skis or climb aboard the banana boat for a bumpy ride. For those more daring, you'll also find parasailing.
Best Nightlife in Myrtle Beach
When the night falls in Myrtle Beach, all family vacation-goers turn in and allow the real party atmosphere to emerge. If you think that the beach is fun during the day, wait until you see how the night unfolds.
It's all about location in Myrtle Beach, and you'll find the nightlife scene centered near the coast. You're about to discover lots of bachelor party ideas for where to grab drinks, go dancing, see hot women, and much more to make it an epic bachelor party trip.
Beachfront bars
Just because it's nighttime doesn't mean that everyone leaves the beach. Instead, most people like to hang out on the boardwalk and check out some of the beachfront bars. Myrtle Beach has several options where you can kick off the night without having to venture too far. 
Walk along the boardwalk, and you'll run into these popular bars. It makes it easy for bar-hopping until you find the best atmosphere to grab a few drinks.
If you're looking for the best drinks, head over to Hurricanes Daiquiri Bar, where they serve up the best daiquiris in town. You can grab seats right on the boardwalk to enjoy people watching while sipping hand-crafted drinks. It's also open until 2 am on most nights.
The island theme inside the 8th Ave Tiki Bar always puts visitors in a party mood. The outdoor patio right on the boardwalk is an excellent place for relaxing, sipping cold drinks, and plotting the next place to bring the party.
Myrtle Beach Nightclubs
The Myrtle Beach nightlife scene is surprisingly diverse – each club offers a unique characteristic to give you a choice of how you want to spend your night. You can go for a more local clubbing experience, or stick with an international-style club scene.
Some of the clubs worth checking out are:
The Bowery is one of the most famous night clubs and a popular spot for locals. You'll get an authentic Southern experience when you enter the venue - it has a southern-theme and often hosts live country and rock music shows.
If you're looking for a more modern place to party, Señor Frogs is where you want to be. You'll see a lot of the venue because it's also a great restaurant spot before turning into one of the hottest places to party in Myrtle Beach.
Your bachelor party is the perfect time to splurge for a VIP experience – Oz Myrtle Beach has one of the best local venues to grab a VIP table and get bottle service. The club has two floors of dancing and live DJ's spinning top hits all night long.
Strip Clubs in Myrtle Beach
The party doesn't stop when the night clubs close. Visit one of the local strip clubs to close out your bachelor party night – it's the next best thing to a happy ending. Hopefully seeing hot women hanging out on the beach during the day is enough to convince you that you'll see a bit more than just skimpy bikinis during your time in Myrtle Beach.
You'll have the best adult entertainment when you end the night at one of these clubs:
There's no rush to get to either of these clubs as they are open until well into the morning hours. The two clubs are also a block away from each other so you can find which has the best girls for your taste.
The clubs have the sexiest girls to put on a show for you all night. Sit back and enjoy a stage show or get a lap dance from the woman of your dreams.
What to Eat in Myrtle Beach?
Myrtle Beach is a popular tourist destination that happens to have the perfect atmosphere for hosting a bachelor party. The combination is the ideal scenario for finding incredible restaurants for each of your meals during the trip.
Load up on the best local dishes to make sure you have plenty of energy to party all night long.
Best breakfast spots in Myrtle Beach
The breakfast choices in Myrtle Beach are so tasty that it's worth the effort to make it to the local hotspots every morning (if you can). And a lot of times, many of the restaurants and diners serve breakfast all day long – so even if you stumble in late with a hangover, you'll still get exceptional service like it's the first thing in the morning.
If you need a fantastic breakfast to start the day, check out these restaurants:
Harry's Breakfast Pancakes might become your go-to breakfast diner for All-American style breakfast meals. The restaurant serves the typical omelets, French toast, corned beef hash, and more, but the real appeal is their service hours. It opens up early enough that you can go straight there after a night of clubbing.
Everyone can use a nice cup of coffee to start the day, and Boardwalk Coffee House has the best in town. You can enjoy freshly brewed coffee with ocean views right on the boardwalk with your favorite breakfast sandwich.
Best restaurants in Myrtle Beach
Myrtle Beach is very diverse when it comes to places to eat – there's something for everyone! Regardless if you're visiting with a large group or just a couple of friends, you'll find some great options suitable for lunch or dinner.
One of the great things about having your bachelor party at an oceanfront location is enjoying fresh seafood. Sea Captain's House is a popular restaurant with some of the best local seafood. You can dig into fresh catch with views of the Atlantic Ocean - the perfect setting for toast to the bachelor and giving bachelor party gifts. It even has live music on most nights.
You can't go to Myrtle Beach without stepping foot into Señor Frogs. The restaurant blurs the line between dinner setting and bar scene, especially as it gets later in the day. You'll discover the best local Mexican dishes here while sipping great drinks all night for pre-gaming for the main event.
Where to Stay in Myrtle Beach
It won't be hard finding accommodations in Myrtle Beach. It's a favorite beach destination for everyone, so you'll have lots of oceanfront resorts to choose between when making your bachelor party reservations.
Some of the best international brand hotels are located near the Myrtle Beach boardwalk so that you'll be in the middle of the action just moments away from your hotel room. Crown Reef Beach Resort and Sun N Sand Resort are a few of the best options if you're looking for a specialty resort vibe with views, pools, and entertainment all onsite.
One thing to consider is that you'll have to be mindful of other guests when staying at a hotel. To truly make it an epic bachelor party with no limits, you can rent out an entire house for the guys. Stay a couple of nights in a condo like this or this, and you'll still be minutes away from the famed boardwalk where all of your bachelor party dreams will come true. Put up some themed bachelor party decorations to make it festive.
Best Time to Visit Myrtle Beach
The best time to visit Myrtle Beach for your bachelor party is during the summer. Summer is, by far, the peak travel season. From June until August, the beaches, restaurants, bars, and clubs will be packed with party-goers and people looking for summertime fun.
One thing to keep in mind is that prices are typically higher during these months, and some venues might require prior reservations due to demand.
For an alternative, you can visit during the late Spring – late April to May is also a great time to avoid some of the rainy weather later in the year, and still nice enough to hang out on the beach and boardwalk areas.
Myrtle Beach Bachelor Party Rating – 4 out of 5
Myrtle Beach is an excellent place to hang out for your bachelor party. The beach environment is the perfect setting for relaxing days and wild nights. With these bachelor party ideas, it's easy to have fun regardless of the time of day.
Myrtle Beach makes it easy to find things to do since most of the excitement centers along the oceanfront area. It's a popular destination for people looking to have a good time so you'll feel the fun energy from the moment you arrive.
Grab your bachelor party supplies and get ready to have the best Myrtle Beach bachelor party experience!