Plan an Epic Orlando Bachelor Party (2021 Guide)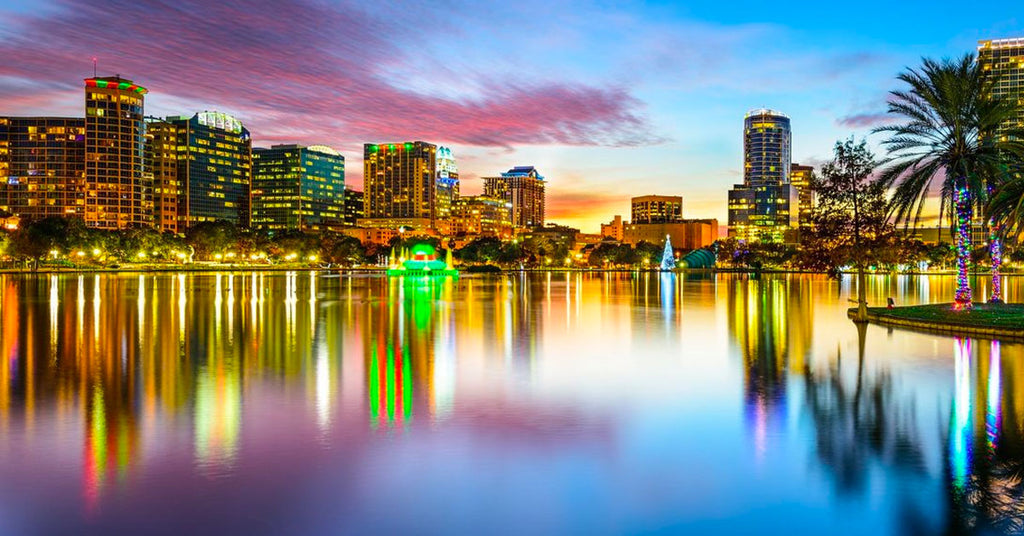 When you think about Orlando, you probably think about Disney and theme parks. But the kids aren't the only people having fun in Orlando. Orlando is a great bachelor party destination where you can experience all of the same magic – this time with adult-friendly activities.
Orlando is a destination for fun, and you'll discover all the excellent bachelor party ideas for your visit. Ride adrenaline-filled roller coasters or take a boat tour through the swamps to see crocodiles. The vibrant nightlife is sure to give you a great time as you check out multi-level clubs, unique bars, and strip clubs with the hottest women you've ever seen.
Let's check out how you can make the most of your Orlando bachelor party!
Things to do during the day
Visiting Orlando means you'll have lots of fun things to do. There are tons of bachelor party ideas even for the day to make the most of the event. You'll indeed have some unique experiences during the party, so get ready.
Some of the best things to do during the day are:
Theme parks
Orlando Watersports Complex
iFly Indoor Skydiving
Airboat Tour
Amway Center
Theme Parks

A bachelor party is one of the rites of passages into adulthood, but you can bring out your inner child one last time in the famous theme parks. Theme parks are one of the main attractions in Orlando. And don't worry, there are plenty of rides that can even make grown men scream.


Visit one of the popular parks like Universal Studios, Hollywood Studios, or SeaWorld for a day fun of fun. The parks have lots of adrenaline-filled roller coasters and water rides. You'll even get to see some of your favorite childhood characters watering around.

And the best part is that there are many bars inside the parks to grab drinks in between rides.

Orlando Watersports Complex

You'll have incredible weather all year round when you're planning your Orlando bachelor party. One way to cool off from the hot Florida sun is by visiting the Orlando Watersports Complex. The complex is a top-rated water destination to enjoy wakeboarding, waterskiing, wake surfing, and other water sports.

Expect lots of fun when you visit the complex – and don't worry about your skill level. The water sports complex is a place for recreation and learning. If you're already experienced, head right out on the water and practice your flips and turns. For the rookies of the group, they have access to professionals to help get them started.

Either way, being in the water is a great way to spend the day.

iFly Indoor Skydiving

Take advantage of your bachelor party to do something you've never done. Not everyone has a plane at their disposal, so indoor skydiving is the next best thing. Visit the iFly Indoor Skydiving to experience the thrill of flying.

Make reservations for your group to get a personalized experience. Each of the groomsmen will suit up in special flight suits and get a crash course on how to fly. When you're ready, you'll enter the controlled flight chamber and soar upwards of 20-ft above the ground.

You'll take turns for a couple of rounds lasting a few-minutes each in the chamber. It's an enjoyable place to spend a couple of hours.

Amway Center

There isn't just one thing to do at the Amway Center, so it's not uncommon to visit more than once during your bachelor party. The Amway Center is the home of the Orlando Magic NBA team. It also hosts live events.


If you're a sports fan, you'll want to catch a game in the stadium. Cheer on the home team with more than 20,000 fans, or use it as an excuse to rep your groom hat and groom sash. Be sure to check the calendar to see other events like live music concerts that may be happening.

In case you don't have time for a game, you can always take a fun stadium tour. It's always fun to get an inside look at a major sports stadium. You'll get to see the locker rooms and walk on the floor.

Don't forget to grab a drink at the rooftop bar.

Airboat Tour

Round up the guys to explore the unique landscape around Orlando. Go on an airboat tour in a nearby swamp to see one of Florida's most famous animals.

An airboat tour is the best way to get up close and personal with alligators and crocodiles in their natural habitat. You'll climb aboard the traditional airboats and cruises through regions like the Boggy Creek or Marsh Landing that are full of wildlife and flora. You'll hop along the shallow waters, so keep your eyes peeled for anything lurking in the waters nearby.

Where is the Best Nightlife in Orlando?

Now for the moment you've been waiting for – the Orlando nightlife. The nightlife is always a highlight to any bachelor party. In Orlando, you'll have no issues finding exciting bars and clubs to drink and dance. Check out some of these Orlando nightlife bachelor party ideas.

Best Bars in Orlando

Orlando is a magical place, so it's only right that you find some cool bars to check out around town. Orlando offers lots of bar variety for great drinks, fun, and a unique environment. The best bars to visit in Orlando are:
The One80 Skytop Lounge is located on the rooftop of the Amway Center. It's worth it to visit the stadium just for the bar. The bar specializes in Grey Goose cocktails that you can enjoy with incredible views of Downtown Orlando. It's an upscale lounge so dress nice.

Guaranteed, you've never partied in a place like the ICEBAR. It's a must-visit bar to see the ice room with temperatures below freezing. The special bar in the ice room is great to cool off. Grab your drinks, then head to the Fire Lounge next door for dancing.

Howl at the Moon has an entertaining atmosphere and where you go to get drunk. It's known for its bucket drinks that are full of alcohol. You'll definitely be drunk by the time you finish it.

Best Nightclubs in Orlando

Orlando attracts people from all over the world. You have a diverse mix of people to party with. While you're in town for a bachelor party, others are there for vacation, bachelorette parties, and more. One thing everyone has in common is that they're looking for a great time.


Check out these nightclub venues when partying in Orlando:
The Beacham is a former movie theater converted into a night club. There are always beautiful women ready to dance in the venue. The colorful strobe lights move around the room to the beats of Hip Hop and Reggae hits.
Independent Bar is a venue with multiple floors. There's a different party vibe on each so that you can find the best one for your group. There's a bar on each floor and two dance floors. Visit one of the themed party nights for a great time. Your groom hat and groom sash will go perfectly with the clientele here.
Best Strip Clubs in Orlando
As if you won't see enough beautiful girls in Orlando, end the night with a visit to the strip club. There are lots of strip clubs in Orlando, so you'll have plenty of options. Two of the best strip clubs in Orlando are:
Thee Dollhouse is known for having the sexiest girls in Orlando. The club has a laid-back setting that's perfect for drinking and enjoying the show. There are lots of girls to choose from for the bachelor's lap dance.


Cleo's Gentlemen's Club is another top strip club. You'll be entertained all night with beautiful girls dancing sensually to great music. It offers hookah and drink specials on select nights.

Best Restaurants in Orlando

Orlando is an international destination, so you can expect there to be many food options to accommodate the clientele. Regardless of what you're craving to satisfy your hangover, you're sure to find it in Orlando. There are a lot of delicious places to eat. You'll also have some cool venues for making a toast to the groom and giving bachelor party gifts.

Best Breakfast Spots in Orlando

Breakfast is the most important meal of the day, especially if you're fighting a hangover from the night before. You'll need a hearty meal to refuel for the day two activities. Head to one of these breakfast spot favorites for a good meal:
Hash House A Go Go is an option if you want to go directly to brunch. It's known for its brunch specials like chicken and waffles that you can pair with a mimosa or Bloody Mary. And the best part – they serve huge portions. You won't leave hungry.
Best Dinner Restaurants in Orlando
Orlando has several fantastic restaurants for a bachelor party dinner. Make reservations to accommodate your group. You can find great options all around the city. A satisfying meal with evening drinks is a great way to start the bachelor party festivities.
A couple of great restaurant options are:
You can never go wrong with a juicy steak for a bachelor party. Visit Kres Chophouse, a famous local steakhouse. It's established in a historic building with an upscale atmosphere. Open the house's favorite ribeye, and you'll be impressed by the size and flavor.
Café Tu Tu Tango is a fun restaurant that combines good food with art entertainment. Every night you can see artists painting live. The café specializes in tapas dishes. Order lots of plates for the table and dig in! Be sure to try the craft cocktails.
Where to Stay in Orlando?
Getting around Orlando is easy with a car. Save yourself some time out on the road by staying in one of the popular areas for visitors. It's always great when you can go from pre-gaming to the nightlife scene in a short time. Luckily, there's a few great options in Orlando.
The best areas to stay in Orlando for your bachelor party are:
International Drive
Kissimmee
International Drive is a central hub in Orlando that's close to everything. Various restaurants, shops, bars, and hotels line the strip. It's one of the top places to stay where you'll have everything within walking distance from you. There is also the I-Ride shuttle service, so you won't even need a designated driver.

Kissimmee is a suburban area that has a lot of vacation rentals and Airbnbs. It's a short drive to everything, so it's an area to consider. Also, having your own place is great for putting up bachelor party decorations!


Check out a place like this or this that are spacious enough to host your bachelor party group.

Orlando Bachelor Party Rating – 4.5 out of 5
Orlando is one of the best places to host a bachelor party. We've covered lots of bachelor party ideas to have an incredible time in Orlando. From the daytime fun to tons of drinking at night, you'll never have a down moment during the party.

Be sure to come prepared with bachelor party supplies because Orlando is waiting to show you a good time. And since it's always good weather, it's a place to party all year round. You'll soon find out why it's considered one of the most magical places on Earth.