Plan an Incredible Boston Bachelor Party (2021 Guide)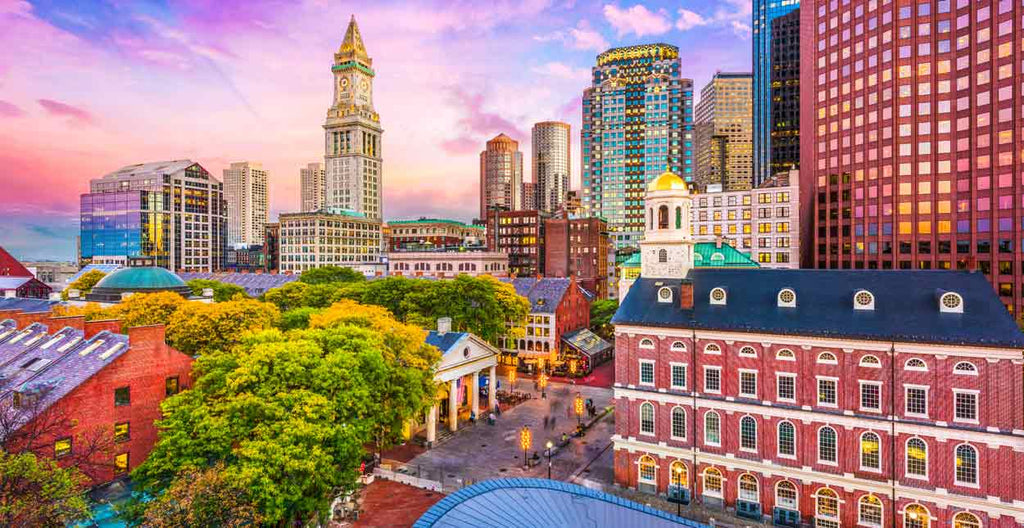 If you're a groom-to-be and a lover of sports, Boston will be the best city to host your bachelor party. Spend your last moments as a single guy by exploring one of the premier championship cities in the US. From top-ranked sports clubs to nightlife that gets crazy with every victory, you'll about to discover the best bachelor party ideas for Boston.
Things to do during the day in Boston
Most people will only be looking forward to the nighttime activities during a bachelor party, but there's plenty of daytime excitement for people in Boston. Boston is a great guy trip destination, making it perfect for your bachelor party. Some of the bachelor party ideas that you can add to your party itinerary include:
Attend a sporting event
Take a Boston Harbor Cruise
Take a day trip
Attend a Sporting Event
What guy isn't into sports? Before you get wasted for the night, how about an exciting pregame at a ball game?
Boston is one of the best sports cities in the US. Not only is it home to the big four sports – MLB, NBA, NFL, NHL – but it's one of the most successful cities for its teams across each sport. No matter when you plan your bachelor party in Boston, you can always find some sporting event happening.
You can check out the Boston Red Sox at Fenway Park, the Boston Celtics and Bruins at TD Gardens, or the New England Patriots at Gillette Stadium. Boston sports fans are some of the most prideful and energetic crowds, so be sure to root for the home team or expect to defend your territory.
When you're with the guys, you can make a day out of the event. Arrive early to enjoy some of the tailgating activities and check out the decorative stadiums lined with championship trophies. Bring along some of your bachelor party supplies like a groom hat and groom sash - it's the perfect time to show off the celebration.
If you can't score tickets to a game, you always have the option to watch at a sports bar – there's plenty of options and nearly just as exciting.
Take a Boston Harbor Cruise
You heard of the Boston Tea Party, right? The Boston waterfront remains a popular destination filled with history. You'll see the entire harbor lined with massive ships and yachts, many of which you can take out into the water.
Boston Harbor Cruise has several cruise options to experience life at sea as you enjoy the backdrop of the Boston skyline. Some of the types of cruises you'll find are sightseeing, whale watching, or sunset cruises.
Gather the groomsmen to climb aboard a large ship to set sail around the Boston Harbor, sailing past notable sights and landmarks in the city. You'll hear information about their significance and the history behind it.
The seasonal whale watching is a chance to get a glimpse at some of the largest mammals in the world in their natural habitat.
The company also hosts private boat trips so that you can customize your harbor experience to your liking.
Day Trip
Depending on how long your bachelor party is, you might want to consider taking a day trip to one of the nearby major cities. In just a few hours, you can find yourself in New York City or Philadelphia.
Taking a day trip from Boston is one of the most popular things to do thanks to its proximity to these major city hubs. Hop on a train to 'the Big Apple' or take a road trip to Philly to add a bit of variety to your party.
Where is the best nightlife in Boston?
The nightlife in Boston is just as exciting as the daytime fun – perhaps even more. If you're already excited about having your bachelor party in Boston because of the things to do during the day, you'll really look forward to the trip after finding out about some great bachelor party ideas to party Boston-style.
No bachelor party is Boston is complete without experiencing the following nightlife venues:
Sports bars
Night clubs
Strip clubs
Sports bars in Boston
We've mentioned that Boston is one of the best sports cities in the country. As fun as attending the actual games are, hanging out in some of the countless sports bars will showcase an entirely new side of the city.
Rowdy fans can cheer and sip brews all night while watching their favorite teams. With teams as good as Boston's, you can expect a lot of cheering and celebration no matter who's playing.
The Red Sox are one of the premier teams in Boston with several sports bars dedicated to enhancing the Sox viewing experience. Some of the best sports bars to check out are:
Bleacher Bar is located within Fenway Park below the bleachers with a great view of the field. If you check out a game, stop by the bar for the after-victory celebration and drink until 2 am.
If you want to avoid the game traffic, visit Cask 'n Flagon, a sports bar filled with TVs and a patio view of the baseball stadium.
Night clubs in Boston
Treat the sports bars like the pregame to get a few beers in, and some great pub eats to last you the night. The real nightlife begins once you're ready to explore the night club scene in Boston. Boston has tons of nightclubs.
If you're looking for great music, strong drinks, and attractive women, you should check out these top nightclubs:
Royale is one of the biggest nightclubs in Boston. You can party on multiple floors to live DJs and a trendy crowd. The Goodlife also has two dance floor options where you can discover diverse music – from hip hop to electro to house.
You can find the same Vegas-style party vibes at The Grand Boston. The nightclub is one of the city favorites and known for its top-rated VIP services. There's always a packed dance floor here for when you're ready to party.
Strip clubs in Boston
There's nothing like ending a crazy night in Boston at one of their premier strip clubs. If you thought you'd seen the best women while hanging out in the nightclubs, just wait until you actually see New England's finest.
Some of the recommended strip clubs to visit while in Boston are: 
Each of these venues treats you like a VIP client – you can find sensual dances and drinks until the early morning hours. You'll have plenty of eye candy walking around, so even your shy friends can sit back and watch you have all the fun.
Be sure to get the ultimate strip club experience with a private dance in their champagne rooms…
Best places to eat in Boston
Partying isn't the only reason to spend your bachelor party in Boston – Boston is a hotspot for culinary fans. You can rest assured that food from its unique restaurants can cure even the worst of hangovers.
Whether you're looking for delicious places to eat in Boston for brunch or dinner, there are plenty of options to fill up your belly to get ready for the next night of drinking.
Brunch spots in Boston
If you find yourself partying a lot for your Boston bachelor party, you might want to skip breakfast and go right to brunch – give yourself a couple of extra hours in the morning. The good news is that there's plenty of brunch spots and hangover favorites to grab a bite.
You'll find the best menus for hangover foods at:
Order the Wake N Bacon at Tasty Burger, ranked among the best fast-food restaurants in Boston. As the name suggests, it's the perfect way to start the morning with something hearty and delicious. 
For a unique brunch meal, visit Lincoln Tavern. Every Friday, they host a "brunch test kitchen," designing a specially made brunch dish for hungry diners. You might walk in and discover a new creation of pancakes, French toast, eggs, meats, and more.
Foods to try in Boston
Why waste a trip to Boston and eat the same things as you could in any other city. Your Boston bachelor party is the perfect opportunity to try one of the local staples!
Some of the signature Boston dishes to taste include:
New England Clam chowder
Fish and Chips
Fenway Frank
Not all New England clam chowder is made the same – for the best chowder, visit Legal Seafood. The fresh clam chowder is famously served during presidential inaugurations.
Boston is known for seafood – fish and chips are a daily favorite for locals and visitors. It's the perfect grab-and-go lunch or sit-down meal. Matt Murphy's Pub serves up a unique fish and chip mean (called crispy cod and chips) in a homestyle and wrapped in newspaper.
We've already talked about sports a lot, so while you're hanging out at Fenway Park, be sure to grab one of their signature Fenway Franks. It's a sports-lovers favorite while chugging back beers at the ballpark.
Best Places to Stay in Boston
Boston is a major metropolis, so it might be difficult to settle on a place to stay for your bachelor party. There are so many neighborhoods to choose from, each with their own unique characteristics.
Before deciding where you want to stay, you might want to think about your main bachelor party priorities. You'll save lots of driving time if you're staying nearby where you'll be spending the most time.
Some of the top areas to stay in Boston for your bachelor party are:
Downtown
Fenway
Seaport
Cambridge
Downtown puts you in the city center – a financial center by day and a nightlife hub by night. If you're checking out some of the hotels, you'll find the most upscale hotels in the downtown district like the Bostonian Boston or the Boston Park Plaza. There are big brand hotels in the area too.
If you're looking to fill up your bachelor party weekend with sporting activities, the Fenway neighborhood is your best choice. It's where you'll find the Fenway stadium and lots of nightlife (mainly celebrating the victories).
You'll be able to find some great Airbnb deals when looking at places near Cambridge. It's away from the city center, but still has lots of things to do. You can quickly get around the city from Cambridge.
Check out this large house or house to fit all your guests luxuriously with plenty of room to party. Imagine them outfitted with your themed bachelor party decorations to surprise the groom.
Best time to visit Boston
Boston is a city that transforms depending on the season. One thing to keep in mind when planning your bachelor party in Boston is the harsh winters. Wintertime is the least recommended time to visit because you can expect lots of snow and cold weather.
If the cold doesn't both you, it might be a great time if you're planning on checking out the New England Patriots game.
The summertime is the best time to visit Boston because it's when the city is most lively (and all the college kids are gone). You can have some genuine adult fun in great weather while exploring the city.
Before you visit
Check the weather. Boston's weather is unpredictable, so be sure to dress appropriately.
Check the sporting schedules. Boston's nightlife and overall city morale are based heavily on how well their teams performed the night before. If you want to have the craziest bachelor party in Boston, visit on a night with a guaranteed win!
Plan ahead. Boston is a popular city and attracts lots of tourists. Whether you're looking to attend a sporting event or party in VIP at the hottest Boston nightclubs, make reservations in advance to ensure you'll get into the venues.
Boston Bachelor Party Rating: 4 out of 5
We love Boston as a choice city for your bachelor party, but it takes a particular kind of groom to truly enjoy all that Boston has to offer. It makes it easy when shopping for bachelor party gifts and bachelor party decorations.
If the groom is a sports fanatic, he might rate Boston a 5/5, but it's not such a universal place to party unless you're into the fandom. But still, there are plenty of bachelor party ideas for everyone.
Also, the weather in Boston can be slightly unpredictable. It's known for long winters, so you might even get snow in early Spring and early Autumn.
You'll have a fantastic time in Boston if you enjoy sports towns, so check out your favorite team schedule and set your party plans around them!