Plan an Incredible Atlantic City Bachelor Party (2021 Guide)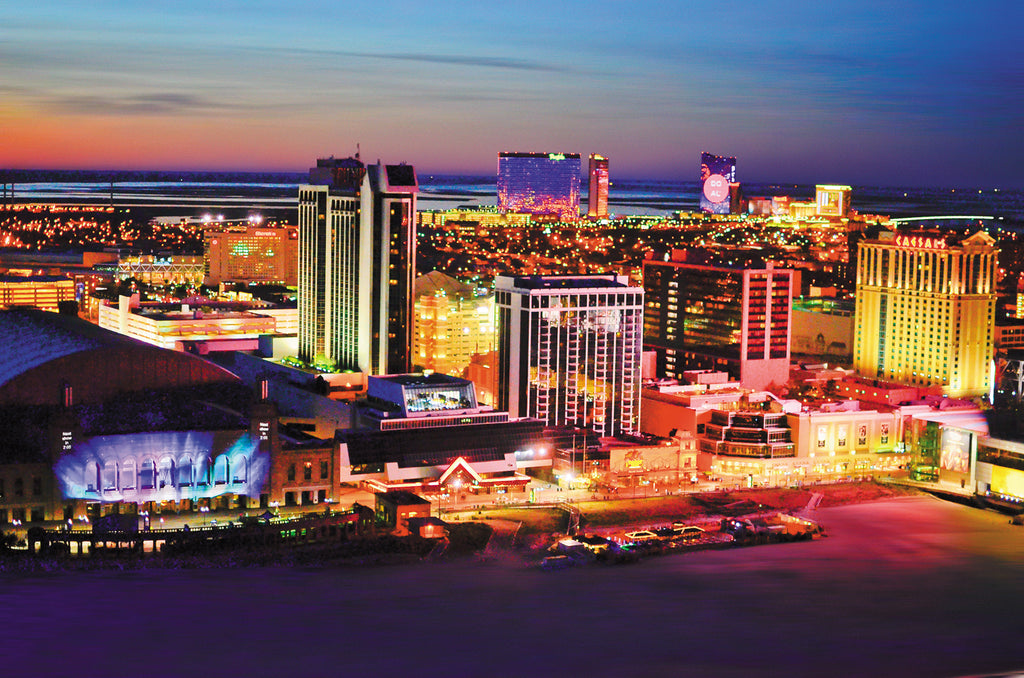 Atlantic City is one of the top party destinations in New Jersey – some consider it the Vegas of the East Coast. Casinos, beaches, beautiful women, and pool parties are just a few bachelor party ideas you can look forward to in Atlantic City.
If you're planning your bachelor party in Atlantic City, we'll give you all of the insights to making it the craziest party ever. Get ready for a weekend full of drinking, partying, eating, all with incredible scenery as the backdrop.
Atlantic City is one of the best places to host your bachelor party, and you're about to discover why.
Things to do in Atlantic City during the day
Atlantic City is one of the most scenic places to visit in New Jersey with plenty to do during the daytime hours. With the sun at its peak and a city full of attractions, it's the perfect time to get some groomsmen bonding time before the nighttime adventures begin. Check out a few of these daytime bachelor party ideas in Atlantic City.
The Atlantic City beach is one of the biggest attractions to the city - the beach extends for four miles of shoreline along the Atlantic Ocean. It's an excellent place for outdoor recreation and enjoying the various water activities.
Atlantic City beach is free and open to the public, so you can spend a bit more on bachelor party supplies for entertainment. There are lots of resorts lining the beach where you can rent beach chairs or lay a blanket down and lounge in the sand.
There are lots of things you can do at the beach like swimming, learn how to boogie board, beach sports, and more.
After spending some time hanging at the beach, you should also take a stroll along the famous Atlantic City boardwalk. The boardwalk extends for the length of the beach, giving plenty of sights and attractions along the walk.
The boardwalk has lots of casinos, bars, restaurants, beach shops, and more. You can find everything you need without even leaving the beach. It's also a great place for people watching. It's the ideal setting to show off your groom hat and groom sash.
During the summertime, the boardwalk hosts free concerts at Kennedy Plaza. Many public gathering events such as parades occur here – depending on when you come for your bachelor party, the boardwalk can get very lively.
The beach isn't the only place to find water action in Atlantic City – there are several venues where you might come across a wild pool party happening. Many of the top hotels have indoor and outdoor pool experiences, providing the perfect destination for a daytime party. 
Some of the popular pool destinations in Atlantic city are at Harrah's Resort and the Water Club Hotel. These places have some of the best pools and frequently host events. The best part is the poolside bars to grab a beer or cocktail.
With the vast ocean in front of you, you can bet that there are cruises available to get a unique Atlantic city experience. Make reservations for an Atlantic city cruise to climb aboard a ship and sail the Atlantic Ocean.
The Atlantic City Cruises company provides a variety of cruise experiences for guests. You can find cruises for sightseeing the AC skyline or even seasonal dolphin sighting cruises. Drinks are more than welcome on the cruises, especially during happy hour.
If your budget permits, you can even set up a private cruise event for just you and the guys to personalize your Atlantic City experience.
Where is the Best Nightlife in Atlantic City?
Atlantic City is famous for its nightlife – it's one of New Jersey's premier destinations for having amazing nights. AC earns its reputation at a top nightlife destination for the US thanks to the numerous clubs, casinos, more. There's plenty of bachelor party ideas to have an epic night in Atlantic City.
Casinos
Casinos in Atlantic City are always open, giving you the perfect place to start (or end) your night. Try your luck at some of these top casinos and hopefully your winnings cover the long night ahead:
The casinos are a popular destination and provide lots of entertainment for locals and tourists. AC is one of the top casino destinations in the US with all of the familiar casino favorites – slots, blackjack, poker, roulette, etc.
With so many casino options, if you don't have luck in one of them, you can always try another. You will come across several casinos right along the AC boardwalk. Others might require a taxi to reach.
Bars 
One of the great things about visiting Atlantic City for your bachelor party is that you'll be surrounded by spirits almost anywhere you go. Most of the hotels, casinos, and even pools have bars that serve amazing drinks.
If you've made it to the nighttime in Atlantic City, you've definitely already had a few drinks by now. The bar should still be one of your destinations for the night as you surely wouldn't want to miss the unique atmospheres at the following bars:
Atlantic City is probably the furthest place from the real wild west, but the Wild Wild West Bar makes it seem otherwise. It's a unique bar and casino that features indoor decorations to render an old western town.
If you're looking for the best drinks in town, visit The Irish Pub – the traditional décor of the pub is complimented with some of the best beer and whiskey in AC.
You can't make a 'best bar' list for Atlantic City without incorporating the beach. The Vüe is one of the best rooftop bars in the city where you can party for your bachelor party with fantastic views of the Atlantic Ocean in the background.
Nightclubs
In a city that attracts so many party-goers, you can expect Atlantic City to deliver when looking for the best nightclubs to check out for the night. The local nightclubs offer unique experiences, some of which only possible in a place like AC.
If you missed your chance to hit a daytime pool party, don't worry because The Pool After Dark lets you enjoy the nighttime vibes at Harrah's Pool. Party under the moonlight from the glass ceiling while enjoying illuminated decorations and live DJ action all night.
HQ2 Nightclub is one of the upscale clubs in Atlantic City. You get the chance to party Vegas-style with a large dance floor and VIP sections for you and your groomsmen.
Stop by Tropicana Atlantic City for the resort club called Anthem Lounge. You might be surprised that such an energetic dance club could be inside of a hotel – it makes it easy to reach the party if you're staying at the hotel.
Stripclubs
Stripclubs are one of the most unspoken activities that go down during every bachelor party – but since you were already curious about it, we'll let you in one a couple of spots to check out while you're in AC.
If you're on the search for the most gorgeous women in Atlantic City, you'll indeed be satisfied with Bare Exposure. The BYOB adult entertainment club has plenty of girls with exclusive VIP or Champagne Room experiences.
Visit The Horse AC if you're really trying to have a crazy night. It's a well-known all-nude bar, so make sure you have loyal groomsmen with you who won't tell the bride.
Best Restaurants to Dine in at in Atlantic City
Most people who talk about Atlantic City for your bachelor party rave about the incredible nightlife experiences. The local food scene is often overlooked, but that's because most people are just getting over their hangover from the night before or looking forward to the night ahead.
Don't miss out on some of these great food choices while in Atlantic City.
Brunch
You can forget about waking up bright and early during your bachelor party. That's why we skipped right to lunch to bring you the best places to check out. Don't worry; you can still grab those breakfast favorites later in the day.
Hit the Atlantic City boardwalk to find two of the best places to dine at for brunch. Enjoy All-American food favorites with fresh-squeezed mimosas or savory omelets at Brittany´s Cafe. Maria's Luncheonette serves breakfast all day – try one of the house specialty Belgian waffles or French toast.
Dinner
Before heading for a night out on the town, you might want to fill up on some delicious eats so you can survive the night. There are lots of great places to eat for dinner in Atlantic City – some unique, others familiar.
Some of the best spots to eat dinner on your bachelor party are:
Treat yourself to dinner in a nice ambiance when you visit Kelsey's. It's a soul food restaurant that serenades its guests with live music and decorative style.
You'll probably end up on the Atlantic City boardwalk for everything during your party. There are lots of places to eat so we'll make it easy to choose from.
LandShark Bar and Grill is known for its famous foot-long hot dogs and other American favorites. And we've all been to Hooters, but what better way to enjoy a plate full of wings? Dinner is a great time to give bachelor party gifts and make a toast to a fun night ahead of you.
Where to Stay in Atlantic City
Atlantic City, NJ, isn't the largest of cities, but whether you're close to the lively part of town or not can significantly impact your experience.
Before browsing for hotels in Atlantic City, we recommend two of the following criteria – on the boardwalk or a popular casino. Most of the things you'll want to do in Atlantic City during your bachelor party occur in one of the two places.
If hitting the casinos is one of your top priorities, check out our best casino section to choose your favorite. All of the casinos in Atlantic City are part of the resorts – you can shorten your transit time with just an elevator trip downstairs when you stay at Harrah's or the Borgata.
If you're looking forward to the beach experience during your bachelor party, you should stay at one of the resorts along the boardwalk. The AC boardwalk is very lively, and you'll be just steps away from the beach. Some of the favorite AC boardwalk resorts are Tropicana and Caesars. And feel free to put up a few bachelor party decorations in the room to make it festive for the occasion.
Best Time to Visit Atlantic City
Atlantic City is a popular spring break or summertime destination. You'll find the biggest crowds and events happening during the late spring and through the summer.
The beach is one of the biggest attractions, so you should wait until the weather is nice enough to get the full AC experience. There are lots of outdoor pools, cruises, and rooftops to check out if you're patient.
Visiting Atlantic City in the Autumn is also a good time to visit. The city will be a bit calmer than in the summer months, but some people prefer it to be less crowded.
Try to avoid visiting during the winter because most of the AC fun will be shut down for the season due to cold weather and precipitation.
Before you visit
Check the weather. Atlantic city has peak visitor times when most of the activities are available – during the spring to early autumn.
Family-friendly environment. Although you can find beer and drinks nearly everywhere you look, Atlantic City is still a family-friendly destination. Public consumption of alcohol isn't permitted, so keep that in mind while drinking on the boardwalk or beach.
Leave the cameras at home. In a place like Atlantic City, there's sure to be some crazy and unexpected moments. As tempting as it might be to capture the moment for the memories, some things are best kept between your groomsmen.
Atlantic City Bachelor Party Rating – 5 out of 5
We highly recommend visiting Atlantic City for your bachelor party. It's a destination designed for fun and suitable to bring your favorite bachelor party supplies. And you have all the best bachelor party ideas to get you started.
Atlantic City is a resort town full of casinos along the beach. If you come when the weather is nice, you'll be in paradise. The local atmosphere promotes having a good time – there are always club events, concerts, pool parties, and more to fill up your itinerary.
An unforgettable bachelor party is guaranteed when you visit Atlantic City.