Plan an Epic San Diego Bachelor Party (2021 Guide)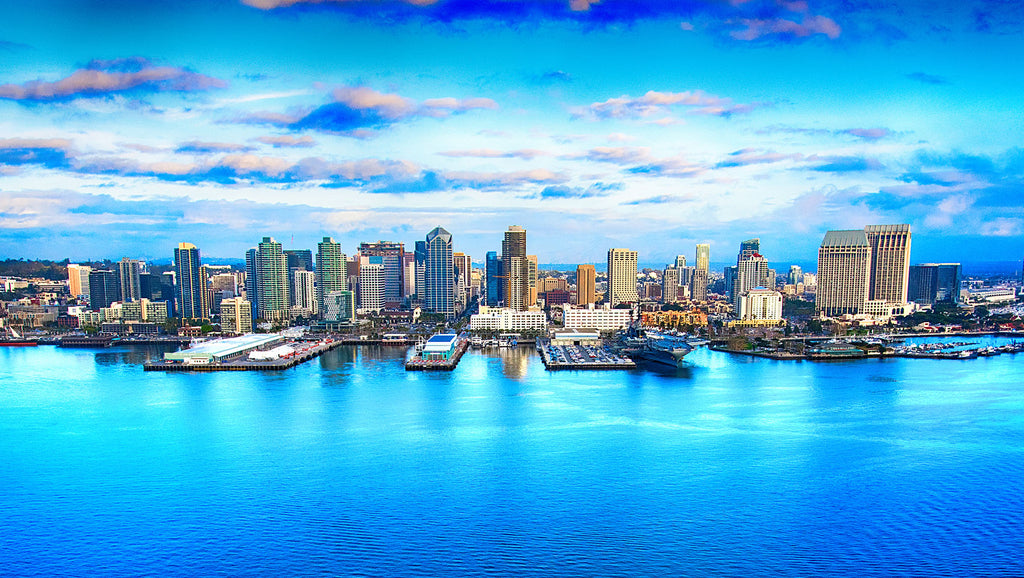 San Diego is a popular city in California for hosting an amazing bachelor party. San Diego has everything you need to give the groom one of the best, last nights as a single man.
You'll have enough bachelor party ideas to celebrate all day long. Day time fun consists of enjoying the outdoors with lots of sunshine. Nighttime festivities will take you to some of the unique places to party in California (and possibly out the country).
You'll have one of the most unforgettable experiences during your San Diego bachelor party.
With so much to do and so little time to do it all, we've put together a guide to help you plan out the perfect party – everything from where to find the best local eats to where are the best parties.
Get ready for your San Diego bachelor party!
What to do in San Diego During the Day?
It seems like the sun is always shining in San Diego – spend your days hanging out around the town or enjoying the outdoors. There are lots of bachelor party ideas to fill up the daytime during your bachelor party.
San Diego is a premier destination for leisure, with attractions from the coast to the historic town. Some of the things to do during the day are:
Explore Gaslamp District
Enjoy outdoor recreation
Go to the beach
Take a San Diego Harbor Cruise
The Gaslamp District in San Diego is the famous historic district stretching over 16 blocks in downtown. The entrance to the district is marked by an arched landmark, signifying the beginning of your adventures in one of the most popular neighborhoods in San Diego.
People enjoy visiting Gaslamp District to explore the restaurants, cafes, boutique shops, and more. It's also the top nightlife destination, so we'll cover that a bit later. Enjoy a leisure stroll along the strip and visit some of the local shops to get an authentic San Diego experience, flanked by some of the city's historic landmarks.
With the fantastic weather, you'll have during your bachelor party, why waste it indoors – there are lots of fun outdoor recreational things to do during your bachelor party.
San Diego is located along the shore, with lots of cliffs leading down to the water. It's the perfect landscape for hikes along the shore cliffs or mountains surrounding the city.
Some of the best places to go for a hike are at Cowles Mountain, Torrey Pines State Park, or the hike to "Potato Chip Rock."
In addition to hiking experiences, there are several urban parks for hiking, sightseeing, and climbing. Don't forget to wear your groom hat to block out the sun.
You can't visit San Diego without spending time at the beach. The beach is one of the favorite leisure activities to do in the city – it's a great place to go after a challenging hike to cool off and enjoy the water.
Whether you want to lounge in the sun to recover from a wild night or go for a dip in the Pacific Ocean, San Diego has several beach destinations to check out.
Two of the top beaches in San Diego are Coronado Beach and La Jolla Cove Beach. In the peak season, you'll find lots of people hanging out at the beach, but the beaches are large enough to have space for everything from tossing around a football to going snorkeling. Unpack you bachelor party supplies and have some fun.
San Diego is a major port city with cruise ships leaving from the ports to venture into the Pacific Ocean. Save these major cruises for a honeymoon, but if you're just visiting for a bachelor party, you can enjoy some of the San Diego Harbor cruise options.
San Diego Harbor cruises take passengers around the harbor for a guided sightseeing tour of the San Diego skyline and other oceanic sights.
Where to go for the best San Diego Nightlife
San Diego is home to one of the most exciting nightlife scenes in California. The nightlife will be one to remember, but probably not speak of to the bride-to-be. If you're looking to have a great nightlife experience during your bachelor party, then San Diego is the place to be.
We'll explore some of the best bachelor party ideas to see the best bars, nightclubs, and strip clubs.
Bars
Hopefully, you'll get a chance to check out the Gaslamp District during the day because you'll barely recognize it by the nighttime. The Gaslamp District is one of the best places for nightlife in San Diego, with a lot of venues to check out.
There's never a dull moment in the unique bars of the Gaslamp District. Some of the best to check out are:
If you enjoy great drinks with live music, you should drop by Patrick's Gaslamp Pub and the Tipsy Crow. Tipsy Crow is one of the more popular bars thanks to the multi-level entertainment venue with live music and comedy.
Visit The Nolen bar for one of the best viewpoints overlooking San Diego. San Diego is a beautiful city illuminated at night – you can enjoy the views from the rooftop bar and lounge. It makes for an excellent backdrop for photos in your groom sash.
Nightclubs
The great thing about the San Diego nightlife being centered around one location is that you only have to worry about catching a ride once. The Gaslamp district is very walkable, and you can quickly bounce between bars and clubs to find the best suitable atmosphere.
San Diego has several club options to give you different experiences at each venue. Some of the best nightclubs to visit in the Gaslamp District are:
If you're planning to have a big group for your bachelor party, everyone will have a great time at Onyx Nightclub. The club venue plays a mix of music from hip hop to house to live DJ sets.
The Rumba Lounge is for Latin music-lovers – the Latin club features multiple club rooms for enjoying a mix of Latin hits.
One of the trendiest places to party in San Diego is at the Omnia Nightclub. The venue has a stylish interior décor with a packed dance floor playing music until early in the morning.
Strip clubs
Visiting the strip club during your bachelor party is a rite of passage before you get married. The good news is that San Diego has a great choice of strip clubs. If you're looking for a great way to end the night, you should stop by:
Little Darlings Lemon Grove caters to bachelor parties – get the entire group together to get VIP bottle service at this adult entertainment club. You can enjoy private dance until 3-4 am on any night you choose.
One of the unique things about being in San Diego for your bachelor party is the location. In just 30-minutes, you can reach the US-Mexico border. What a way to add to the bachelor party experience by visiting one of the favorite strip club destinations, Hong Kong Gentlemen's Club in Tijuana.
Best Restaurants in San Diego
San Diego has a balanced mix of day time fun and nightlife adventures. To keep up with the pace of the city, you'll need to eat well during your bachelor party. Fill up your stomach with great local eats so that you'll be able to hold your drinks better. 
Brunch in San Diego
One of the things to look forward to during your bachelor party in San Diego is brunch. San Diego is a trendy city with lots of modern brunch venues – you'll be surprised at the cuisine creativity. Brunch gives you the best of both worlds – great drinks and eats to start of your day.
Check out some of these great brunch options in San Diego:
If you haven't realized by now, you'll be spending a lot of time is the Gaslamp District. Not only is it a great party destination, but you can make your way back there when you're ready for brunch.
Café 21 is one of the most popular brunch venues in the Gaslamp district. Bring lots of patience because it's known to have extensive lines. You can always get a head start by waiting at the bar and tasting some of the excellent drink choices.
To get a breakfast break from the district, check out the Parkhouse Eatery or the Breakfast Republic. Both of these brunch spots are highly ranked among the locals to find specialty dishes or classic American favorites.
Dinner in San Diego
Treat yourself to delicious restaurant venues around San Diego – a popular foodie destination. Some of the country's most creative restaurants are located in San Diego, so there's plenty of places to go whenever you get hungry. Make reservations for your group for space to give out bachelor party gifts and make a toast.
We recommend eating at the following restaurants:
San Diego is located along the coast, so you should take advantage of the vibrant seafood scene. If you've been sightseeing around the city, you might've already heard about the famous Fish Market. The Top of the Market restaurant is located above the Fish Market. The sea-to-table upscale dining gives you some of the freshest fish available in San Diego to enjoy.
Beat the nightlife crowds to the Gaslamp District as you discover some of the tasty local restaurant options. San Diego is a very diverse city, with a restaurant scene showcasing it. You can find authentic Spanish dishes at Café Sevilla of San Diego or some delicious Japanese fusion food at the Taka Restaurant.
Where to Stay in San Diego
When thinking about where to stay in San Diego, consider how many people will be joining the festivities with you. If you're expecting a modest size party, then you have several hotel options. If you're planning something a bit bigger, think about renting your own place.
San Diego is a popular tourist destination, so there are many hotels around the city. Two of the best places to stay are in the Gaslamp District or Harborview.
The Gaslamp District is centrally located and where you'll find many of the top things to do in San Diego. Staying in the Gaslamp District makes it easy to get between party venues and your hotel with little travel time. That way you can spend more time partying.
Staying in the Harborview district is also a great option. You'll have great views of the water and also nearby many of the outdoor recreation like the harbor experiences or visiting the beach. It's not too far from the Gaslamp District, so you can enjoy a quieter neighborhood while still having easy access to the fun.
Many people spending their bachelor party in San Diego choose to rent their own house. You can find lots of great house options on Airbnb for staying in San Diego. 
Check out a place like this or this where you can put up some bachelor party decorations. You will plenty of space to party and sleep for all your bachelor partygoers.
Best time to visit San Diego
So, when should you plan to host your San Diego Bachelor Party? Anytime!
San Diego is a great place to have your bachelor party because of the amazing weather all year-round. You'll have plenty of hot days and lots of sunshine during your entire trip.
Keep in mind that the peak travel season in San Diego is during the summer months. Places get a lot busier, but that can be good or bad depending on what you want to do.
The Gaslamp district nightlife because much more vibrant during the summer with locals and tourists exploring the district, but the beaches will also be more crowded due to the influx of people.
San Diego Bachelor Party Rating – 4.5/5
San Diego is the perfect place for hosting a bachelor party. These San Diego bachelor party ideas give you combination of partying, scenery, and activities during the day to keep your mind off of the hangover.
We've ranked San Diego so high on the scale because of the variety of things to do during your bachelor party. Some destinations are strictly for partying, while others you'd wish had more to do during the night. In San Diego, you'll have fun around the clock to maximize your time during your party.
With the perfect bachelor party supplies, you're in for an amazing time.