Plan an Epic Portland Bachelor Party (2021 Guide)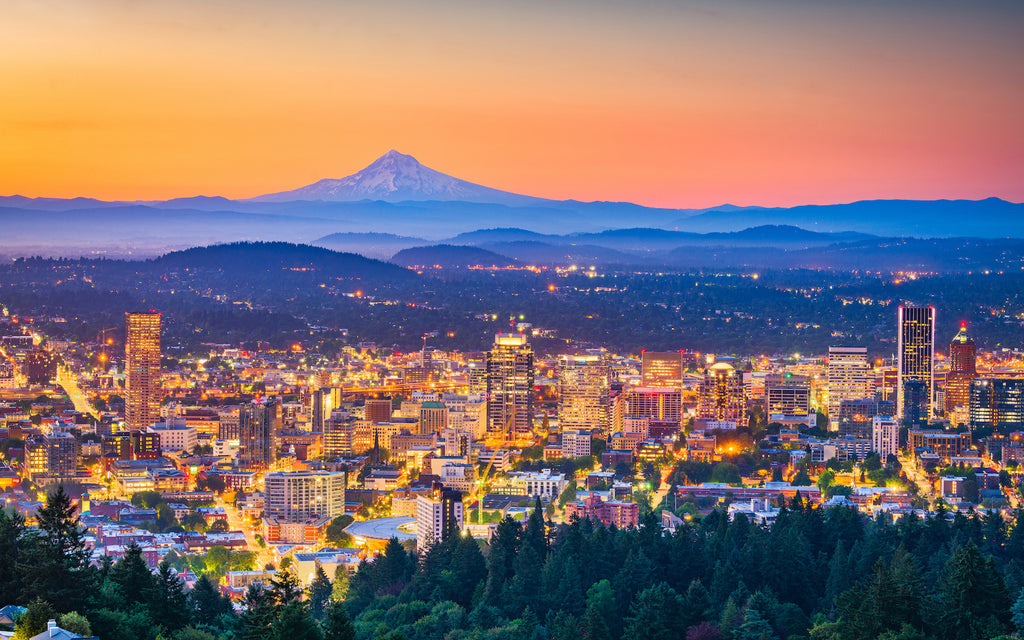 Carve your own path of legendary bachelor parties with a celebration in Portland. Portland is the largest city in Oregon and ready to host your bachelor party.
Portland prides itself on being weird and has plenty to offer to support it. Prepare for an epic experience filled with lots of drinking, weird parties, and hanging outdoors. The Portland nightlife has all of the hot women and craft brews you could imagine.
Your bachelor party is a special moment to spend with close friends and enjoying unforgettable moments before the big day. Your Portland bachelor party will be event-packed from the morning until night so stock up on all the bachelor party supplies you'll need.
We've put together a guide to explore the ins and outs of having a bachelor party in Portland. Check out our bachelor party ideas for nightlife, accommodations, where to stay, and more.
Let's get started on planning out your Portland bachelor party! 
Things to do in Portland during the day
Most people thinking about bachelor parties might only consider the wild nightlife parties, but a trip to Portland deserves some daytime enjoyment. Portland is an exciting city to visit with plenty of things to do for your bachelor party.
Add a few of these bachelor party ideas while planning some fun things for the day during your Portland bachelor party:
Experience Nature
Visit Distillery Row
Take a Day Trip to Mount Hood
Attend a Sports Game 
Experience Nature
Portland is located in a valley surrounded by scenic nature – there's plenty of space for leisure, sightseeing, outdoor recreation, and more. When the weather is nice, spending a day at one of the parks is a great way to have fun with the guys.
Washington Park, Hoyt Arboretum, and Forest Park are just a few places to check out to experience nature. The parks are the perfect places for hiking – each offers lots of trails leading to natural landmarks and incredible views. Your groom hat will provide much-needed shade.
Visit Distillery Row
A bit of daytime drinking is always an excellent idea for your bachelor party. Portland is famous for its Distillery Row, a collection of independent breweries. Head down to the row to taste some of the best (or unique) local flavors.
The independent distilleries collaborate to provide visitor experiences to immerse themselves in the local drink culture. The distilleries produced handcrafted beer, whiskey, vodka, rum, and more.
Tasting is the best part of the distillery tours. You'll get a chance to sample the different spirits produced in-house and even take home a bottle to drink up for the night.
Day trip to Mount Hood
Your bachelor party deserves a bit of adventure, and a day trip to Mount Hood will do just the trick! Mount Hood is a massive volcano where you can enjoy a few recreational activities. 
Mount Hood is the perfect day trip destination since it's just an hour's drive outside of Portland. It's a year-round place to visit for some fun.
Some of the favorite things to do at Mount Hood include climbing, hiking, and skiing. Mount Hood is one of the highest points in the state, where a lot of people attempt the challenging hiking to the various summits. During the winter, the volcano becomes a popular ski resort.
Attend a sports game
A couple of days in Portland is enough time to see one of the local sports teams in action. Portland also has had a significant impact on the sports world.
The Portland Trailblazers is the sole major team out of the big four sports. Check their schedule at the Moda Center and join nearly 20,000 other fans cheering them on. Throw on your groom hat and groom sash over your jersey and you're all set for the game.
Did you know that Nike was founded nearby Portland in Eugene? It was based at the University of Oregon where you might catch a game – it's always cool seeing the create Nike collaborations with the uniforms and stadiums.
Best Nightlife in Portland
Portland doesn't give off the typical West Coast party vibes but instead prides itself on being weird. Portland is where you'll discover unusual venues and an eclectic mix of people the entire night.
You'll never have another night anywhere else as you will in Portland during your bachelor party. Embrace the weird and dive into the fun atmosphere of the Portland nightlife with these bachelor party ideas.
Bars in Portland
Could you imagine that every bar in Portland has its own interesting quirk that makes the bar décor as interesting as the people you're with? Bar hopping in Portland is fun because there's a surprise in every bar.
Downtown is the best place for bar-hopping because there's a large selection. You'll find a lot of people hanging downtown, enjoying the nightlife. Add these unique bars to your stops for the night:
The only thing that these bars have in common is their downtown location. The bars offer entirely different experiences that make it worthwhile to check out both.
Multnomah Whiskey Library is an actual library – the converted space maintains a library appearance with space for relaxing or mingling.
Ground Kontrol brings out the kid in us with its arcade-themed décor. Crowds pack into the venue to play o the more than 60 vintage video games, including favorites like Pac-Man and Pin Ball.
Night clubs in Portland
Your Portland bachelor party means that you'll get to explore the local nightlife scene. If you're looking for a change of scenery from the bars, there are some excellent night club options to shift the party.
Portland has huge night clubs, and the locals love to go out for a great night on the town. You'll have lots of hots girls, strong drinks, and great music.
A few club options include:
After enough drinks, dancing is sure to happen at some point in the night. The Barrel Room has a large dance floor to show off those moves you've been practicing. The trendy venue also has an outdoor dance floor with a live DJ. 
Dixie Tavern is a two-story venue filled with everything rock n' roll. The night club frequently hosts live DJs and even karaoke sessions. There are also two bars inside the venue. Look out for the servers dancing on the bar.
Holocene ranks among the top night clubs in Portland, with an incredible venue for a party. The venue has one of the best sound and lighting systems of all the clubs – it's the best way to experience music.
Strip Clubs in Portland
The best way to end a bachelor party night is at the strip club. Portland has many strip clubs where you can sit back and enjoy entertainment from some of the city's most beautiful ladies.
Two strip clubs you should consider are:
Most people will mention Club Rouge when talking about the best strip clubs in Portland. Club Rouge is a local favorite with lots of hot girls. The club is one of the top totally nude venues in Portland.
Golden Dragon Exotic Club is a perfect after-hours spot to check out after a night of clubbing. You find the best live nude shows at the venue with multiple stages. The best part is that it's open until 4 am.
Places to Eat in Portland
Portland has a thriving food scene worth getting a taste of. We've shown you where you can find the best entertainment, but now it's time to explore some of the best restaurants.
It's easy to find a good place to eat in Portland. Whether you're looking for some American-style dishes or international meals, Portland has it all. Every meal of your bachelor party will be tasty when you try out some of these recommendations.
Brunch in Portland
There's always the morning hangover that you can anticipate at your bachelor party – if you did it right. The good thing is that you can balance it out with a delicious brunch. Brunch is always fun with the guys recapping stories of the night before and plan for the day.
In Portland, eggs are a staple in brunch. The local restaurants cook up amazing egg meals that you'll salivate over. Some of the best brunch spots in Portland include:
Grand Army Tavern is where you'll find all of the classic brunch favorites from pancakes to avocado toast. The omelet is a must-try, considered one of the best in North Portland.
If your Portland bachelor party falls on the weekend, you're in luck. Bad Habit Room is a pop-up restaurant that only offers brunch on weekends. The restaurant specialty is Eggs Blackstone.
Healthy food options are also common in Portland, such as Folklore at Farm Spirit. The vegan eatery serves plant-based versions of brunch favorites.
Dinner in Portland
Time your dinner reservations correctly, and you will be heading for a night out on the town right after dinner. Since your night will surely have lots of drinking, you should make your last meal one that counts.
If you want a place to pre-game, a cool place for a bachelor toast or a relaxing place to hand out bachelor party gifts, check out:
Wine is always a great way to start a bachelor party evening. Enoteca Nostrana is a large wine bar with over 3,000 bottles in the cellar. Sip on savory wine while dining over wine compliments or Italian dishes.
Satisfy yourself with a hearty meal from Ox Restaurant where meat is the specialty - beef to pork, everything is good. It's no secret why it's always a packed house at the restaurant.
Best Places to Stay in Portland
A lot of the best nightlife and entertainment are in a central location – choosing a good location to stay could save you travel time. Two of the most popular places to stay in Portland include:
Central Eastside
Downtown
The districts are located next to each other. It's easy to get between them, but each also has a distinct characteristic.
Central Eastside is known as the party hub of Portland. The streets are lined with restaurants, cafes, and bars. It's a hip area that should suit your bachelor party well. Downtown gives a more diverse look at the city. It has great scenery set along the Willamette River and is the closest to local street markets and tourist attractions.
The districts are also popular hotel areas, so you'll have all of your top brand hotels. There are also upscale options like The Duniway if you feel like splurging a bit at your party.
People visiting Portland also like to stay in rentals. Airbnb is a popular platform to find house and apartment rentals – you'll have the entire space to yourself to put up all the bachelor party decorations as you'd like. Check out this rental or this rental for suitable options.
Best Time to Visit Portland
The best time to have your bachelor party in Portland depends on your activity preference. Portland can be a fun destination in the warmer months and cold weather.
The best time to visit Portland is from May to August. The late Spring and Summer months have the warmest weather, and you can enjoy more of the local outdoor activities. The period is also the peak travel season, so you're likely to catch bigger crowds when hanging out.
Lots of the action takes place outdoors, and you'll see nature in full bloom. It's also when a lot of the local events happen, so there's more options for things to do during the day and night.
Portland is a northern city that experiences cold winters with lots of snow. The good news is that you can also have a wintertime bachelor party in Portland. There are local ski resorts such as at Mount Hood to enjoy lots of winter sports.
Portland Bachelor Party Rating – 4 out of 5
A bachelor party in Portland will be unlike anything else. When you combine the bachelor party energy with Portland's weird vibe, you're sure to get a fun time.
Although some of the venue options are limited, it's more than enough for a bachelor party. You'll also only have a few months to have the perfect party due to the weather. Everyone can find lots of things to do in Portland during the summertime, but wintertime is reserved for winter sports enthusiasts.
Follow our guide to experience some of the best bachelor party ideas in Portland. With lots of venue options and bachelor party supplies ready, you're sure to have the best party.