Plan an Epic San Juan Bachelor Party (2021 Guide)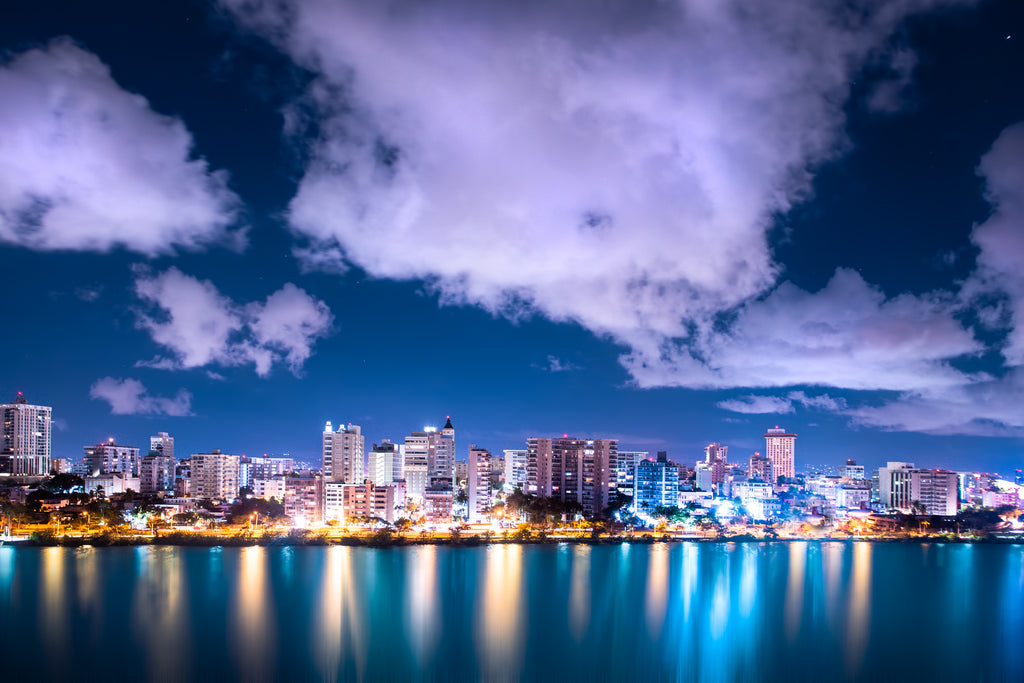 Destination bachelor parties are on the rise as people look for ways to travel. If you're still undecided on a location for the epic festivities, consider heading down to Puerto Rico to spend your bachelor party in San Juan. Time to brush up on your Spanish because it's a place you don't want to miss out on with an incredible nightlife scene, beautiful women all around, and lots of exciting activities to fill up your itinerary.
San Juan is the capital of Puerto Rico. You'll immediately feel the Caribbean island vibes as soon as you touch down. It's a chance to combine a much-needed vacation with an epic party.
We've got plenty of bachelor party ideas for your trip to San Juan. You'll discover the best daytime activities, nightlife, where to stay, and more. Round up the groomsmen and your bachelor party supplies to get ready for a wild bachelor trip to PR.
Things to do during the day
San Juan is a popular travel destination as much as it is a place to celebrate a bachelor party. With that said, why not take the time and be a tourist to get to know the city! There are many daytime bachelor party ideas to get you active during your trip before the nightlife festivities begin. 
The best things to do during the day in San Juan are:
Visit Old San Juan
Hike through the rain forest
Hang out at the beach
Tour the Bacardi Distillery
Ride ATVs
Visit Old San Juan
Old San Juan is one of the best tourist areas to visit. It's the oldest part of the city and designated as the San Juan National Historic Site. There's plenty of sightseeing to do during the day, from the colorful houses to the old fortresses.
Don't forget to wear your groom hat and groom sash as you explore Castillo San Felipe del Morro or take a walk on the old city walls. You'll have incredible views of the ocean and see some of the most historic sites on the island.
Hike through the rain forest
San Juan is approximately a 40-minute drive to El Yunque Rain Forest. It's one of the most popular activities to do in Puerto Rico. The rain forest is a significant contrast in scenery compared to the capital. Reserve a tour to explore the wonders awaiting you in the forest.
You can go on a guided hike through the rain forest to see the diverse flora and wildlife. You'll encounter incredible natural landmarks like waterfalls and scenic overlooks. You can even go for a dip in the water. Some tours offer activities like ziplining and ATV rides in the forest.
Hang out at the beach
The beach is a must-visit in Puerto Rico. The Caribbean island has some of the most scenic beaches you've ever seen. The soft white sand and blue waters are ideal for spending a day at the beach.
Playa El Escambrón and Condado Beach are two of the top beaches to check out in San Juan. You can enjoy lots of activities like swimming, jet-skiing, snorkeling, and more. And there is plenty of eye candy walking around.
Tour the Bacardi Distillery
Your bachelor party will be filled with lots of alcohol. If you can't decide on what kind to get, how about the local favorite – Bacardi. Bacardi originates in Puerto Rico, and you'll get a chance to tour the Casa Bacardi Distillery.
Take a tour of the distillery to see the behind-the-scenes process of how the alcohol is made. And the best part is the taste test. There's more than enough Bacardi to go around. Be sure to stop by the shop because a bottle of Bacardi always makes for excellent bachelor party gifts.
Ride ATVs
Get your adrenaline pumping during the bachelor party by going on a wild ride on ATVs. Gather the groomsmen together and explore the natural scenery on high-speed quads. You can find lots of ATV tours in San Juan that give you hours of fun.
The local ATV tours take you on an off-roading adventure. Leave your nice clothes behind because you'll splash through mud and be immersed in the outdoors. Race against your friends and try to keep up with your guide as you navigate the trails. It's the perfect time to cross off the activity from your bucket list.
Best Nightlife in San Juan
San Juan nightlife is the best on the island. With so many visitors, many of the venues cater to international visitors. You'll have a nice mix of foreigners and locals everywhere you go. We already know that the nightlife is what you're looking forward to. We'll cover some of the best nightlife bachelor party ideas in San Juan.
Best Bars in San Juan
A quick travel tip to keep in mind: Puerto Ricans love to drink! You'll never be short on bars you can check out during your trip. With so many options, how do you decide the best one? Old San Juan is a vibrant area at night with narrow streets full of cool bars. It's a great place to go bar hopping.
A few of the top bars to grab a drink in Old San Juan are:
La Factoría is a world-renowned bar in Old San Juan, ranking as a top bar globally. People come from around the world to experience it. On the outside, you might overlook the location. Once you find where it is, you'll have six unique bars to check out in one venue. Each bar offers something different – everything from craft drinks in a lounge or dancing and live music. 
Ask any taxi driver about Barrachina, and they'll know where it is. It's a cool Spanish theme with traditional décor. You have to try the signature mojitos and piña coladas.
Grab a drink at the Mezzanine and enjoy views of Old San Juan from the balcony. It's an intimate setting that focuses on giving you the strongest drinks to start your night right.
Best Clubs in San Juan
Another quick travel tip to keep in mind: Puerto Ricans love music and dance. As you make your way around San Juan, you'll most likely hear music at any time of the day, especially at night. San Juan has lively nightclubs where you can dance and drink while enjoying great music selections.
A couple of the must-visit nightclubs in San Juan are:
La Respuesta is a hip, trendy nightclub that brings out lots of people every night. The artistic venue is the perfect place to go for drinks. It's a place everyone can enjoy with music ranging from hip hop to rock to salsa. There is even a live DJ and bands on select nights.
District San Juan sounds like a neighborhood, but it's actually a popular nightclub. It's a modern club venue that makes you feel like you're in Miami or New York. It's open late so that you can dance the night away until the early morning hours.
Best Stripclubs in San Juan
You can't ignore the beautiful Puerto Rican girls during your trip to San Juan. You can make all your fantasies come true when you visit the local strip clubs. It's the best way to end a wild bachelor party night.
There are lots of clubs to choose from, but the best ones to check out are:
There's a reason why Frenchy's has been around for so long. The modern club venue is comfortable, and the women are sensual – it's the perfect combination. It gets a lot of foreigners, so the women know exactly how to treat you right.
St. Tropez Gentlemen's Club has some of the most beautiful women you've ever seen – and lots of them! It's a great option to surprise the bachelor with a private lap dance.
Best Food and Drink to Try in Puerto Rico
Your bachelor party in San Juan will be filled with lots of new experiences. Top off the experience with some of the local food favorites. It's tempting to go with the typical dishes for every meal, but there's plenty of local flavors that will delight your taste buds.
These are some of the must-try dishes in Puerto Rico:
If you need a satisfying meal, mofongo will surely do the trick. This popular Puerto Rican dish consists of mashed plantains served with meat, salad, all topped with savory garlic sauce. Stop by a few places to try it out because everyone makes it differently, and they're all tasty.
Empanadas are a staple in Latin culture. It is a quick bite you can enjoy for any meal of the day. The base of the empanada is a deep-fried dough that you can fill with various meats, veggies, mashed plantains, crab, or all of the above. Empanadas are served in restaurants or from street vendors.
Puerto Rico is an island, so you can expect it to have some of the freshest seafood you've ever tasted. Go for a delicious seafood meal with fish caught daily and cooked right before serving it on your plate. Oysters, crab, salmon, and more are easy to find.
Brace yourself for this one. Morcilla is a sausage made from pig intestines stuffed with rice and pig blood. Trust us, it looks and tastes way better than it sounds.
Lechon is another pig dish, but instead of just one part of the pig, you'll frequently see the entire pig roasted over an open flame. It takes hours to prepare to get the meat tender, but it's well worth the wait. Grab a plate of some delectable slices of meat.
You'll see Bacardi everywhere – even outside of the Bacardi Distillery. It's the most common alcohol found in Puerto Rico and is used to make some delicious (and strong) cocktails.
While in San Juan, why not try the local beer? Medalla and Medalla Light are served everywhere. It delivers a refreshing taste to sip in the hot island sun. You'll indeed have more than enough while hopping around the local bars and clubs.
Where to Stay in San Juan?
San Juan is the capital and largest city in Puerto Rico, but not so big that's it's hard to get around. It's a popular tourist destination, so there are plenty of areas suitable for visitors to be able to enjoy safely.
You'll find lots of major hotels, beachfront properties, boutique hotels, and rentals. Find a place appropriate for all of your bachelor party decorations to bring your favorite theme to life for the trip.
Two of the best areas to stay in San Juan are: 
You'll do a lot of sightseeing around Old San Juan. It's also a popular place to stay for visitors. Many of the accommodations in the area are established in historical buildings. The CasaBlanca Hotel and Hotel El Convento are two great options for an authentic local stay where you'll be in the heart of Old San Juan.
Condado is an excellent area where you'll be steps away from the beach. La Concha Renaissance and Condado Vanderbilt are two of the top beachfront properties you can reserve if you want to splurge a bit during the trip.
As an alternative, check out some of the vacation rentals on Airbnb. San Juan has lots of options around the entire city. Check out a place like this or this that would be perfect for your bachelor party.
San Juan Bachelor Party Rating – 4.5 out of 5
A big part of what makes the San Juan bachelor party experience is the scenery. San Juan is a beautiful destination, from the beach views to the women. And when you factor in the excitement of a bachelor party, everyone is sure to have a fun time.
Your San Juan bachelor party will be filled with lots of fun. It's a place where you can drink all day while hanging out at the beach and dance all night in the nightclubs. It's also very welcoming to foreigners. Although a Spanish-speaking country, you'll find many English-speakers since it's a part of the US – it also means that you won't need a passport to visit.
Pack up your groom hat and groom sash and board a flight to the destination bachelor party you've been searching for!