Plan a Badass St. Maarten Bachelor Party (2021 Guide)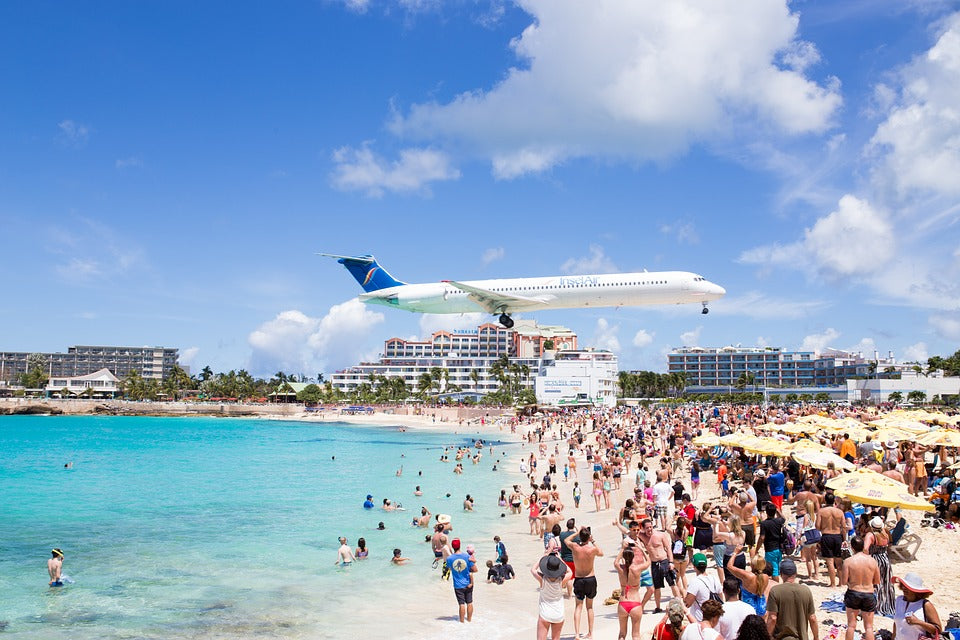 Destination bachelor parties are the latest trend for bachelor party ideas, and you won't want to miss your chance to host a party on one of the Caribbean's premier islands - St. Maarten. 
St. Maarten, or St. Martin, is a unique island where you'll find a mix of Dutch and French cultures. Which means you'll have twice the amount of fun by feeling like you're in two places at once.
You haven't experienced a bachelor party until you've been to the island. Hosting the ultimate bachelor party in St. Maarten is easy with as much excitement that the island has to offer.
You'll indeed have a fun-filled bachelor party from the touristic daytimes and the wild island nights.
Let's check out how you can make the most out of your St. Maarten bachelor party.
Things to do in St. Maarten During the Day
St. Maarten is among the top Caribbean travel destination. There are plenty of bachelor party ideas full of exciting island adventures. You'll get a chance to mix in a bit of tourist fun and partying as you explore some of the island's most popular activities.
Some of the things you can check out while preparing for the nightlife festivities to start include:
Hang out at the beach
Take a BeerCycle tour
Ride ATV quads
Go to the Loterie Farms
Hang out at the beach
With the island surrounded by some of the most scenic beaches you've ever seen, you won't help but be attracted to them. Beaches are the highlight of St. Maarten and keep people arriving at the destination to celebrate their bachelor parties. The incredible scenery is more than enough to help you relax or recover from a night of drinking.
The top beaches to check out at St. Maarten are Maho Beach and Cupecoy Beach. You'll get a rare opportunity to see planes flying just above your head as they pass directly over Maho Beach, or check out the fun water activities at Cupecoy beach, like swimming or snorkeling.
BeerCycle
One of the best ways to see the St. Maarten island without missing a chance to get drunk is by taking one of the famous BeerCycle tours. Island Pedals is one of the top tour operators that hosts travelers looking to drink and ride. Bring along some fun bachelor party supplies and enjoy the ride.
The tour will take your bachelor group along the Great Bay Beach boardwalk for an hour-long ride while you see just how many beers you take manage along the journey. Cold drinks in the hot island climate are perfect while you ride past fantastic beach scenery. You'll surely attract a lot of attention and celebratory cheers as you ride past, especially with some bachelor party gear like a groom sash or groom hat.
Ride ATV Quads
St. Maarten is full of natural beauty that you'll get to experience the right way – on ATV quads. Get the guys together and hop on the quads for an exciting trip around the island.
Thanks to their popularity, there are plenty of places where you can ride ATV quads. Two of the most popular methods are off-road tours or island tours. Off-road tours lead you around some of the natural landscape as you speed through jungles and dirt roads. The island tours are a bit more relaxed as you ride through the top destinations on the island and even get to check out the Pic du Paradis mountain viewpoint.
Loterie Farms
Loterie Farms is much different than the farms you're probably thinking about. It's a natural sanctuary established in the tropical forest. The private reserve is a place designed for outdoor fun.
Consider Loterie Farms like an adult playground for your bachelor party. It has hiking trails through the forest, zip-lining over the tree canopy, and large pools to go for a refreshing swim. There are also plenty of lounge areas to relax.
Don't think that you'll miss a beat on getting shitfaced for the bachelor party. It has a bar where you can order all the drinks you'd like. Plan a day around hanging out at the reserve and dine at the restaurant.
Best Nightlife in St. Maarten
When the sunsets on St. Maarten, the party begins! St. Maarten has an exciting nightlife that you'll only get to experience on the island. As it turns out, the beaches aren't merely a fun daytime activity, and the laid-back island music evolves into pounding reggaeton beats.
From drinking at the bars to dancing in the clubs, check out some of these nightlife bachelor party ideas for the ultimate island bachelor party in St. Maarten.
Best Beach Bars in St. Maarten
The beaches are great for swimming and relaxing during the day but don't rush to pack up your beach gear when the sun goes down. Beach bars are very popular in St. Maarten, where you'll have a unique bar experience right on the beach.
One of the top areas filled with beach bars is along Simpson Bay. You'll have lots of bars to hop around along the shores to discover great music, drinks, and girls. A few bars to stop by are:
Arrive at Buccaneer Beach Bar to take advantage of happy hour, and the party doesn't stop until midnight. It's a unique bar that hots a bonfire right on the beach.
Karakter Beach Bar features a laid-back beach atmosphere with great music. Grab a beach chair and enjoy drinks right on the beach while you enjoy the show of the daily live performance.
Roxxy Beach Bar is one of the newest beach bars, featuring an upscale beach bar atmosphere. It also has live music and some of the best cocktails on the island.
Best Nightclubs in St. Maarten
Partying is one thing that the locals in St. Maarten know how to do well. If you're looking for places to hang out for your bachelor party, the nightclub scene will definitely impress you. The drinks will flow endlessly, and your feet will move nonstop. Get prepared for a crazy night when you visit these nightclubs:
You won't have to travel far from the bars at Simpson Bay to reach Lotus Nightclub since it's located in the same area. It's one of the liveliest clubs where locals and tourists get together to party the night away until as late as 4 am. The live DJ spins a mix of reggae, soca, and dancehall hits.
We Lounge is a more sophisticated venue that still knows how to throw an incredible party. Sip on handcraft cocktails before hitting the dance floor to practice your moves.
One of the most fun clubs in St. Maarten is the Red Piano Bar. It's ranked as the best live music venue on the island that hosts lots of themed nights. You can sing along to the music, dance on a piano, and much more.
Best After-Hours Spots in St. Maarten
Don't let the early morning hours be a reason to return to your hotel. Remember, you're in St. Maarten, and the party doesn't stop, especially for a bachelor party! There are a few places to drop by for a nightcap, spend a bit of money, and might get lucky.
When you've had enough fun at the club, include a trip to these after-hours spots to keep the party going until the sun comes up:
Platinum Room and Red Diamond are two of the premier strip clubs in St. Maarten. When you enter the dimly lit venues, you'll enter into a fantasy world surrounded by hot Caribbean island girls putting on very sensual shows. You'll have your pick for a private dance, or sit back and watch the stage shows. And don't forget the groom hat so the ladies know who to target.
If you've spent a bit much on the night out, stop by Hollywood Casino on the way back to try to win back at the slots or card games. The casino is open late, so it's no rush to try your luck for the night.
Where to Eat in St. Maarten?
The secret to surviving a bachelor party is making sure that you eat well the entire trip. When you're in St. Maarten, that won't be hard to accomplish. The island is full of great places to eat, from modern restaurants to street vendors. You'll have your choice of great eats no matter where you are on the island.
Best Breakfast in St. Maarten
Wake up for a delicious breakfast (if you can) because you won't want to miss it. Breakfast in St. Maarten caters to its international guests, so you'll find many familiar favorites almost everywhere. And feel free to experiment with some of the local cuisines.
Some of the best places to eat breakfast in St. Maarten include:
Zee Best blends the American breakfast classics with some of the local island flavors. You can pair an Eggs Benedict and bagel with fresh passion fruit juice.
Reveil Matin Breakfast is very popular and highly recommended by all who go. You'll find breakfast specialties like Nutella-topped crepes, French toast, and coffee served from the cafe.
Best Dinner in St. Maarten
If you think breakfast was delicious, wait till you see what's in store for dinner. When you're planning your St. Maarten bachelor party, dinner with a pleasant atmosphere is essential for making a toast and giving out bachelor party gifts to the bachelor.
Seafood is always a specialty on the island, but you'll find many international options to satisfy your taste buds. A couple of restaurants to check out include:
Everyone loves a great view, and Sint Maarten offers precisely that. The restaurant provides views of the bay and docks while you dine on a fantastic meal. It features American-style dishes, like hamburgers, ribs, and, of course, seafood.
Another top choice to eat is The Greenhouse. It has an incredible atmosphere that makes it the perfect setting for a bachelor party dinner. You'll have fresh seafood ready to order, like shrimp wraps, grilled salmon, and crab rolls.
Where to Stay in St. Maarten?
With St. Maarten's popularity, you'll have many options of where to stay around the island. It's not the biggest island in the Caribbean, but you'll still want to be near all of the action to make your bachelor party worthwhile.
The less time you spend taxiing around the island, the more time you can spend getting wasted!
St. Maarten is unlike other Caribbean islands in that it's divided into a Dutch side and a French Side (usually called Saint Martin). A trip to the island means you'll have to choose between either side, but which is the best side for your bachelor party?
Consider staying near these areas in St. Maarten:
Philipsburg
Simpson Bay
Orient Bay
Philipsburg is the island capital, located on the Dutch side. It's also near the biggest port for cruise ships, so you'll have lots of things to do nearby. It has a lot of all-inclusive resorts, and you'll be just a quick ride to other trendy areas to party.
Simpson Bay is one of the main hubs for tourists where there is plenty of nightlife and restaurants. It's a major resort area where many people like to go, also on the Dutch side.
Orient Bay is a highlight of the French side known for having the best beach on the island. It's a very scenic area that also has lots of all-inclusive resorts.
While resorts are the most popular accommodations for tourists, you can also find some excellent Airbnb options nearby that can fit your entire party in one place. Choose a bachelor party theme and fill up your accommodation with bachelor party decorations. Check out a place like this, or this where you'll still be nearby the top areas to party.
St. Maarten Bachelor Party Rating - 4 out of 5
St. Maarten is an amazing travel destination and an even better place for your bachelor party. It's one of the top Caribbean islands to party, and you now have plenty of bachelor party ideas to make the most of it. It's a place where the fun never stops.
You'll need to spend a couple of days in St. Maarten to truly take advantage of the island's fun. The modern night clubs, casinos, and hot island girls are plenty to give you an incredible bachelor party setting.