Plan a Badass Tampa Bachelor Party (2021 Guide)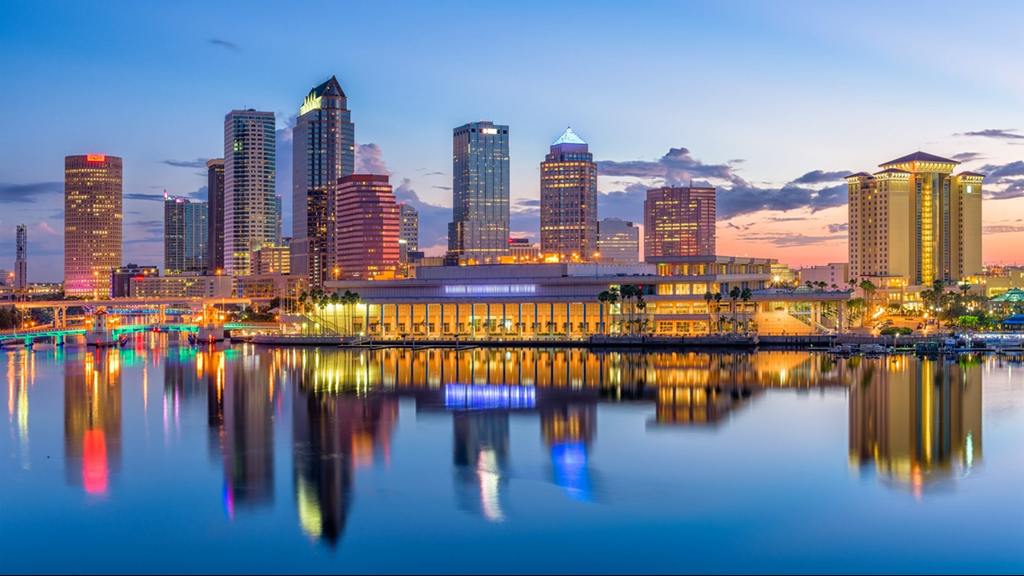 Tampa is one of Florida's top travel destinations – the vibrant nightlife, visitor attractions like Busch Gardens, and hangout spots like the Tamp Riverwalk make it the perfect place to host your bachelor party and you're about to discover enough bachelor party ideas for your time there.
Your Tampa bachelor party will be filled with lots of sunny days to hang out by the beach or African safari; also, epic nights when the city truly comes to life. It's not hard to find entertainment in the day or night, so the biggest dilemma is deciding what to include during your time there.
We've put together a detailed guide on how you can make the most of your bachelor party in Tampa so getting shitfaced the entire time, seeing the sexiest women, and epic daytime adventures.
Get ready to experience one of the best cities in the US for hosting a bachelor party.
Things to do in Tampa During the Day
You'll have a lot of daylight hours to burn in sunny Tampa, so you may as well plan out some epic activities during the day for your bachelor party. Tampa is a popular travel destination for people worldwide, so you'll have plenty of local attractions to include in your itinerary.
Tampa is a fun city for all ages and bachelor parties of all sizes – round up the guys and check out some of the local favorite bachelor party ideas to do during the day:
Stroll the Tampa River Walk
Visit the beach
Busch Gardens Tampa Bay
Busch Gardens is one of the most popular attractions in Tampa. It combines an African safari experience with a theme park where you can easily spend an entire day immersed in the fun environment.
Hop on the safari truck for a tour around the Serengeti, where you'll encounter exotic animals like lions, cheetahs, elephants, gorillas, giraffes, and rhinos. You'll see them up close and in person roaming around, or you can stop by the feeding zones.
Busch Gardens also has a handful of adrenaline-pumping roller coasters. Take a ride on the twists, turns, and loops and see who will be the first to tap out from the fun. In between rides, there are restaurants in the park to grab a refreshing craft beer.
Tampa Riverwalk
Head to Downtown Tampa along the Hillsborough River to find the popular Tampa Riverwalk. The Riverwalk extends for 2.6-miles along the riverbanks, where you'll discover lots of daytime activity (and nightlife).
The Tampa Riverwalk is a very scenic part of town where lots of people go for leisure, exercise, and sightseeing. You'll see lots of locals riding bikes or jogging up the strip, while others choose to take a stroll to take in the sights. The strip is lined with restaurants, museums, and more.
It's an excellent place to show off your groom hat and groom sash. You'll meet lots of people to see where's the hottest party for the night. You'll surely get a lot of attention for your bachelor party.
Visit the Beach
Tampa is a short distance from Tampa Bay, which has several beaches to check out during your bachelor party. The beach is always a fun place to go for beach recreation, water sports, cooking out, and checking out the local eye candy. Tampa's great weather means that you'll be able to hang out at the beach all year round.
A few of the top beach destinations in Tampa are Ben T Davis Beach, Cypress Point Park Beach, and the David Island Beach. Bring along a few bachelor party supplies, toss around a football, fill your cooler with beer, or take a refreshing swim in the bay. There's also nothing like recovering from a hangover by lounging out on the beach all day.
Water Taxi Tour
Taking a water taxi is the best way to experience Tampa. Tampa is on the riverfront, so the water gives you the best viewpoint of the Tampa skyline.
You'll have a variety of water tours to take for your bachelor party. Some taxis take you sightseeing along the coast, spotting dolphins, and even haunted pirate-themed rides. Climb aboard one of the large boats with plenty of room to accommodate your entire bachelor party group.
And the best part, they serve alcohol! Enjoy beer or wine while cruising along Tampa Bay. You may even get to stop off at the Riverwalk along the journey.
Best Nightlife in Tampa
As fun as Tampa is in the day, be sure to save up some energy so that you can last the entire night. Tampa has one of the best nightlife scenes in Florida, so you'll have lots of places to check out whether you're in town for the night or a few days.
The good thing about Tampa is that you'll find a lot of the top party destinations focused in specific areas. It makes it convenient when you arrive and won't have to travel very far to hop around to a few spots.
Here are some of the recommended bachelor party ideas for Tampa nightlife.
Best Bars in Tampa
Hopefully, you got the chance to check out the Tampa Riverwalk during the day to scout out a few places to hit at night. The Riverwalk is one of the top nightlife areas thanks to lots of bars lining the riverbanks. You can go from place to place or even spend some time outside amongst other drunk people hanging out.
The must-visit bars on the Tampa Riverwalk include
There should be only one mission during your bachelor party – get as shitfaced as possible. That's an easy task when you stop by The Hub Bar. It's a place known for serving strong drinks in their laid-back vintage bar setting. Soon, you'll find yourself hovered over their famous jukebox looking for the next song to jam too.
Taps Restaurant Bar and Lounge is a restaurant by day but transforms into a buzzing bar and lounge by night. It has one of the best selections of craft beers and cocktails on the Riverwalk. Come during the weekend, and you can enjoy the drinks with live music in the background.
Best Clubs in Tampa
Once you've had a stint over on the Tampa Riverwalk, it's time to change up the location to get a different local nightlife scene. The go-to spot for partying in Tampa is Ybor City. Ybor City is a strip extending several blocks with lots of bars and nightclubs. It's one of the best nighttime hangouts where venues close as late as 3 am and people hanging outside until much later.
The overall environment of Ybor City is designed for partying. Walk the strip with your groom hat and groom sash and drop by these nightclubs:
Club Prana is the premier club on the Ybor City strip that you have to check out. It's one of the largest clubs with five floors exhibiting different music on each level. There is also a rooftop bar with excellent views of Tampa. The music focuses on a mix of hip hop and reggae.
Tangara Nightclub is another multi-level club with a rooftop bar. Explore each of the three levels for different party ambiances or grab a VIP table to chill on your favorite level.
If you're into something a bit different, check out The Castle. It's an alternative style club where all the patrons have eclectic fashion and dance moves. It features live DJs playing pop music of new wave music. It's not a club for everyone, but it's the right amount of weird to pique your interest when you walk past it.
Best Strip Clubs in Tampa
Be sure to make reservations at one of the local strip clubs to top off an incredible night in Tampa. Strip clubs are required, although never should be discussed in front of the bride-to-be. But we'll give you the inside scoop on the hottest strip clubs in town the celebrate.
Did you know that strip clubs in Tampa are fully nude? Check out 2001 Odyssey for the top-rated club in town where, on any given night, upwards of 70 women provide you with entertainment. The club has the sexiest women in Tampa putting on full nude strip shows and private dances.
Mons Venus is another popular venue with modern décor for enjoying an upscale strip club atmosphere. It's a great after-hours spot open late for getting the much-desired nude lap dance. And feel free to use your hands…respectively…
Best Restaurants in Tampa
Tampa is a melting pot of cuisines where you'll find almost everything to satisfy your taste buds. There are great restaurant options across the entire city, tucked inside the hotels, along the waterfront, or hole-in-the-wall neighborhood spots. You'll have countless options for places to dine during your bachelor party and won't have to travel too far to find the best restaurants in town.
Brunch in Tampa
We imagine you'll be getting in late after ending the night in the strip club as they tend to close in the early morning. Don't stress yourself out about missing breakfast because brunch is where you'll want to go anyway.
Brunch is a popular trend in Tampa, with restaurants explicitly designed for delivering quality brunch food and service. Once you manage to get moving for the day, combat your hangover with a meal at one of these places:
A local favorite since 1985, The Brunchery is a go-to spot for the best brunch in Tampa. It serves up all American favorites like sandwiches, French toast, pancakes, and more. The large dining room is always full of hungry patrons, but the fast service makes it all worth it.
The bright, modern décor of the Brunchies restaurant will wake you up in the late morning. If not, grab an espresso drink to do the job. The diner specialties include pancakes, omelets, and burgers, with select dishes showcasing Latin flavors.
Dinner in Tampa
You could also visit the Tampa Riverwalk for the best dinner options, which has lots of exceptional restaurants. You'll quickly notice the Latin influence on the restaurants, from the food to the venues, so it will be an entire experience when you dine in.
The best Riverwalk restaurants for dinner in Tampa are:
Ulele has the best local flavor, inspired by Tampa's indigenous people. From the restored restaurant venue to the mix of Latin and American dishes, you'll sure enjoy eating here. Try out some of the fresh seafood or select local meats. Order some tasty appetizers for the table to enjoy with a beer brewed in-house while waiting for the main course.
Spain Restaurant and Toma Bar seems directly imported from Spain, where you'll have an authentic dining experience. It specializes in seafood and tapas, one of the favorite dishes from overseas. It creates the perfect dining ambiance with live music. It's the perfect place to give out bachelor party gifts after your meal.
Where to Stay in Tampa
Finding things to do in Tampa is the easy part, but choosing where to stay can drastically change your experience. Tampa is a large city with its popular attractions spread throughout. Whether deciding to take advantage of the beaches or explore the city sights, you can stay in one of the favorite areas:
Tampa's Westshore is nearby the airport and Tampa Bay – it has a large concentration of hotels in the area for frequent beachgoers. You'll be minutes from the Cypress Point Park and boat tours. Downtown Tampa is for people who want to do more hanging out in the city. It also has a high concentration of hotels and nearby popular destinations like the Tampa Riverwalk and Ybor City.
You aren't just limited to hotels when you travel to Tampa. Tampa has a huge Airbnb market for finding the perfect rentals for a couple of days that you're in town. It can be an excellent option for your bachelor party since you can outfit it with bachelor party decorations and have space to accommodate your entire group of guys.
Check out places like this or this that will be more than ideal for hosting your Tampa bachelor party.
Tampa Bachelor Party Rating – 4.5 out of 5
Your Tampa bachelor party will rank alongside some of the greatest bachelor parties ever thrown. It's a city designed for adult fun with lots of things to experience in just a short time that you're in town.
Consider some of these bachelor party ideas to make the most of your trip to Tampa. The drinks will flow nonstop as you bounce around to some of the famous Tampa clubs and the best nude strip clubs in Florida. And unique experiences like seeing exotic animals or thrill rollercoasters only makes it even better. And don't forget to bring all your favorite bachelor party supplies.
Additionally, if you have any other questions about the best activities to do in Tampa make sure to check out our partners over at Neighborwho who did an excellent write up on the city. 
Tampa delivers an epic bachelor party experience that you'll be wishing that you could do again.