Bachelor Party Decorations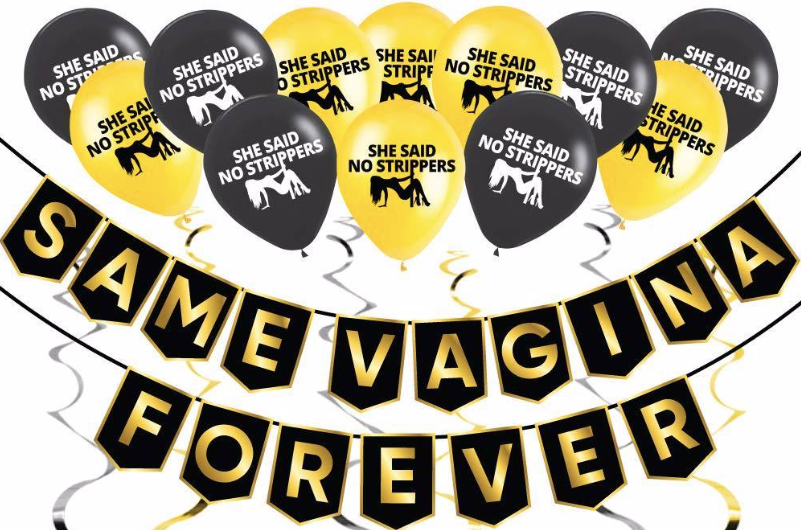 Looking to plan a bachelor party? One of the most important things (besides the drinks) is the decorations. The perfect bachelor party decorations can turn a bland room into a center for entertainment where the shitshow can commence. 
Party decorations can be a bit of a hassle to find the best things, but we've made it simple by putting together a guide to all the must-have decorations for the bachelor party. Some of the things you definitely want to include:
Clothes
Drinking accessories
Party games
Food decorations
Photobooth
Party banners
Balloons
Before buying decorations, figure out if you want to add a theme to your bachelor party. Some popular themes are sports or Las Vegas (check out our Las Vegas bachelor party guide if you get a chance to go!).
Remember, it could be the bachelor-to-be's last night out with the guys, so don't hold back in showing your immaturity to remind him of what he'll be missing when he enters the married life.
Let's check out how you can decorate your bachelor party!
Clothing
Not everybody likes the attention or the spotlight, but during a bachelor party, it's something that you can't avoid. While you're busy decorating the party venue, it's also a smart idea to decorate yourselves with some bachelor party-themed clothing.
Let the world know you're getting ready for a shitshow with some of the favorite clothing articles:
You can get as creative as you want when planning out what kinds of t-shirts everybody will wear. If you're planning a bachelor party trip for a couple of days, be sure to get gear for every single night.
Hats are an excellent way for the ladies to distinguish the bachelor from the rest of the cohorts. Add a little extra flair to his hat so he won't be missed and could potentially land him some celebratory kisses (or dances) from the ladies. Check out one of these hat and veil accessories. It's the perfect hat to symbolize the upcoming wedding and what you'll be looking forward to for the rest of your life.
Sashes and buttons are a must for all bachelor parties. Don't be shy about announcing your bachelor party celebration to the world. The accessories are versatile to wear them in the day or the night, and you can easily switch them onto other clothing. You're sure to draw a lot of attention and might even get some free shots at the bar if you're lucky.
Drinking Accessories
It's your bachelor party, so it might be one of the last times you can indulge in long nights of care-free drinking with the guys. While you're stocking your house or party venue with drinks, don't forget to include a few decorations to accessorize the drinks – as if drinking isn't fun enough!
Some of the best drinking accessories to include are:
Drinking accessories aren't strictly for the decoration but can have functional benefits. Everybody loves a cold beer, but no so much the cold chill on your hands while holding the can. Use the party can coolers to give you the perfect grip on your drink, so your hand stays warm, and your beer stays cold. It's also a great way to remember which drink is yours.
Coasters are a fun decoration if you're partying at home and don't want the bride-to-be to see beer can marks on her favorite table when she returns. Design some fun coasters with images of the groom's face or your favorite bachelor quote and place them around the room to use (or forget to use).
Alcohol labels attempt to disguise the drink, but we all know what's in the bottle. Substitute your favorite alcohol label with a fun message like "Bachelor Party in Progress" or fun images to transform any regular bottle into the perfect bachelor party drink.
Party Games
There are two things that all guys love: drinking and games. While you're planning out the bachelor party festivities, be sure to include a few fun drinking games for the pregame before going out.
Drinking games are the perfect opportunity to tie in your party theme while adding some friendly competition to the bachelor party. Some of the fun games to include at the party are:
Whether you're hosting your bachelor party at home or in a venue, you can have a designated section for the games. Beer pong is always a hit regardless of where you're throwing the party. Beer pong is simple to set up with red cups, a table, beer, and beer pong balls. Pick up some custom beer pong balls to give the game a slightly different look than what you were used to in your college days.
Use your imagination and come up with the best pin the "tail" game for your bachelor party. Pick a wall and hang up a poster of a beautiful woman to pin the targets on the boobs or get a cutout of the groom and challenge yourself to pin something wacky on him.
The scavenger hunt is a fun game that could last all night. Start with some fun points sheets with details on how to score throughout the night. Getting a girl to kiss the bachelor on the cheek is for rookies, but if the bachelor party gets really wild, you can earn major points with getting a girl to give him a lap dance. Hint: make sure to include visiting the strip club for the end of the night to make it a guarantee.
Food Decorations
Since you're getting a few decorations for the drinks, why skip out on doing the same for the food. Food during a bachelor party is much more than something to fill up on but can provide some fun in supporting your theme.
There are a few things to consider when putting together the food list for your bachelor party:
Decorative cake
Fun finger foods
Cake is always a delicious treat to have for all celebrations. Surprise the groom-to-be with a special cake to kick off the bachelor party celebrations. You can easily find a bakery to buying a customized cake, either with a photo of his face or something quirkier like a cake designed as a vagina.
The best cakes won't even be touched until you return for the night after partying, so make it nice so that it provides some decorative appeal to the party.
Aside from the cake, you'll need some fin finger foods to munch on in between alcohol shots while pregaming to go out. It's time to upgrade from the typical chips and dip for more suitable hor's d 'oeuvres like boob-shaped pastries or vagina gummies.
Photobooth
The most successful bachelor parties are ones that you won't be able to discuss outside of the party circle but to ease the mind of the bride-to-be, you'll need to show a bit of evidence of what happened. Leave the cameras behind when you go out for the night, but you can always set up a fun photo booth to show everyone before the real shitshow begins.
Photo booths are always wacky fun, so if you've never stepped inside of one, get prepared for embarrassing photos that show just how immature you can be. The best part about photo booths are the props, so here's a few to consider:
Clothing accessories
Signs
Blow up dolls
Your party outfit is never enough when you step into a photo booth. Dress it up a bit with some of the favorite accessories like oversized glasses or wacky-colored bow ties. It also never hurts to throw on a fake mustache if you want to disguise your identity slightly.
It's also a great opportunity to hold up some signs signifying that the photos came from the bachelor party and not a graduation party. Bachelor party signs work best if they're obscene, so find you with the craziest text to hold up. "Kiss This" and "Bad choices make good stories" are a few that will surely define the night appropriately.
For even wilder photos that might alarm the bride-to-be, don't be afraid to show that blow-up doll that we already know will be present at your bachelor party.
Party Banners
One of the best ways to decorate your house for a bachelor party is will banners. It's a simple way to transform it from a simple home into a party center!
Banners can serve as a big welcome for the bachelor entering his last party in the single life, so make it good. It's another decoration where you can get creative.
Pick out the best colors to match the rest of the decorations and find some fun messages to put as the text. It might be tempting to stick with the bachelor's name or simply "bachelor party," but for something clever, hang up "same vagina forever" to celebrate.
The banners aren't just text, but can also include a few hanging streamers or swirls for a little extra flavor.
Some of the ideal places to hang your banner are:
Entrance
Central location
The entrance is always a great place to symbolize walking into the party zone. Emerge through the banner, and you'll see where the shitshow begins.
You could also pick a central location, and they'll be the focal point of the bachelor party. Place the games or food table beneath the sign to direct your drunken friends where to go. It will be an excellent place for photos to capture the neat decorations before the wild events of the party begin.
Balloons
What's a party without balloons? Balloons always make the perfect decorations regardless of your age. It's also a great complement to your party banners and theme, so there's lots of fun things you can do with them.
When you first think about balloons, the typical circular shape might come to mind, but there's a few ways to get something more fitting for the occasion. Some of the types of balloons to consider for a bachelor party include:
Message balloons
Shape balloons
Letter balloons
A bachelor party deserves more than just plain balloons hanging around the room. Add a bit of fun to the decoration with some unique messages tailored just for the party. "She said no strippers" makes for an excellent slogan for the night, especially as you guys await the private dancers to arrive at the party.
Balloons have gotten much more advanced since you last had them for your birthday party – you can find balloons in all types of shapes and styles to perfectly outfit the party. If you're going with a theme for the party, try to find some balloons to coincide with it – like a sports ball balloon, or a super-hero logo. If you don't have a theme, you can always opt for a vagina-shaped balloon.
Take your slogan to the next level and get letter balloons to spell out the words. It will really bring the message to life, but you'll have some fun trying to set them up so that it spells out the phrase correctly.
Party Pack
You don't have to be an interior designer or party planner to find the perfect bachelor party decorations. Today, it's a simple task thanks to pre-packaged party packs. Party packs have everything you need for setting up a bachelor party – even if it's the last minute. Save yourself some time and money and grab a pack.
Party packs come with a variety of decorations and can differ significantly depending on where you purchase them. For example, these party packs give you the perfect theme of "same vagina forever" with corresponding balloons and party streamers.
Everything is already color-coordinated, so you might surprise everyone with how cohesive the party looks. The party packs take care of the main decorations, so you can focus more on buying enough beer and alcohol to last the entire party.
Do you want to take a bachelor party trip instead of planning it at home? Check out the top bachelor party destinations of the year to find some of the best places to party in the world!