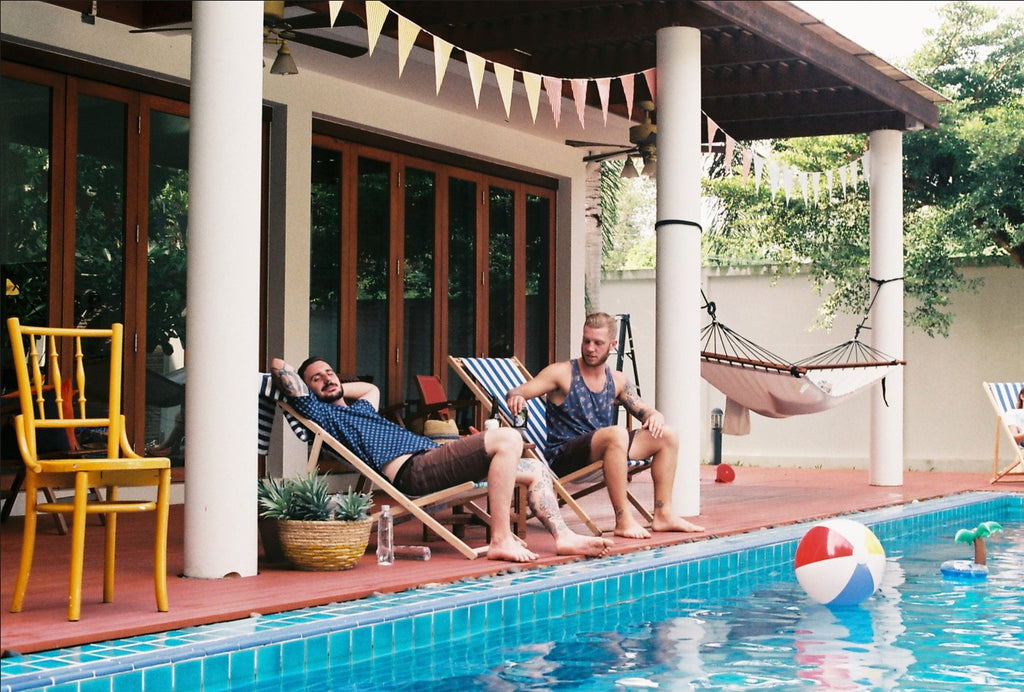 The bachelor party is your best buddy's last hurrah, the special event before he ties the knot, so you better send him off to married life with a bang! As his best man, your duty is to deliver the best bachelor party ever, but let's be honest, that's not that simple unless you are a natural-born party planner.
The entire bachrlor party planning can be nerve-wracking and challenging. However, when you have the top three must-haves you are halfway to that crazy blow-your-socks-off bash everyone is expecting from you:
1. A sunny destination that happens to be America's Craft Beer Capital
Your bro is tired of all that wedding planning pressure and he could use some time to get loose and blow off the steam.
Therefore, my suggestion is to make your bachelor party last longer than a guys' night out in the city and take your crew to San Diego for a fun-filled bachelor party weekend.
Guys, America's Finest City is one of the top bachelor party destinations, so when you want to fill your days (and nights) with fun activities, San Diego has it all:
Apart from the fantastic beaches and world-class surf spots, the San Diego area is home to the top craft breweries in the US, where you can go to sample the finest craft beer selection ever.
Your bachelor party itinerary won't be complete without some fun on the water, and what can be more fun than a booze cruise in San Diego Bay? You can book a cruise from one of the companies or rent a sailboat, yacht, or pontoon boat to celebrate with your crew in complete privacy.
When the sun goes down plan a guys' night out to explore the Gaslamp District's 16 blocks of pubs, bars, clubs, and other party hot spots.
2. A bachelor party-friendly vacation rental
A luxury private mansion with a big pool or a cozy beach house is another must-have if you want to make your bachelor party weekend one to remember.
Believe me, finding the perfect accommodation for your bachelor party will make all the difference, and the San Diego area, including those quaint beach communities, offers a wide range of great house rentals for every taste and budget.
Here are the advantages of renting a house for your group:
Access to a BBQ area, wet bar, and a spacious place to eat
Accommodation close to the beach or the downtown area, depending on your planned activities
Spacious living room for your bachelor party games and entertainment
Pool for some poolside fun and activities – and you can always make the party more epic by booking local pool party girls
You can make the house and the pool look as fun as you want with those crazy banners, floats, balloons, and other bachelor party decorations
Pro Party Planner Tip: always make sure to book a bachelor party-friendly accommodation. Not every owner tolerates parties in the house or on the property.
3. Customizable bachelor party packages
Booking bachelor party packages for your weekend can save precious time and energy. These packages are designed and created for bachelor party groups of all sizes, tastes, and budgets.
Believe it or not, booking bachelor party packages from a reliable agency will also save you a lot of money.
The top bachelor party planners in San Diego have connections and partnerships with the city's best vendors and companies. They know everyone in the San Diego entertainment industry, and everyone knows them.
Your party planner will know the exact amount each bachelor party service costs and can make sure your crew is not price gouged. Besides, you should know that most vendors, house owners, and transportation companies supply a 10-15% discount when working with the city's top party planners.
When planning the bachelor party, you can be sure of one thing: staying on your previously set budget is way more difficult than it seems. Unexpected expenses and fees will pop up everywhere. Still, once you tell your party planner agency the amount you can spend for your event, they will start working their magic and fill your bachelor party weekend with fun activities. And of course, you'll get the best possible deals.
Another aspect to remember is that a reliable party planner will ensure that everything is planned and booked by the time your crew arrives in San Diego.
About the author Liz Hahn is the founder and the CEO of the San Diego Bachelor Party. With a background in the entertainment industry, she has the experience and the skills to plan and deliver the ultimate bachelor party experience in the San Diego area.
Continue reading