The Best Bachelor Party Games (2021 Guide)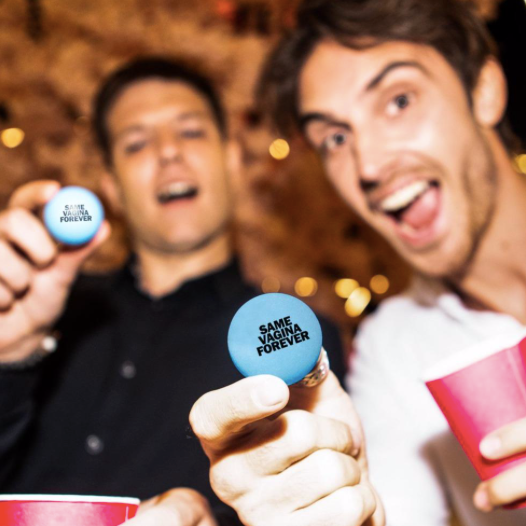 Looking for the best bachelor party ideas to plan an epic event. Bachelor party games are mandatory to add some excitement and lots of drinking. Whether you're pregaming to go out or planning to spend the entire party at home, there are plenty of games to choose from that are perfect for a bachelor party.

Many of the best bachelor party games involve lots of drinking and a few props. We'll let you know all the bachelor party supplies you need to play your favorite game. Check out our list of games to include in your bachelor party ideas to give the groom an epic night!

1. Beer Olympics

Let's be honest, there are tons of popular drinking games that you've surely played in the bars or during your college years. Instead of picking just one, how about taking the beer games to the next level with the Beer Olympics!

Imagine the Olympic games except with drinking games. The Beer Olympics consists of a series of games where you split the bachelor group into two teams to compete against each other. Crazy things happen when you combine competitive games with drinking.

You can customize your Beer Olympics with as many drinking games as you'd like. Regardless, everyone is sure to be wasted by the time you're tallying up the final score in the end. Some of the favorite games to include in the Olympic games are beer pong, flip cup, and shotgun.


Beer pong is a classic drinking game that should be in everyone's Olympics. Use these special bachelor party ping pong balls. Play in pairs against the other team and see whose team has the most wins.

Everyone can play flip cup simultaneously – line up with each team on their respective sides and see who'll take the victory for the round.

After you finish all the games, whichever team won most rounds gets crowned the Bachelor Party Beer Olympics champion.

2. Eating Contest
You have to eat at some point during the bachelor party, so how about turn the typical mealtime into another bachelor party game. An eating contest is a perfect way to make sure everyone fuels up appropriately for a long day of drinking. Choose your setting wisely because a fine dining restaurant might not be suitable for what's to come.
Set up your eating contest at home, or some bars might welcome the activity. There are two ways to host a bachelor party eating contest.
See who can eat the most
Challenge to eat unusual food(s)

Everybody might be looking at the biggest person in the group as the automatic winner before you even start, but you might be surprised. Some of the popular foods for an eating contest are chicken wings or hot dogs. Be sure to have a lot of food and see who can eat the most within a given time. Make it even more challenging by restricting drinking while eating.

Eating unusual foods isn't a challenge for the stomach but a challenge for the mind. Find the hottest hot sauce to coat your wings and see who can finish. Or find the weirdest food available, like bugs, and see who can stomach them.

Scavenger Hunt

The end of the bachelor party pregame session doesn't always mean the end of the bachelor party games. A scavenger hunt is one of the best bachelor party games to do while you're bar hopping around town. Unlike your childhood memories of a scavenger hunt, the bachelor party themed scavenger hunt is strictly reserved for adults.

Check out these bachelor party scavenger hunt cards to get some ideas of the things to keep an eye out for in the bars and clubs. It helps you be more social because you're sure to interact with lots of people during the night. Split the group into teams or have everyone compete against each other.


The scavenger hunt consists of finding particular objects while exploring the town. You might be looking for a bachelorette party celebration to take photos with or find someone with a jersey for your favorite sport's team.

The hunt gets more challenging as the night progresses. There's something about alcohol that impairs our judgment.

See who can find the most objects by the end of the night, and they will get a prize.

Sports

Every man loves sports, so how about incorporating a few sporting activities during your bachelor party. It's perfect for a bit of outdoor fun or even a destination during the day before the nightlife begins.

Some of the best sports games to do during your bachelor party are golfing, go-kart racing, basketball, and corn hole. You can split the group into teams or play on your own to see who comes out on top.

Spending the day out on the golf course is one of the best bachelor party ideas. It's a place to practice your swing, get competitive, and have plenty of time to joke around with each other while waiting for everyone to finish their swings.


Go-kart racing is another fun competitive game. Head to the racing course and strap in for some high-speed fun. Try to visit the track before you start heavy drinking.

Corn hole is one of the many sports you can enjoy in your backyard. It's something you can play while pregaming, and drinking only makes the game more interesting. Don't forget about a prize for the winning team.

Russian Roulette Drinking Game

Start your bachelor party off with a few beers to get you warmed up to the long day of drinking ahead. When you're ready to take it up a notch, get set up for Russian Roulette. You can bet that anything called Russian roulette won't end well – just better hope you have a bit of luck on your side so that you'll remember the night.

Russian Roulette is a drinking game that's very similar to the original. It's a game of chance where you spin a ball on a roulette wheel, and whatever it lands on, you have to take a shot of.

Unlike the real game of Russian Roulette, there are no empty chambers in this drinking game. You'll need lots of shot glasses and fill them up with your favorite liquor and beer. Mix it up to give it a random order. Groomsmen who get lucky will only have to take a shot of beer, but someone will land on tequila.

Take turns on the roulette until all the shots are done. You'll be more than ready to go out and party when it's finished.

Spin the Bottle Drinking Game

Spin the Bottle is another familiar game but remember that you're in a room full of dudes, so you won't be puckering up with this game. Spin the Bottle is adapted into a drinking game that's very similar to Russian Roulette.

Spin the Bottle might be a bit easier to set up than Russian Roulette since all you'll need is an empty (beer) bottle and lots of shot glasses. Randomly fill up all of the shot glasses with different alcohol. Alter between beer and your favorite liquors. Next, organize the drinks in a circle with a random order. Make sure you have at least two or three times the number of glasses as there are groomsmen.

Grab all the groomsmen, sit in a circle, and take turns spinning the bottle to see what shot glass it lands on. Whatever you get, you have to take the shot to the head.

If you want to make the game more exciting, have drinks that look like each other. Fill some glasses with water and others with tequila. You'll have to brace yourself for the shot because you never know what you'll get until you take it.

Casino

Not everybody is lucky to have a Las Vegas bachelor party. Between the casinos and nightclubs, it's one of the best places to have a bachelor party. But the good news is that you can bring a bit of the Las Vegas energy to your bachelor party anywhere. And the same rules apply: 'what happens in Vegas stays in Vegas.'


Set up a home casino during the pregame for your bachelor party. It's always fun to include themed bachelor party decorations, so it's a great option. A casino theme is excellent for organizing a room to have all of the bachelor's favorite casino games.

Some of the casino games you can include are poker, blackjack, and drinking roulette. You can bring fake casino chips to exchange for drinks or bachelor party gifts. Or you can use a point system to see which groomsman is the best at casino games.

You'll need two designated people to help run the casino. One person is the card dealer and another person to make sure everyone's drink stays full. Because what's a casino game night without lots of drinking?
Bachelor Party Bingo

You don't have to wait until you're old to enjoy a game of bingo. Bachelor party being is always fun for all parties. It's another game that you can customize depending on your bachelor party plans – even for a quarantine bachelor party.

You can find pre-made bachelor party bingo cards, but it's even more exciting when you make your own. You can make the game customized based on the bachelor group and what you'll be doing. Add a few activity-based squares to get the groomsmen out of their comfort zone, and don't forget the free square in the middle.

Some of the creative items you can add to your bingo card are making a weird phone call to the bride or getting the bartender's phone number. You can play bachelor party bingo remote via video chat and have some items like having someone walk in the camera or someone calling your name from the other room.

As you complete each task, mark off the designated square on the card. The first one to get bingo wins the game and doesn't have to buy a round of shots for the night.

To-Do List

We know, a bachelor party is supposed to be one night where you can forget about all your responsibilities. A to-do list is the last thing you'll want to be thinking about, especially when you're planning to get shitfaced for the night. But don't worry, a bachelor party to-do list is one that the bride wouldn't want you to complete.

Think about the most epic activities and events that could happen during a bachelor party – the crazier, the better. Once you have some things in mind, you have plenty of things to add to your to-do list. Make a list of wacky tasks like motorboat a random girl in the bar or get a lap dance in the club. Be sure to make it entertaining!

The to-do list is a collaborative effort. All the groomsmen should come up with wild things to add to the list and surprise the groom-to-be with the list during the party. His goal for the night is to complete everything on the list. If not, there should be consequences.


Don't forget to put on a groom hat and groom sash so people won't think you're entirely out of your mind when you approach them with an unusual request.

Trivia

Don't worry if you're invited to a bachelor party and don't know the other groomsmen. The most important thing is that you know the groom. And after a game of trivia, you might even find out you don't know the groom as well as you thought you did.

Trivia is a fun game to break the ice during a bachelor party, so it's good to start the event with the game before everyone gets too drunk to focus. It's the perfect game to find out how well everyone knows the bachelor and how well he knows all of his groomsmen. If you play it right, you'll uncover some hidden secrets about the bachelor that might give insight into how crazy he might get as the bachelor party progresses.

Find some fun questions to ask the bachelor, like how he met the best man or guessing which one of the groomsmen he's had the wildest drunken night with in the past. As the groom starts to get warmed up, throw in a few curveballs to find some dirt.

Trivia is a fun game that you can also play remotely during a virtual bachelor party.