Lesbian Bachelorette Party Ideas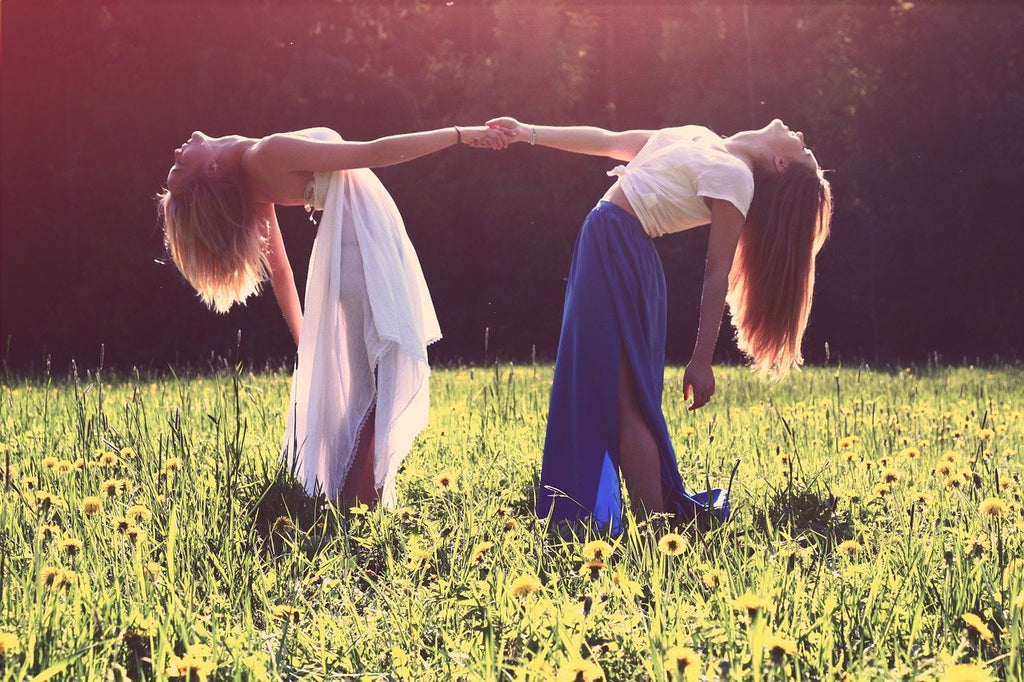 A lesbian wedding shatters all stereotypes of what marriage should look like, but have you considered how to go about throwing an epic lesbian bachelorette party. You're not the only one stuck on ideas on how to plan the perfect party suitable for the couple, while still keeping the night as crazy as possible.
Planning a lesbian bachelorette party takes a bit of creativity, and we'll give you an inside scoop at how you can throw a party for the books. You'll get insights on what you should do during the party, where to throw it, and how to make your party guest list.
Follow our guide, and you're sure to put on the wildest bachelorette party for your favorite lesbians.
How many parties?
Perhaps the trickiest thing to hosting a bachelorette party for a lesbian couple is whether to throw one party or two parties. Many lesbian couples consider themselves as two brides, meaning both are deserving of a bachelorette party. There are a few things to consider before you jump into your party planning.
Unless they explicitly tell you, you might not know what kind of party they would like. Some couples prefer to leave many of the other marriage traditions the same, such as separate parties. Hosting two parties is twice the amount of work, but also twice the amount of fun.
Two parties could be a smart idea is the two brides have different circles of friends, in which each group would do the planning individually. A bachelorette party symbolizes the last night out while single, a tradition that applies no matter who is getting married.
In other cases, you might consider hosting a joint party as a way to celebrate both of the brides-to-be simultaneously. A joint party works best when both of the brides share the same circle of friends. Instead of two small parties for each of the ladies, how about putting all your resources into hosting one epic lesbian bachelorette party.
Planning a Lesbian Bachelorette Party
Now that you know whether you're throwing a party for one bride or two, it's time to start the exciting planning process. You probably won't expect planning a lesbian bachelorette party to be so fun, but you're in for a big surprise.
A lesbian bachelorette party is a bit unconventional, so don't be shy to sway away from some of the old traditions. There are no rules on how you should plan your party, but there are some suggestions to make it of good taste for the brides.
One of the best ways to spotlight the lesbian couple is intertwining some LGBTQ themes into the party. Some things that you can do include rainbow-colored decorations, a vagina-shaped cake, and, of course, matching shirts for everyone. Something creative you could do is decorate the doorway as if you're entering a vagina.
Planning a party for one bride can be easier because you only have to consider one person's favorite things. When planning a joint lesbian bachelorette party, think about what both of them like and incorporate those themes.
Before getting into some of the specific lesbian bachelorette party activities, you should first think about who will be attending the party.
Who's on the bachelorette party guest list?
Once you announce the plans for your epic lesbian bachelorette party, the first question you'll get is who's coming.
Selecting the perfect group of people is just as important as planning out the best things to do during the party. If you're planning a party for a lesbian couple, you should forget all the standards of a girls-only party.
Although the guests of honor are both ladies, doesn't mean the rest of the guests have to be. Some of the most successful lesbian bachelorette parties invite the girl and guy friends of the brides.
You can still do your girly activities, even if straight male friends attend, they realize that they're going to a lesbian bachelorette party, right?
It easy when both brides share the same circle of friends because you already know the main people to invite. If they have different friends, but doing a joint party, try to keep the numbers evenly balanced (planning ahead for competitive games between sides).
Not everybody attending the party has to be a bridesmaid or even lesbian. Try to have some fun and mix up the personalities. You're there to have a great time, and the people you party with can make all the difference.
Where to host your party?
If you have an idea of some of the things you want to do during the bachelorette party and who you want to attend, you can begin the process of choosing the best place to host it.
Throwing a lesbian bachelorette party at home can be a lot of fun. Pick the bridesmaid with the best house for the party and start setting it up there. If you think the party might get a little wild for home, you could also rent a house or apartment for the day on Airbnb.
If your budget permits, how about a destination bachelorette party? You don't have to save the travel adventure until the honeymoon and pick an amazing place to run wild.
Keep in mind that you're planning a party for lesbians, so choose LGBTQ-friendly destinations for the most fun.
There are many places to have a destination bachelorette party such as New Orleans, San Francisco, or Disney World. These are two places where you can ensure your rainbow-colored accessories will be more than acceptable.
Your party location depends on how long you plan to have the party. A party at home would be great for one night but extended for a weekend if you plan on traveling somewhere.
It also depends on what you plan to do during the bachelorette party. Check out some of the best things to do and plan accordingly to fit as much as you can into your party itinerary.
Things to do During a Lesbian Bachelorette Party
Stuck on what you should do during the bachelorette party? Well, the good news is that we have you covered. Lesbian brides like to have fun just as much as anybody else, so with a few tweaks, any party idea can be ideal for the couple.
1. Relaxing Day at the Spa
A spa is a perfect place for relaxation while getting ready for the big day. If you're planning a lesbian bachelorette party, consider adding it to the list of things. The spa is a neutral environment where your group of girls (and guys) can hang out.
You can spend an entire day at the spa and find packages catering to groups. Being a lesbian doesn't mean being any less girly, so the spa is a great way to bring out your feminism.
Most spa's not only have the actual spa treatments but also lounges that you can reserve. After a relaxing group massage, you can chill in the lounge to exchange gifts and share some laughs.
2. Bachelorette Party Games with a Twist
No bachelorette party is complete without playing a few wacky games with each other - it's no exception for lesbian brides.
There's only one rule to keep in mind - no penises. Most bachelorette parties feature penis-related games such as "pin the kiss," "bachelorette roulette," or clay sculpting. You might not have to toss these games all the way out, but a slight twist and mixed with some other classics will fill up your night with fun.
Some party games to consider instead are the "panty game," "how well do you know the bride," and "pin the tongue."
Bachelorette party games are an excellent way for all the bridesmaids to interact and see how well the group knows each other.
3. Group Cooking Class
We can guarantee that the brides-to-be will be expecting amazing food during the bachelorette party. Well, how about you center one of the activities around the food prep.
Taking a cooking class with the brides is a great way to hang out during the party. Someone will need to know how to cook during the marriage, so it's best to get a head start learning some recipes.
You can search locally for group cooking classes that invite the entire bridesmaid group to cook alongside a professional. You can stick with the wedding theme (or any other theme you choose) by personalizing the dishes you'll be making.
Be sure to have a bit of fun during cooking and try now to wear your best clothes.
4. Party Bus/Bar Crawl
What's a lesbian bachelorette party without a bit of alcohol. See what's in store for the nightlife by planning out an incredible drunken adventure.
We want everybody to have a great time and taking part in the celebratory shots - a party bus gives you a designated driver and all the excuses to fully indulge in the night's festivities.
Rent a party bus, but make sure that it has a stripper pole inside—what a way to let loose by practicing some pole dancing en route to your favorite bars.
Drop in for a drink and dance at one of the local hotspots before heading back onto the bus to the next destination. The entire city should know about the upcoming marriage by the end of the night.
5. Sunset Dinner Cruise
You can save the elaborate vacation cruise for the honeymoon - we're talking about an intimate dinner or sightseeing cruise.
Cruises are a unique way to experience a city. If you're planning the lesbian bachelorette party near any body of water, you're sure to find cruises available.
Regardless if you're hosting the party locally or traveling to a new place, sightseeing on a cruise offers a unique perspective of the city. Sit back while cruising past some of the best scenery you could ever imagine.
Many cruise operators provide dinner and sunset cruises to add a bit of romance to the party. Nothing says "almost married" better than a toast to the brides right as the sun sets below the horizon.
6. Lesbians Like to Drink Too
Some people want to have a classy bachelorette party, while others want to relive the college glory days of getting wasted with friends. Now is the perfect chance to experience it one last time before tying the knot.
Grab the brides' favorite drinks and set up your house with lots of fun drinking games. Some of the popular games to play are beer pong, flip cup, and "drink if."
You can even make it a friendly competition between brides. Choose sides carefully and see which bride team will be victorious after a round of games.
There should always be a prize for the bride who comes out on top. We just hope that you're sober enough by the end of the games to remember who won.
7. Glamping with the Girls
Girls love the outdoors just as much as guys do. Since lesbians do things a bit differently, it's time to upgrade your typical camping with a glamping experience.
Glamping is a girl's way of showing that she can handle herself in the outdoors just as well as any guy. If the brides are nature lovers, glamping is one of the most fun things you could do.
Pack up the car and head to a remote forest, and immerse yourself into nature. Pitch tents, build a bonfire, roast s' mores, and, of course, drink. You can add in some adventure to the lesbian bachelorette party with hiking or rafting.
In case you're not too fond of the forest environment but still want to experience outdoors, you could make it as simple as pitching tents in your backyard.
8. Girls Night In
A lesbian bachelorette party doesn't always have to involve a wild night while club-hopping. Some brides are more reserved and prefer to stay in. Well, how about planning a nice slumber party for the bridesmaids.
Choose one of your own houses or even rent an entire house on Airbnb to host the most epic girls night in ever.
A girls night in means you can have fun with a lot of the activities we've mentioned, like playing games. You could even bring the cooking class to the house and see who can make the best meal.
The trick to a successful slumber party is to see who can stay awake the longest. It can be fun to make a large sleeping palette for everyone and line up a collection of LGBTQ movies to stream all night.
Get the Merch
As always we would love the opportunity to hook up the brides to be with the most obnoxious items we could think of.  Please check out our rainbow sash, hat pack, veil, koozies, white sash, glitter banner, hologram sash, pin pack, and tutu!
Final Thoughts
Lesbian bachelorette parties are all the hype and possibly one of the most fun parties you'll ever attend. The best part about them is finding ways to keep impressing the brides-to-be of your thoughtfulness and creativity.
Have you hosted a lesbian bachelorette party before? What are some activity ideas that you recommend adding to the party itinerary? Let us know in the comments your thoughts!