Plan an Epic Cartagena Bachelor Party (2021 Guide)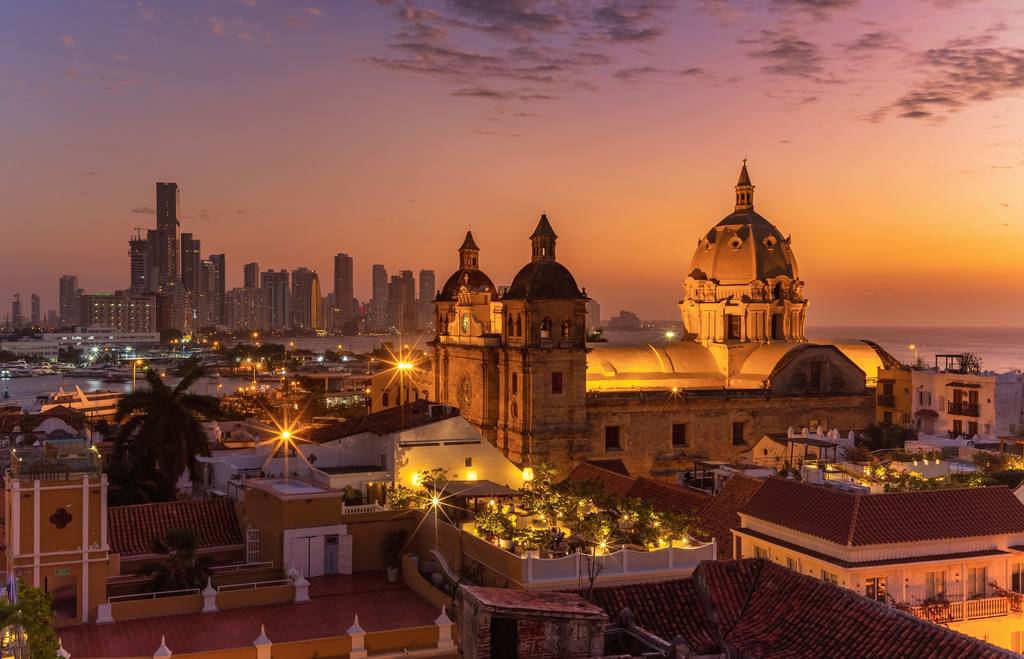 Book the next flight to Colombia to enjoy one of the world's top bachelor party destinations – Cartagena. Cartagena is a popular coastal city that offers all of the incredible perks of visiting Colombia mixed with a Caribbean atmosphere. Get ready for an awesome bachelor party that you'll wish never has to end.
Colombia is where you'll find beautiful weather, beautiful women, and a lively atmosphere perfect for partying. And the best part is that you'll spend a fraction of what you would in other hot spots like Miami or Los Angeles.
We've got tons of bachelor party ideas to make the most of your trip to Cartagena. Fill up your travel bag with your favorite bachelor party ideas and head out to a bachelor's paradise.
If you want a more personalized VIP Colombian experience, make sure to check out Bachelor Parties Colombia.
Things to Do During the Day
Cartagena is an exciting bachelor party destination in the day and night. There's something about the Colombian atmosphere that makes every moment of your trip feel festive. You'll hear rhythmic music as you walk the streets, and everyone seems friendly – especially towards tourists.
Here are a few daytime bachelor party ideas to enjoy during your trip:
Hang out at the beach
Take a Boat Tour
Tour the Walled City
Go on a day trip to Rosario Islands
Hang out at the beach
Cartagena is located on Colombia's Caribbean coast. The entire city is scenic, thanks to the beaches lining the shore. With the white sand beaches, the clear blue waters, and beautiful Colombian women walking around, you'll feel like you're in paradise.
There are several beach options, and if there's time, visit a few of them during your stay. Check out Playa Blanco, Bocagrande beach, and Castillogrande for the best beaches in Cartagena. The beaches are perfect for spending the day swimming, snorkeling, or relaxing on the shore.
Fill up a cooler full of beer and other bachelor party supplies and head down to the nearest beach to spend the day.
Take a boat tour
Cartagena has several activities developed for tourists to have an incredible time in the city. If you think the sights are impressive from land, just wait until you get out on the water. You can find lots of boat rentals and tours that give you the best skyline views while enjoying drinks on the boat.
You can rent a private boat tour for your guys. Dress up in your groom hat and groom sash and climb aboard the boat with everything you need for a good time. You will cruise out near the coast where you can enjoy drinks, music, and even invite a few girls to really make it a party.
Tour the Walled City
Cartagena's Walled City is the most popular place to go for tourists. It's the old part of town that's full of history and culture. The vibrant colors and the narrow streets make it the perfect atmosphere to immerse yourself in the local Colombian lifestyle.
The daytime is an ideal time to visit the Walled City to get acquainted with it – you'll definitely be here again for the nightlife. The district has famous local attractions like Plaza de Bolivar, Castillo de San Felipe de Barajas, and Baluarte de Santo Domingo.
Take a sightseeing tour around the old city and be sure to catch an incredible sunset from atop the wall.
Go on a day trip to Rosario Islands
If you're planning to spend a few days in Cartagena for your bachelor party, why not plan for a day trip to Rosario Islands? It's one of the popular destinations that you can reach within an hour and has lots of things to do to keep you entertained all day.
Rosario Islands feels like an exclusive island destination compared to the city. Take a boat to the island where you'll find the best beaches. It's known for the coral reef surrounding it, making it a fun destination for snorkeling and diving.
Best Nightlife in Cartagena
Celebrating a bachelor party is the perfect excuse to drink all day, but save some of your energy for the nightlife because it's one that you don't want to miss. Cartagena is known for its nightlife, and many people visit the city to experience it. It means that you made the perfect choice for where to host your bachelor party.
We'll give you insider bachelor party ideas to have an unforgettable night in Cartagena.
Best Bars in Cartagena
There are endless places to grab a drink in Cartagena. From the hole in the wall shops serving beer to upscale cocktail bars, you'll have plenty of options – and not a sober moment if that's the goal!
One of the best places to go bar hopping in Cartagena is in the Walled City. Since it's a favorite tourist hangout, there are a lot of places that cater to visitors. Check out these top bars in the old city to grab a drink to start the night:
Alquimico Bar
The Clock Pub
Timing is everything if you're planning on stopping by Alquimico Bar. It's one of the busiest bars in town, so arrive early. It's the best rooftop bar in the Walled City and serves the best cocktails. It's an excellent place to watch the sunset as the night begins, and you'll have good music from the live DJ.
The Clock Pub is a popular bar for foreigners. It's in an ideal location near Plaza Bolivar, so it's easy to find. On the weekends, it gets packed, but you can also take your drinks outside to enjoy on the patio. It offers a large selection of beer from the US and Europe.
Best Clubs in Cartagena
If there's one thing to know about Colombia is that the locals love to dance. You'll find exciting nightclubs where everybody shows up to have a great time. Strong drinks and good music are only the start of an incredible night in Cartagena.
The central nightlife hub is the old city, where you can quickly go from bar hopping to dancing in the city's top clubs. You can party well into the morning hours at these top nightclubs in Cartagena:
Taboo Disco Club is one of the top-rated clubs in the city. It's the best place to go if you're looking to dance. Grab a table, order bottle service, and get ready for lots of fun.
Eivissa is one of the biggest nightclubs in Cartagena. It has three levels with a large dance floor on each full of hot girls ready to party with you. You can dance the night away with views of the old city from the rooftop terrace.
Best Strip Clubs in Cartagena
It's no secret that Colombia has some of the most beautiful women in the world. There will be plenty hanging out in the local bars and clubs that are very friendly towards visitors. But to see the most beautiful women, be sure to include a stop at one of the local strip clubs during your night out.
The girls will truly take your breath away and make all (and we mean ALL) of your fantasies come true. And besides, it's your bachelor party, so feel free to loosen up a bit at one of these clubs before you're tied down:
Pley Club is a must-visit strip club where you'll find only beautiful women. The venue accommodates large groups, so you can get bottle service and enjoy the show. If you have a favorite, head back into the private room for a special show. 
If Pley Club sounds familiar, you're probably right because it's now world-famous thanks to certain events. Let's just say that if it's good enough for former President Obama's secret service, it's good enough for you…just try to avoid any scandals.
Club ISIS is a popular strip club in the walled city. It has tons of beautiful girls that grace the main stage with a sensual dance. Since the club doesn't have a private room for dances, the only other option is to invite them back to your hotel.
There's a reason why bachelor parties should remain a secret between your trusted group of bachelors. 
Best Restaurants in Cartagena
As soon as you land in Cartagena and arrive at your accommodation, you can't help but notice endless restaurants and street food vendors lining the streets. Come ready with your appetite because you'll have plenty of options to dig into delicious Colombian food.
Step outside your comfort zone and try some of the local favorites. You'll have hearty meals for brunch, dinner, and everything in between. It's the perfect way to fill up because you'll surely need the energy for your Cartagena bachelor party.
Best Breakfast and Brunch Spots in Cartagena
If you've been partying all night, you'll be glad to know that you can find a lot of restaurants that serve breakfast and brunch all day. Stop in when you're able to pull yourself out of bed from your hangover and grab a tasty bite to eat to bring you back to life.
Check out these top-rated spots in Cartagena for an authentic Colombian breakfast and brunch:
Epoca Espresso Bar
Quero Arepa
You probably already know that Colombia is famous for its coffee. Epoca Espresso Bar is a local hotspot for the best artisanal coffee. The restaurant serves brunch all day, where you can find great options.
Quero Arepa will give you a taste of one of Colombia's favorite breakfast dishes – arepas. It specializes in arepas filled with all of your favorite meats for a full flavor in every bite. Grab a maracuyá juice to accompany your meal.
Best Places to Go for Dinner in Cartagena 
Dinner is the perfect time to share bachelor party gifts and make a special toast to the bachelor. It means that you should choose the ideal restaurant with a comfortable dining space and, of course, great food!
Whether you want a local Colombian dining experience or prefer a tourist favorite, you'll have the entire range in Cartagena. Be sure to check out these restaurants for the best dinner:
Café del Mar
Restaurant Coroncoro
Café Del Mar is the most famous restaurant in Cartagena. The food is great, and you can order cocktails, but the main reason people go is for the sunset. Arrive right before the sun sets and get a rooftop table to enjoy a lively ambiance to accompany your meal.
Restaurant Coroncoro is a local favorite thanks to the good food and low prices. You'll get to dine like the locals in a place that focuses on serving the best food in Cartagena. The menu has everything from the signature bandeja paisa to seafood dishes.
Where to Stay in Cartagena?
Cartagena is a popular tourist destination, so you'll have no problems finding accommodations. Since it's your bachelor party, you'll want to be in the center of all the action to make the most of your time there. The best place to stay in Cartagena is:
The Walled City is a historic district with lots of traditional buildings converted into hotels. Don't let the historical exterior fool you because you'll find many updated rooms and venues. Bocagrande has more modern hotels and chic boutique options. It's also pricier to stay in the district. 
It might be worth it to rent an entire apartment or house via Airbnb if you have a big group. You can find many options like this or this to accommodate your entire group in one space. It's also fun to put up bachelor party decorations.
Cartagena Bachelor Party Rating – 4.5 out of 5
It's hard to top a place like Cartagena for your bachelor party. It's one of the most popular destinations for an international bachelor party, and you'll quickly realize why. You've never seen such a vibrant atmosphere everywhere you go until you experience Cartagena.
Cartagena is a beautiful city that's welcoming to tourists. There are plenty of places to drink and lots of beautiful women everywhere you look. It's not hard to find the best places to party and enjoy your trip. And the lower cost of living means that you won't have to watch your budget too closely while you live your last days as a bachelor.