Plan an Epic Fort Lauderdale Bachelor Party (2021 Guide)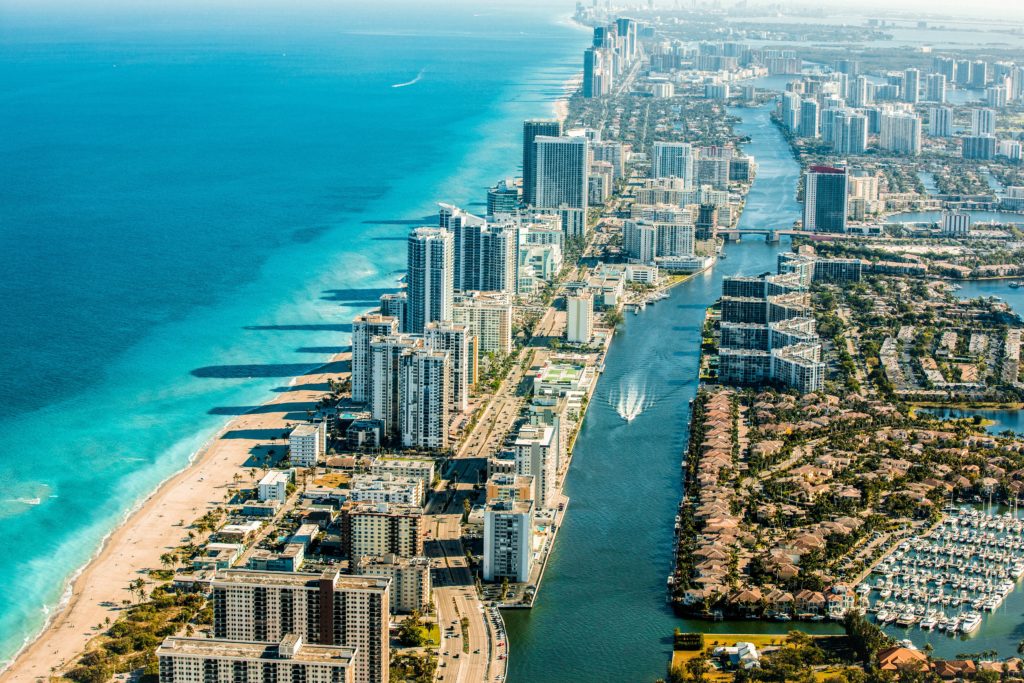 Florida earns the title for having some of the best cities to have a bachelor party. It's hard to top the "Sunshine State" since it's an excellent destination at any time of year. Fort Lauderdale is one of the premier bachelor party destinations that you should consider. Located just north of Miami, you can expect much of the same excitement as its South Beach neighbor.
Fort Lauderdale has many trendy spots for partying, dining, and hanging out. From the beaches to the clubs, your time in Fort Lauderdale will feel like an endless party. It's no wonder so many people decide to come here for their last rounds as a single guy.
We'll explore the best bachelor party ideas for Fort Lauderdale. Pack your bags full of bachelor party supplies, and get ready for the time of your life!
Things to do during the day
Spending your bachelor party in the "Sunshine State" means that you'll have a lot of daytime hours to burn before starting the nightlife. Don't let the time go to waste, and enjoy the numerous activities you'll find in Fort Lauderdale.
It's a coastal destination for enjoying the outdoors, and you'll spend lots of time out on the water. And day drinking is always appropriate for a bachelor party, so you'll have plenty of time to get shitfaced.
Here are some fun daytime bachelor party ideas to do in Fort Lauderdale:
Go to the beach
Take a swamp tour
Hang out on Las Olas Boulevard
Take a booze cruise
Go to the beach
Fort Lauderdale is one of Florida's top beach destinations. It's located right on the coast with incredible views of the Atlantic Ocean. Fort Lauderdale has beautiful beaches perfect for spending a day. It's a must-visit destination whether you're recovering from a hangover, looking for some water fun, or want to check out the local eye candy.
The best beaches to visit in Fort Lauderdale are Las Olas Beach and Fort Lauderdale Beach. Both beaches offer a picturesque setting of white sand and blue waters – the ideal place for tossing around a football or going for a swim.
Take a swamp tour
Swamp tours are one of the unique things to do in Fort Lauderdale. There are several swamp areas nearby where you'll get to explore the ecosystem. It's definitely an adrenaline ride as you cruise the waters in search of gators.
You'll find multiple locations where you can take a swamp tour. The largest is the Everglades, which is approximately one hour's drive away. A closer alternative is the Sawgrass Recreation area.
The experience includes a ride on an airboat and touring the swamp to see the diverse birds and alligators lurking in the water. Tours last 1-2 hours.
Hang out on Las Olas Boulevard
On a hot, sunny day, you should spend some time where all the action is happening. Las Olas Boulevard is the main strip in Fort Lauderdale. It's located downtown where you'll find lots of shopping, restaurants, bars, and more. It's a fun place for people watching and showing off your groom hat and groom sash.
Las Olas Boulevard is along the city's Riverwalk, a bustling district for tourists and locals. Take the trolley to the strip and take a stroll down the street to see what excitement you'll encounter. You're sure to get lots of fun attention since it's a bachelor party.
Take a booze cruise
What could be more fun than having drinks on a boat? Booze cruises are top-rated in Fort Lauderdale, especially for a bachelor party. Hop on a boat for hours of fun – and don't forget to BYOB.
You can party on a standard boat or a cycle boat. The boats fit 12-16 people, so there is plenty of room to party. You'll have your own captain so that you can focus on the essential thing – drinking and having a good time.
The boat tours provide sightseeing opportunities, and you'll even stop by some of the waterfront bars for shots!
Best nightlife spots in Fort Lauderdale
Fort Lauderdale is Florida's hidden gems since most people underestimate it compared to the nearby Miami scene. But you're in for a pleasant surprise when you realize how much fun you can actually have.
Fort Lauderdale is an excellent alternative to Miami if you're looking for a more budget-friendly party destination with less tourism. But don't worry, the locals know how to party just as much.
Let's check out some of the best nightlife bachelor party ideas in Fort Lauderdale.
Best bars in Fort Lauderdale
The nightlife seems to flow seamlessly with day drinking in Fort Lauderdale because there will be lots of drinking during the festivities. You'll never be short on places to drink because it has fantastic bars. Fort Lauderdale attracts an international crowd, so you'll discover some great themes and unique bars.
The best place for bar hopping in Fort Lauderdale is on Las Olas Boulevard. Bars line the street on either side. Stop by a few to grab a drink and decide which is your favorite to return on the next night.
A few recommendations for bars to visit are:
Rocco's Tacos and Tequila Bar
American Social
Rooftop @1WLO
Rocco's Tacos and Tequila Bar is one of the trendiest bars you'll find on the strip. It's a Mexican restaurant that offers more than 400 types of tequila. It also has a happy hour for excellent drink deals.
American Social is an upscale sports bar setting. Don't delay arriving at the bar because of a game since there are several TVs at the venue. It's known for its "pour-it-yourself" beer station, where you'll have a large variety of local craft beer to pick from.
Take in the views of the Fort Lauderdale skyline at Rooftop @1WLO. It's an open-air lounge atmosphere with a fun atmosphere. Try the handcrafted cocktails while vibing out to music and dancing.
Best Night Clubs in Fort Lauderdale
The good news about the local nightlife is that you can find the same Miami-style nightclubs right in Fort Lauderdale. The high-energy, modern venues are the perfect venues to celebrate your last days as a bachelor.
Dance the night away until 4 AM at one of these popular clubs:
SWAY Nightclub
Club Euro Night Club
The atmosphere at SWAY is unbelievable. As soon as you walk in, you'll be greeted with smoke machines and strobe lights – the ideal setting for a wild night. Order bottle service for your group before hitting the packed dance floor to show off your moves.
Club Euro is the go-to place for dancing. The entire club centers around a large dance floor. Live DJs play the latest hip hop and reggae hits. You might not spend much time at your VIP table since the dance floor will be calling your name.
Best Strip Clubs in Fort Lauderdale
The strip club is a rite of passage for every bachelor party. It didn't happen if you don't stop by for a bit of adult entertainment. As if the beach wasn't enough eye candy, you'll get a front and center view of Florida's most beautiful women whose main job is to make you have a good time.
You'll thank us later when you visit these strip clubs:
Vixens Cabaret
Gold Club Pompano
Vixens Cabaret is a place that gets better as the night progresses. And since it's open until 6 AM, there is plenty of time to stumble in for a lap dance. The beautiful girls offer sensual table dances, but there are private rooms in case you need more privacy. And the best part is that the girls are fully nude.
The girls are far from shy at Gold Club Pompano. You'll see the most gorgeous women of the night in the club. Grab a VIP table for your group at a secluded booth or step into a private room for a more intimate dance.
Where to eat in Fort Lauderdale?
One of the great things about dining in Fort Lauderdale is that you'll have access to a wide range of international food options. There are restaurants serving dishes from around the world, so you'll certainly be able to find any kind of food that you're craving.
Not to mention the incredible scenery. The city's waterfront location gives many restaurants prime real estate right on the coast to enjoy a meal and views. We've got you covered on places you should eat during your bachelor party.
Best breakfast spots in Fort Lauderdale
Don't miss out on the most important meal of the day by sleeping through the morning. Even if you're hungover, a hearty breakfast is the perfect way to bring you back to life. And another reason to get moving early is that the most popular restaurants can fill up fast with hungry diners.
You can never go wrong when you grab breakfast at:
The good news is that O-B House serves breakfast all day. The trendy café-style restaurant serves up all of your favorite traditional breakfast items. Fuel up with pancakes, eggs, bacon, and fresh juice to get the day started.
You'll find Tinta inside the Westin resort. It's located right on the beach, so ask to be seated on the outdoor terrace. Its breakfast menu consists of American and Mexican-style dishes.
Best places for dinner in Fort Lauderdale
Take advantage of the international food options to try food you've never tasted before during your bachelor party. A special event calls for a special dining experience, and Fort Lauderdale has plenty of options.
Take your taste buds on a trip around the world when you dine at one of these restaurants:
Casablanca Café
Café Seville
Argentino Las Olas
Casablanca Café is a Mediterranean restaurant with a laid-back atmosphere for eating your meal. The ocean views from the balcony make it an excellent place to hand out bachelor party gifts before making a toast to a fun night ahead of you.
Get an authentic taste of traditional Spanish cuisine at Café Seville. It serves everything from paella to seafood. You'll also have an extensive wine list to select from.
Argentino gives you a taste of South America. It's a popular restaurant serving Argentinian dishes. It specializes in empanadas – it has tons of flavors! It also has live music every day.
Where to stay in Fort Lauderdale?
Fort Lauderdale is a popular tourist destination and major international hub, so there are countless hotels to choose from. There are accommodations for all budget levels – you can splurge on a beachfront hotel or opt for a chain hotel.
Where you stay in Fort Lauderdale is also important. You'll have the best time the closer that you are to most of the activity.
The best places to stay in Fort Lauderdale are:
Fort Lauderdale Beach
Downtown Fort Lauderdale
You'll see nothing but beachfront resorts when browsing accommodations at Fort Lauderdale Beach. It's one of the best places to stay that puts you steps away from the ocean, and many rooms have spectacular views. There are lots of restaurants in the area, and it's easy to get around.
Downtown Fort Lauderdale is another recommended place to stay for your bachelor party. The closer you are to Las Olas Boulevard, the better. You'll be in the heart of town near shopping, dining, entertainment, and nightlife. You can also take the trolley to reach the beach. It has many familiar chain hotels in the area.
If you're bringing a large group along for the bachelor party, consider renting your own place to host everybody in one spot. There are fantastic options on Airbnb like this or this to have enough space to party right at home. Make the space even more festive with bachelor party decorations.
Fort Lauderdale Bachelor Party Rating – 4 out of 5
Many people compare the Fort Lauderdale party scene to Miami because of the close proximity. If you're not quite ready for Miami's world-class partying, Fort Lauderdale gives you an alternative that can be just as good.
You'll have all of the same perks like picturesque beaches, modern nightclubs full of dancing, and hot girls dancing in the strip clubs. It's definitely more local-friendly, so you'll meet some fun people while hanging out.
We've given you the best bachelor party ideas to make the most of your time in Fort Lauderdale. Whether you're in town for one night or planning a few days, every moment will be worth it!