PLAN AN EPIC TULUM MEXICO PARTY (2022 GUIDE)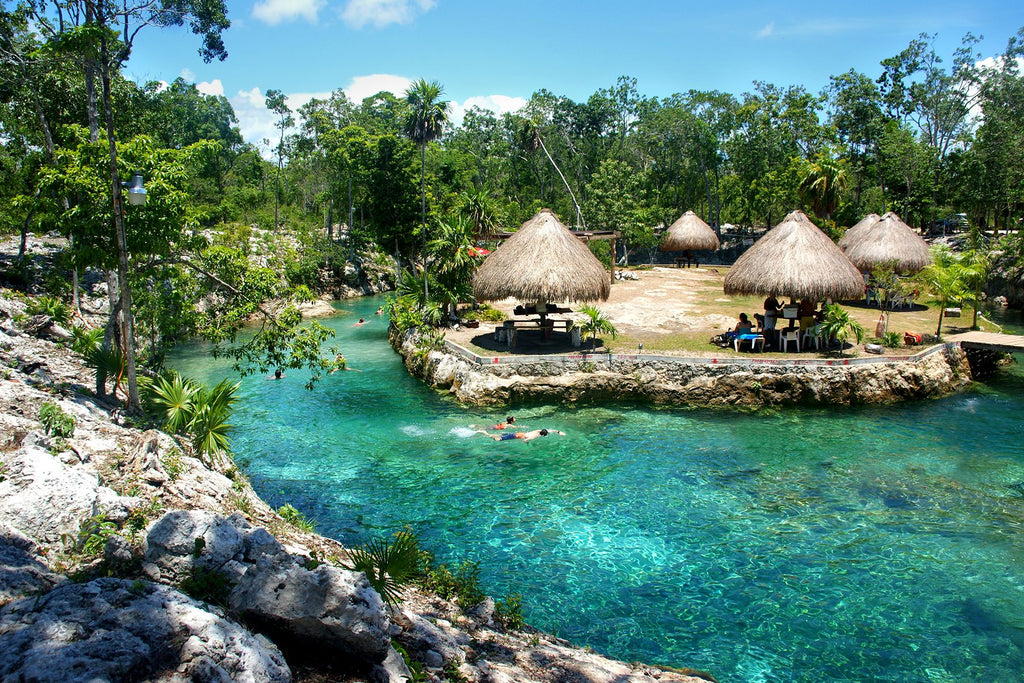 Ever wondered what a place would feel like if it had bits of ancient civilizations and incredible history fully preserved? Mexico's town of Tulum has the perfect vibe, a stunning piece of sunny paradise where Mayan lore merges with the flashy modern world. You're about to throw a bachelor party with a different kind of adventurous vibe.
Two hours south of Cancun is the Tulum Municipality, a previously quiet village that has become one of the most exotic and accessible tourist locations in North America. Tulum is famous for turquoise beaches with shockingly soft white sands, scenic natural sinkholes (cenotes), caves, freaky nightlife spots, popular celebrities relaxing on yoga mats, amazing Mexican cuisine, and of course, the astounding Mayan Ruins. Get ready to see how the big boys lived back in the A.D. 900 century!
We're going to share with you some amazing tips to thoroughly enjoy a unique bachelor party in Tulum Mexico. It's a great time to bond with your guys, so grab those bachelor party supplies and get ready for the ultimate wild wonder experience.
Daytime activities in Tulum
Firstly, the weather is tropical and warm during the summer, but then again, it's Mexico. It can get pretty hot in the dry seasons from December to May, but it's nothing a lot of sunscreen and light clothing can't keep in check.
Tulum is a hub of awesome daytime activities and you can never run out of places to visit, cool activities to enjoy, sights to see, spots to petty-shop or luxury-shop, and adventurous natural locations to explore. We recommend:
Visiting the Tulum Ruins
Drowning in paradise at the beaches
Scuba-diving or boat-riding in the cenotes
Shopping adventures
Visiting the Punta Laguna Nature Reserve
The Tulum Ruins
Picture the city of Camelot from the movie Merlin. Remember how the smaller buildings encircle the mighty castle and the city is walled off with a fort, facing a sea off to one side? The Tulum Ruins are a real-life depiction.
A few kilometers from Tulum Town is the Tulum Archeological Site, one place you can't afford to not see in a lifetime. What better way to explore this wonder than pulling up with a group of your best buds, wearing your "Same Vagina Forever" caps and rocking a bunch of other bachelor party supplies? Talk about pulling up in style!
Sitting on top of a 12-meter high cliff and facing the stunning Caribbean Sea to the west, the site is walled off to the east and remains a complete mini-city on its own. It's not just one mossy wrecked building, but many preserved astonishing structures leading up to the grand castle. This place is architectural power, evidence of the kind of major taste the big shots had back in the day.
The pictures you'd take at this site are memories for a lifetime.
Some of the buildings on the site to explore are:
The Temple of the Frescoes - filled with original mural paintings and figurines of the Mayan gods.
El Castillo (The castle) - The most breath-taking building on the site, built across several centuries with a cool penthouse for the ruler.
The Temple of the God Descending – a single room reserved for the Mayan deity known as the God Descending, whose upside-down figure graces the entrance.
The stunning Walls of Tulum
The Mayan Beach - The ruins face the Caribbean Sea and one of the most striking things about the site is the white-sandy beach below.
The site is open every day from Monday through Sunday from 8 am to 5 pm, and the entrance fee is around 85 pesos (4 USD) per visitor. You'd have to go with an additional $2 if you're bringing a professional camera. You can also hire a tour guide for 600 Pesos (30 USD).
The Beach Strip
Oh, beaches are nature's most exotic gifts to humanity – and in Tulum, you'll get to enjoy them with the perfect bohemian aesthetic.
About ten minutes from Tulum Town, The Tulum Beach Strip is a route that runs along all of the city's beaches, resorts, hotels, and many restaurants and bars. Most people prefer to lodge here and enjoy their vacation than lodging in the town. This place is picture-perfect and is just as stunning in real life. Think palm tree boulevards, colorful birds, huts with sculptures, countless places to drown in tasty cuisine, cozy lodgings, and then, the water.
Tulum boasts some of the most beautiful beaches in Mexico, and the top choices are:
Playa Paraiso: The sands are sugar-white, super-soft, and you're about to melt in the sight of the turquoise waters. Be sure to take a football or something, your feet would love kicking in these sands. Paraiso beach is popular but never overcrowded. They don't charge an entrance fee but you may spend around 100 to 500 Pesos to rent some furniture (5 to 25 USD).
Mayan Beach: This is the beach right below the Tulum Ruins and most times, tourists don't always know which to check out first – the cute beach with white sands and beckoning waters or the ancient citadel above it.
Ziggy Beach: It doesn't just have the coolest beach name you've ever heard. It's literally super-cool in real life, with light-beige colored sands forming squishy mush with the waters, sunbeds under palm trees, and some of the most excellent food on the strip. The beach doesn't charge an entrance fee but you'd have to spend at least 1,400 Pesos (70 USD) to gain access to services such as the bathroom, beds, food orders, furniture, game spots, and others.
Every beach in Tulum is beautiful and it's best to go just before mid-day. Stack up those sunscreen bottles and take your bachelor party decorations because those palm tree tents are about to get lit!
Scuba-diving or boat-riding in Cenotes
Just like in Cancun, cenotes are another mind-blowing attraction in Tulum.
Pronounced (sey-no-tay), cenotes are natural sinkholes, underground caves with the ceilings blown off by nature with pools of water stored beneath. You need to actually visit to appreciate the wonder, and in Tulum, there are several top choices to explore.
Cenotes are scenic, tranquil spots where the water is surrounded by caves and caverns and you can go do everything from scuba-diving and snorkeling to boating and playing about on swings. The pictures you'd get here and going to be stunners for life.
The top choice cenotes are:
El Gran Cenote: When the sun shines through at golden hour, the water turns a shade of stunning blue that words cannot describe.
Cenote Carwash: An open-air cenote with minimal cavern enclosure, surrounded by beautiful vegetation, and truly, the water looks like pure gold during golden hours and a pretty blue at other times. It's the least crowded cenote in Tulum with enough room for boating and fresh air enjoyment.
Cenote Calavera: A stunning cenote that's the actual description of water beneath a cave. It's partially covered on top with an entrance hole. There's a swing off to the side where swimmers gain momentum before diving.
Shopping adventures
Those bachelor party gifts are beckoning because if there's one thing you can do everywhere in Tulum, it's to buy something. There's a store for every budget and every item you can think of, from Mexican crafts and beachwear to jewelry and all things bright and fancy, your crew can pick up a lot of pretty stuff for your babes back home.
Shopping in Tulum is best done in the morning when you can enjoy the fresh cool air, the sight of pretty birds, and minimal crowds.
Best shops to explore:
Kahaal Home: Concept and interior décor store with all the right gift ideas, from handmade beddings to memorable décor pieces made of rattan.
MexicArte: This is the one-stop shop for all things Mexican souvenir, from cheap sculptures and necklaces to luxurious paintings and classy figurines.
Tulum Bazaar: The crew can agree on a meeting spot because when you hit this typical tourist market, everyone gets drawn away in different directions. From fashion, jewelry, and books to cookware, décor, and relics, the Bazaar's atmosphere offers a unique kind of relaxing retail therapy.
The Punta Laguna Nature Reserve
Pull your inner Tarzan up because he's the perfect vibe for this location (you can go fully dressed though, no loincloths necessary).
About two hours from the Riviera Maya is the Punta Laguna Nature Reserve, a preserved low rainforest that's home to several species of beautiful animals, most notably the beautiful spider monkey and the howler monkey. The Punta Laguna is within the jungle and is also home to some of the most exotic bird species in North America.
Also, you can get a glimpse into the life of native Mayans living in a nearby village, where the people live in quaint old huts and cook aromatic dishes in the open air.
While you can walk through the reserve on your own, you should probably consider going with a tour guide. They offer a more interesting and engaging experience and they know exactly where to look to see the monkeys – and jaguars and pumas. The entrance fee is about 200 pesos (10 USD) and a tour guide charges 300 pesos (16 USD).
Best Nightlife activities in Tulum
It cannot always be day, for night is on the way!
When the sun goes down and all the adrenaline from diving into cenotes and staring at pumas has gone down, a different set of hormones take over. It's time to relax and enjoy the bubbling nightlife scene in Tulum, when the sunny beach town turns into a hub of brightly lit bars, clubs, and lounges, offering unrestrained fun for the win!
Best Bars in Tulum Mexico
On the Beach Strip and within Tulum Town itself, bars line up the city and come alive at night – even though they are open during the day. The Middle Beach Zone is the best spot to check out if you love open-air bars with exotic aesthetics and cool music. The bars in town are more affordable and a little more relaxed - still vibey, nonetheless. Most bars require an online reservation and a small minimum spend charge. One of the best bachelor party ideas for Tulum is a night washing it down and dancing your souls out in Tulum's fancy pubs.
Some of the best bars you'd thoroughly enjoy are:
Right on top of a roof overlooking the sea and mountains, Nana Rooftop Bar is a block away from the main street and is popularly for the wide range of buzzing cocktails they serve. The scenery is casual and relaxed here but if you're a fan of electronic music, the DJs will keep the spirits high until your energy is through the roof.
Gitano is the elite stuff, the real deal, the spot where the class action goes down. As they say, "Start the day with a smile a finish it with a mezcal". If you want to live this quote down to the truth, the open-air, sea-smelling Gitano is a great choice. The bar serves over 40 varieties and combos of Mezcals from the city of Oaxaca – drinks that will change your life for the night. The DJ turns things up around 10 pm every night and the dance floor is yours to let loose and get lit!
Batey Mojito & Guarapo Bar is the top hangout pub in Tulum Town. This is one of the most popular spots in all of Tulum with thousands of positive reviews online – people say the watermelon & lime mojito combo is to die for. Imagine what they can do with hundreds of fresh fruit combos and their exotic liquor collection.
Best nightclubs in Tulum
You think Mexicans are conservative? Reserved? Of course they are, but wait until the sun goes down in Tulum and the disco lights come on. Everyone has their demon time and Tulum people sure know how to turn up for some fun!
You and the boys are looking to make some last bachelor memories before someone walks down the aisle, and Tulum's nightclubs have a bit of everything you need to cook up the coolest and wildest nights of your single-guy lives!
Awesome clubs to die for:
Tucked into the heart of the jungle, Confessions club has this attractively decadent feel to it. When you're thrown into the classy décor and low red lights, with a mix of tribal, continental, and international vibes, your wild side breaks loose. Sexy female DJs, awesome drink selections, insane décor, and exotic dancers – your confessions are about to be juicy at this spot.
Bonbonniere is luxury and class, the best choice of nightclub if you're looking to have an elegant outing with your boys and enjoy an executive feeling to the evening. The billionaire boys' club kind of vibe. Bonbonniere is the place to enjoy the refined VIP energy. With different shades of red lingerie on glittery masks twerking up storms on the stage, super-awesome music and exotic liquor going around, you'll spot the difference in no time.
Taboo Beach Club is super-beautiful and an excellent choice if you're still about beaches at night. It's the ultimate seaside experience with mouth-weathering Mediterranean cuisine, awesome music, a lit dance floor, and incredible décor. It offers a different clubbing experience where you can lounge on couches, sit on floor mats and pillows, and dance to the beats right from your spot.
Other awesome nightlife spots in Tulum
You should never run out of options for your Tulum Mexico bachelor party. The town and beach strip are bubbling with lots of amazing spots and places to unwind, de-stress, recoup, and turn it up once again. The cocktails and mezcals give life, the food goes straight to your brain's sharpest pleasure points, the music is awesome, the people are lively, and the girls are a wonder to behold… wink!
You can explore these places during your stay:
Best Restaurants in Tulum
What exactly would you be doing in Mexico of all places, the food capital of North America, if you're not blessing your taste buds with the juicy flavors of the cuisine? Also, if you're drinking a lot and exploring even more, you're going to need the energy.
Tulum has an abundance of restaurants and if you approach one or two managers, you'd certainly be allowed to give a bachelor party speech in honor of the groom-to-be. This is also a great time to present your bachelor party gifts and of course, everyone can go with his "make marriage great again" sash and "Game Over" face caps.
Best spots for breakfast and lunch in Tulum
If you're used to skipping breakfast back home, for the sake of the relentless fun you're about to dive into, you have to eat in the morning. Breakfast is also a great bonding activity for the bachelor party crew.
Some amazing breakfast spots in Tulum include:
At Fresco's, it's often hard to choose between the freshly-prepared, healthy breakfast options or the smoothies that'll have you asking for seconds in no time. The menu offers matcha pudding, French toast, amaranth & coconut pancakes, apple and bacon toast, smoothie bowls, fruit bowls, berry-filled yogurts, and others.
Right in front of the Scotia Bank of Tulum is DelCielo, a spot with one of the most versatile and creative menus you'd see in town. The food is famously delicious with top choices like the salmon-tartine, sweet-tooth pastries, and tasty fruit bowls.
Potheads Beach Road is famed for its coffee options and egg combos – coffee so good people won't stop talking about it online. You're going to need one or two cups after getting on with liquor on your night out. The food is deliciously great as well, and they serve avocado toast, fruit pancakes, eggs Benedict, Palomas, breakfast burritos, croissants, and others.
Best spots for dinner in Tulum
A bachelor party dinner is a great time for the boys to talk about the day, share thoughts about the future, and connect over great foo and soft music. Some of the bars and clubs you'd explore at Tulum already offer dinner services, but if you want to enjoy some great food with minimal crowds and noise, let's explore some fine dining options!
Macario is a contemporary Mexican restaurant that offers one of the best dining experiences in town. From the perfect décor and peaceful music to the amazing waiters and breezy service, the menu offers some of the most flavorful Mexican dishes in the area.
Nicoletta is a modern Italian restaurant with extremely attractive décor, draping lights that elaborate your experience enjoying Northern Italian cuisine. You have food options like meaty duck arancini, meatballs al Forno, crispy baby calamari, squashy bloom, and eggplant parmigiana.
Where to stay in Tulum
Before you decide where to stay in Tulum, you need to consider a few points. Excluding the Tulum Ruins, the municipality is divided into two parts: The Tulum Town and Tulum Beach strip or Beach Zone. The town and its lodgings are the better choices if you're on a low budget or you're not interested in the exciting life. Just quiet nights and peaceful times.
However, since you're a bachelor party crew looking for excitement and high-energy fun, the Beach Zone is highly recommended. There are lots of budget-friendly lodgings and hotels. Tulum is an affordable vacation spot, with prices ranging from $45-$200 per night for really nice hotels. You can use a booking service to make a reservation or go through a vacation package company.
Some hotels we recommend:
Another top option would be to rent an Airbnb on the beach strip and have the space all to yourselves for privacy and freedom. The Middle Beach Zone is the best place since it's at the heart of the city and has every spot you need close by.
Tips before visiting Tulum
The best time to visit Tulum would be between February and May when the weather is at its fairest. Other months are not so bad but the Mexican heat might be a little bothersome.
The city has a large population of people trooping in for vacations each year, so it's definitely a tourist town, where the indigenes literally make money off tourists. You have to be careful and alert, and don't fall for any scammy-looking offers.
Another thing to note is the seaweed on the beaches. There are lots of pretty beaches to enjoy and truly, the sand is white and stunning, but they might get covered in nasty seaweed at certain times of the year. So be sure to check each beach before you go.
In Tulum, try to have lots of Pesos in your pockets and avoid card transactions as much as possible. A tour guide is also highly recommended to help you get around the city. Lastly, avoid shady locations at night.
Tulum Bachelor Party Rating – 5 out of 5
We're rating Tulum a 5-star because no bachelor party hosted in this place is ever a basic vibe. You're going to make memories for a lifetime, and for Instagram, the pictures are about to blow up. The beaches are stunningly beautiful, the ruins are straight out of a movie, the bars are lit, the clubs are exotic, the food is enchanting, and the people are welcoming.
Just stack up your bachelor party supplies and jet out for a few days. There are no regrets in Tulum, just fun, vibes, and brotherhood's reigniting for life!