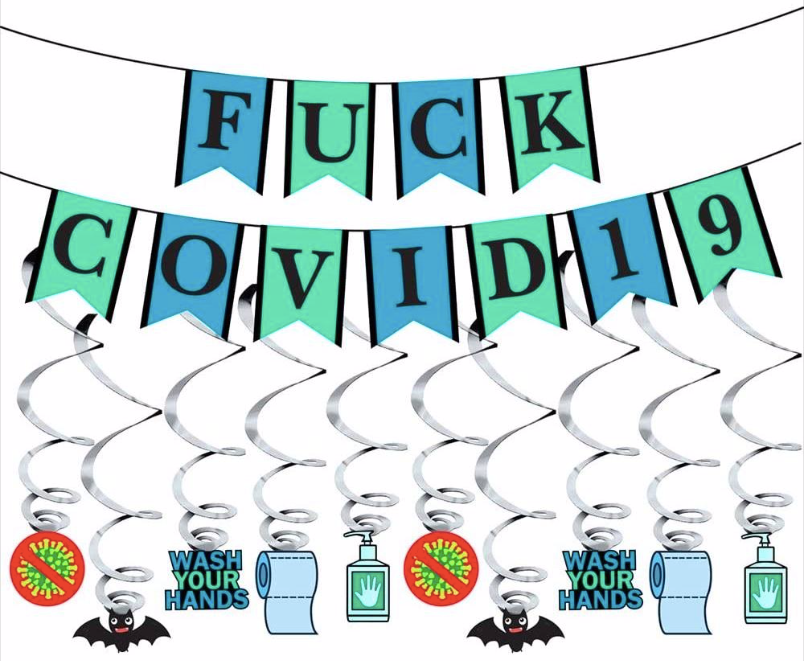 The bad news is that COVID canceled a lot of bachelor party plans. The good news is that there are still ways you can plan an epic bachelor party. Excuse the slight hiccup in the world of bachelor parties, but soon, you'll be back better than ever to host an amazing party, even during COVID.
There are lots of bachelor party ideas during COVID to take your party to the next level. We're entering a new era of bachelor parties with virtual elements and rethinking what it means to party. You have a chance now to become a pioneer for hosting a wild bachelor party during these unprecedented times.
If you're ready to make history, check out some ideas for your COVID bachelor party.
Where to Party during COVID
The biggest question is where you can host your bachelor party. Before, you might have considered a trip out of town to one of the top party destinations, but since that's no longer an option, you have to get creative.
There are many innovative ideas on making the most out of your bachelor party when you host it at one of the following:
Virtual
House party
Camping
Beach
Virtual Party
The COVID pandemic introduced a lot of new social norms to the world, including the way we communicate and interact with others. While online interaction was on its way to becoming the norm before, it's now essential as people practice social distancing, working from home, etc. You can maintain the same protocols for your bachelor party by having a virtual party.
Virtual bachelor parties are one of the new additions to the modern day because of the widespread shutdowns and travel restrictions. Welcome to the future because it's also one of the best ways to have a bachelor party.
A virtual bachelor party takes place online via video conferencing tools. Some of the popular places to host a virtual party are:
Zoom
Skype
Google Hangouts
Facetime
By now, we're video conferencing experts because of working from home, but they also make great tools for hosting a virtual bachelor party. Since all of your friends might not be able to make it to your party in person, set up a room for everyone to login.
One of the biggest challenges to planning a bachelor party is deciding who to invite and seeing who can actually attend. Now, it's no excuse to invite everyone down for a good time. Your virtual bachelor party can include all party favorites like drinking, decorations, food, etc.
Make sure to check out the craft beer crew over at Your Beer Friend.  They hand pick the best craft brews and will lead you and the boys through a virtual tasting party.
Just make sure the ladies aren't in the same room!
House Party
With all of the clubs and bars closed, everyone is looking for a place to party. One of the exceptions is throwing a house party for a small group of friends. If the guys are comfortable hanging out at a house, it's a great way to still throw an epic bachelor party during COVID.
House parties are always a consideration for bachelor parties, but now, they're becoming even more popular. A house gives you a lot more flexibility and freedom than going to a club, not to mention a much cheaper option. You can get more fun for your dollar if you know how to plan a house party the right way.
A house party falls within the guidelines of COVID as long as everyone makes sure to keep their hands washed – and be sure not to have any symptoms if you're planning to attend! With the basic guidelines laid down, everything else is up to you on how you want to party.
Something to consider is whose house will host the party. If you have a friend willing to risk his home for the shitshow, by all means, make it the destination. For those who want something different, think about renting a house on Airbnb to accommodate everyone. You can find rentals in the same city, or within driving distance, and even stay for a couple of nights to take full advantage of the space. 
Camping
Outdoors is one place that hasn't been drastically affected by COVID. In fact, national and state parks are a growing trend in tourism. Camping outdoors is an excellent option for a bachelor party during COVID and checks off all of the requirements for having a great time.
Camping means that you'll be one with nature as you get shitfaced with all of your friends. And ideally, you'll have a secluded place to let the night get as wild as you want. Whether you're visiting a local park at a designated campground or know of some cool backpacking camping spots, the outdoors is always welcoming for a bachelor party.
Grab some tents and spend a couple of days in nature. Before arriving at a campsite, be sure to stock up on food and drinks, so that you won't have to leave to refill once you arrive. And chances are you won't have any strippers attending the party, but there's plenty of other fun things to do with just the guys.
Camping is one place where men are allowed to be men. Wake up and immediately start drinking, cookout over the open flames, and there are unlimited places to relieve yourself. The open fields are perfect for tossing around the football or build a massive bonfire at night to tell embarrassing stories about the bachelor.
Beach
If you're lucky enough to live by a beach, you can throw an epic bachelor party. Beaches are open and ready for you to party the day away. Most people would want to travel to a beach destination for their bachelor party, but since you are nearby, take full advantage of it.
Beaches were initially closed during the shutdown, but have since reopened. Some of the guidelines include limiting the number of people in your party, distancing from other groups, and wearing a mask if walking around. If you're comfortable with the local rules, you're in for some unexpected fun.
The beach gives you plenty of things to do to make it the best bachelor party ever.
Swimming
Water sports
Boating
Beach sports
Rent a boat to take out onto the water to day drink the entire time. You won't have to worry about operating while drunk if you have a captain navigating for you. Speedboats also make for fun water activities.
Swimming and water sports are a given when visiting the beach. If the weather is nice, the water will be very refreshing and give you an excuse to take your mask off.
Play a few competitive sports on the beach like soccer, volleyball, or football. You'll truly feel like a bachelor running around in the sand – it's also one of the few places you'll see some hot girls walking around in bikinis.
Things to Do
The COVID pandemic just means that you have to find a new way to experience a bachelor party. It will surely be one to remember as you'll have a slightly different story to tell when talking about it in a couple of years.
You can have some creative fun for a COVID bachelor party by including these in your itinerary:
Decorations
Drinking Games
Virtual Games
Eating out
Outdoor fun
Decorations
Regardless of where you're hosting the bachelor party, decorations are a simple way to liven up the party. Although the COVID pandemic canceled all trips, you can still outfit the venue to look like your dream bachelor party destination.
Decorations work well for social distance parties to make you feel like you are somewhere ideal or get you in the party spirit. If you're hosting a bachelor party at home or doing a virtual party, the decorations make the perfect backdrops.
Some decoration ideas to include are:
Party banners
Balloons
Signs
You don't have to go overboard with decorations. Consider sending a simple party decoration pack to everyone attending the party virtually, so that it looks like an actual event. Everyone can sit in front of the banners to feel like everyone is in the same place.
For a house party setting, banners, balloons, and signs work great for transforming an ordinary house into a party venue. Forget about visiting the beach for your bachelor party and, instead, get some beach-themed or sports-themed decorations to put up.
Drinking Games
Some people will still opt for an in-person bachelor party like at someone's house or outdoors. Since the bar isn't an option anymore for drinking, all bachelor parties during COVID are BYOB. Visit the local store to pick up lots of beer and liquor to get the party set up for lots of drinking games to keep you entertained.
Bachelor parties can enjoy all of the classic drinking games:
Flip Club
Quarters
Power Hour
You'll have plenty of fun within your party group with these games and more – they also allow you to space out a bit instead of the small bar setting.
For those a bit more creative, you can set up an entire "Drinking Olympics" to add a bit more competition to the games. Divide into two teams and compete against each other to see who can win the most games.
If you're outdoors, you'll have plenty of room to run around to different drinking game stations and can add in a relay component. The possibilities are endless to find fun ways of getting shitfaced all night.
Virtual Games
Drinking games are a must for all bachelor parties! Bars and clubs will be the last venues reopening after widespread shutdowns, but that doesn't mean that you can't overindulge in alcohol drinking. Drinking games are something you can enjoy virtually or with a small group of friends.
If you're practicing social distancing and hosting a virtual bachelor party, stock up on plenty of beer, wine, and liquor because you'll need it. Everyone should have drinks to participate in the activities – the good thing is that everyone can have their favorite drinks instead of sharing the same bottles.
Some fun drinking games include:
Guessing Game
Get to know the bachelor
2 Truths and a lie
There are even online gaming sites that provide a collection of games that work perfectly for bachelor parties. The games typically work by drinking every time you get an answer wrong or are the odd man out.
Unless you're an expert on the bachelor-to-be, get your liver prepared for a long night of drinking. The good thing is that you won't have to worry about making it back home after a drunken night.
Eating Out
The best way to survive a long night of drinking is to prepare in advance with a great meal before the drinking starts. "What to eat" is a common question asked during a bachelor party, especially if you're traveling to a new city. Dining options are limited due to a change in restaurant policies, but some alternatives might even be better than how it was.
If you're looking for an excellent meal for the bachelor party, consider these options:
Restaurant eat outdoors
Food delivery
Cookout
Restaurants have found a way to reopen thanks to outdoor dining. If your group isn't too large, sit down at a patio or sidewalk table and enjoy a restaurant meal we know you've been missing. It's the perfect time to make that bachelor party toast.
Thanks to services like Uber Eats and DoorDash, you can have restaurant meals for your virtual bachelor party. Make it fun and place your orders at the same restaurant simultaneously and see whose food will get delivered first.
If you're hosting a house party or camping, you can stock up on food at the grocery store and cookout. Choose the best person on the grill and toss on all your favorite barbecue foods – hot dogs, hamburgers, ribs, etc.
Outdoor Fun
Many people rediscovered the great outdoors thanks to the impact of the COVID pandemic. Since large gatherings aren't permitted, and most social venues closed, the outdoors are one place you can turn to for hosting a bachelor party.
You can do lots of outdoor activities if you're having a camping or beach bachelor party. It could even be a fun idea to hit a local park to play around for a bit for some guy bonding.
A couple of ideas for outdoor activities include:
Since all guys love sports, you don't have to just watch them anymore, but should consider splitting up in teams and competing on your own. Parks usually have designated space for basketball courts or football fields set up. Hit the track, have a relay race, or play some volleyball if you're on the beach.
Hiking is also a fun outdoor activity. Since many national and state parks are open, you can find some great hiking locations to explore. You might even get some great views at the end.
No need to reschedule your bachelor party if you had one approaching. Now, you can enjoy a party with your guy group in a new way. Test out some of these COVID bachelor party ideas to revive the party spirit and create some of the most epic times in your bachelor party.
Have some other ideas for a bachelor party during COVID? Let us know in the comments what you're thinking!
Continue reading